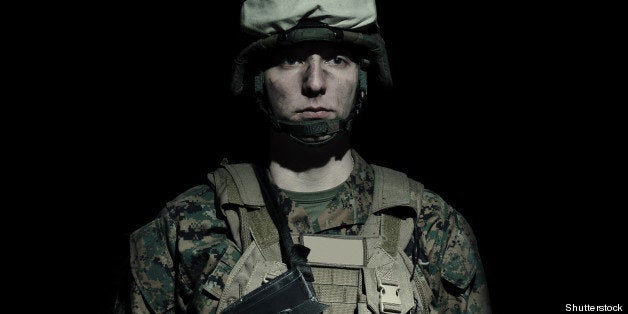 Soldiers with a history of trouble sleeping may have a higher risk of developing post-traumatic stress disorder, a new study suggests.
Researchers from the University of Pennsylvania's Perelman School of Medicine found that if people in the military had trouble sleeping or slept fewer than six hours a night before being deployed, they then had a higher risk of developing PTSD, anxiety or depression upon their return home. The findings are published in the journal SLEEP.
"We found that insomnia is both a symptom and a risk factor for mental illness and may present a modifiable target for intervention among military personnel," study researcher Philip Gehrman, Ph.D., who is an assistant professor of psychology in the Department of Psychiatry at the university, said in a statement. "We hope that by early identification of those most vulnerable, the potential exists for the designing and testing of preventive strategies that may reduce the occurrence of PTSD, anxiety, and depression."
For the study, researchers evaluated data from 15,204 military service members who had been picked specifically because of the timing of their first deployments. Of those people, 522 had developed new-onset PTSD after returning from their deployment, 151 developed anxiety and 303 developed depression.
Researchers found a significant association between service members who reported insomnia or short sleep duration before being deployed, and experiencing these mental health conditions upon returning home.
And importantly, the risk of PTSD from having a history of insomnia was nearly as strong as the risk of PTSD that comes from being exposed to combat, researchers found.
"The mechanisms linking insomnia symptoms and mental health may involve processes related to specific sleep stages," the researchers wrote in the study. "REM sleep mechanisms are one potential candidate, given that REM fragmentation has been proposed in the development of PTSD. Alternatively, cognitive mechanisms may be implicated, such as those involved in rumination/worry or coping. Future research should investigate the causal pathways linking insomnia symptoms and new-onset mental health disorders."
Other studies have painted a relationship between PTSD and sleep troubles, including a study published earlier this year in the journal Annals of Behavioral Medicine. That study, conducted by researchers at Yale University, Columbia University Medical Center and the Robert Wood Johnson Medical School, involved looking at PTSD symptoms experienced by heart attack survivors. Those researchers found an association between worsened PTSD symptoms and poor sleep after a heart attack.
"The strong association between ACS [acute coronary syndrome]-induced PTSD and sleep may be due to the fact that disturbed sleep is embedded in the PTSD phenotype and its diagnosis," researchers wrote in that study. "However, results of recent treatment studies for PTSD and sleep disturbance suggest that the two conditions may be most usefully conceptualized as comorbid, rather than one being merely a symptom of the other."