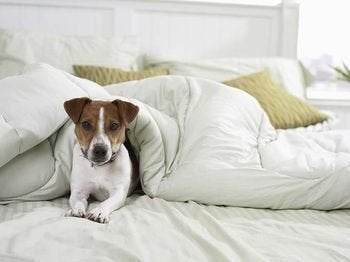 Every night at about the same time, my husband and I say to each other "are you excited?" The answer is always "yes" and it is because we are getting ready to go to bed. Mind you, it's not because we have planned a romantic interlude, but we are tired from a full day and our bed is our haven; we are ready to relinquish ourselves to sleep.
Sleep is very important to me, but all the right elements need to be in place for me to succumb; I realize that my body needs to be recharged, but at the same time I want it to beckon me with a special warmth and security that I don't get throughout my day.
For openers, my bed frame was custom built and then the right mattress had to be found. Sheets needed to fit snuggly and be soft and cuddly -- pillows firm yet punchy. The icing on the cake (or on the bed if you will) is the electric blankets cranked up to its highest hours before it's time for slumber.
Of course, I live in Santa Barbara, California but to me cold is anything below 60 degrees.
But even with such a perfect stage set for sleep can one shut down their brain after a day of anxiety, stress and troubles? It's not easy no matter how hard we try.
I'm a substance abuse counselor and I have had to work at not taking my clients' issues to bed with me. Early on in my profession, I found myself going over my sessions in bed wondering if I had handled a situation to the best of my ability or how I could help my clients see things from a different prospective. This did nothing to help me fall asleep, and because of a restless night, the next day I was not on my best professional game as much as I wanted to be.
Drinking a glass of warm milk (yuck) or counting sheep did nothing to quell my busy brain.
Instead, I experimented a bit and found nine tried and true concepts that would guarantee me a restful night. Maybe some might work for you.
1) When your professional day is done, it's done. Close the door (figuratively and literally) to all the decisions that did not get made, unfinished paper work or whatever. There is almost nothing that can be accomplished past normal business hours, and maybe a good night's sleep might shed some new and creative light on a troubling situation.
2) There is nothing like snuggling down into a nest. So, feather your nest with blankets and sheets that have comforting colors. Nestle down into a mattress that feels good to you; whether it's hard as a rock or the springs are gone. And for me, I would cry without my electric mattress pad; reminiscent of the old days when a hot water bottle was placed under the sheets.
3) I like to get in bed and "run the dials". Starting with the Weather Channel and working my way through the disease of the week, it's enough to start to lull me to sleep. Watching Exorcist, Clockwork Orange or any Quentin Tarantino movie is not conducive to a restful, peaceful sleep.
4) Like a little kid's bedroom, I have plastic stars on my ceiling. They glow in the dark and I love looking up at them and sometimes pretending that I am sleeping outside. To wish upon them every now and then is fun, too.
5) I am not a religious person, but I do take time to thank God for another day and state how grateful I am for his many gifts. I recite one of my special mantras to myself which always offers me comfort and a feeling of security.
6) If my husband is out of town, I encourage my Golden Retriever to sleep next to me. There is nothing more calming than to feel that warmth and know that there is another heartbeat right next to you.
7) My mother always made her bed before she even brushed her teeth. So, I have followed suit and appreciate the feeling of getting into a freshly made bed.
8) I love the smell of Lavender and I have a spray that I squirt on my pillow. Does it help me sleep? I have no idea, but I sure like burying my nose in it.
9) And finally, I take some deep breaths and say to myself that as good (or bad) as the day was, tomorrow can and will be better.

If you don't say "Ahhh" when you get in bed and prepare for sleep, change what you need, change what you do or buy what you need to help you drift off. Whether it's black out curtains, a loop of frogs croaking in the background or a night light. You've earned that sleep, so you might as well ENJOY IT!

Related