Sleeping With the Band is a recurring blog where Dr. Winter, a sleep specialist, sits down to talk about sleep with touring musical artists.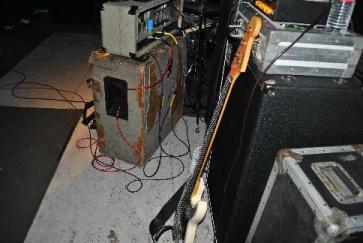 "And every evening before I sleep I dream of Blue Ridge Way."
-- "Blue Ridge Way," Drivin' N' Cryin'
Friday December 27
8:00 p.m. -- Chris Winter in person at venue, in dressing room. Talking about how they deal with sleeping while touring.
This is the email message I received from the tour publicist. Not wanting to upset Tim Nielson, the band's bassist, who I have heard has a bit of a temper, I arrive at the venue early. I sit quietly in a corner talking to my photographer about the first time I had seen Drivin' N' Cryin', more than 20 years ago, supporting their gold album Fly Me Courageous. I remember that night because the crowd was perturbed by how long the opening band played -- some dude named Dave Matthews.
8:05 p.m. quickly becomes 8:45 p.m., so fearing the interview going south, I call the tour manager.
"Hey, this is Chris Winter. I'm hoping to interview Drivin' N' Cryin' about what it's like to sleep on the road. Are we still on?"
"Yeah, sorry about that. We're all back at the hotel... sleeping."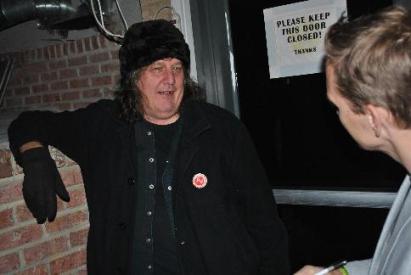 Some time later, I'm standing backstage in an unusual space in an old building talking to Kevin Kinney. The lead singer and driving force of Drivin' N' Cryin' seems to occupy the odd dark space perfectly. He laughs about his nap, but makes no apologies for the tardy arrival. "You have to sleep when you can."
That "sleep when you can" attitude may have indirectly led to over three decades of music from a band Rolling Stone magazine compared to The Replacements, if Paul Westerberg had worshipped Angus Young instead of Alex Chilton.
"I had an epiphany in 1978." says Kevin. "I was a roadie for a band called The Haskels. They were a punk rock group from Milwaukee. I would sleep behind the stage while they performed. Even with them blasting their set at 130 decibels, I could get my sleep."
Kevin smiles and takes a sip of his beer, one of usually two he allows himself to drink if he's "working."
"Right there I knew I could do this for a living."
Even before his nights spent sleeping behind stages and days downing continual cups of coffee, sleep and music were quietly influencing Kevin's life. This becomes clear as I ask Kevin about his recent nap and sleeping in hotels much of his life.
"I love hotel rooms. No clutter. They are the opposite of how I grew up. Shit everywhere in a dirty room. Now, I make my bed every day."
Kevin continues, "When I was older, I was with my father when he died of pancreatic cancer. He was a real classy guy. As he was dying in his house, I would visit him every day. Each time I went into his room he had gotten rid of some item in his bedroom. As the room became sparser, the last thing that remained was a radio. I think that influenced me." He emphasized his desire for order and neatness in his touring life, and how his sleep was dependent on that recreation of his father's room. "Even today I like a little radio when I sleep."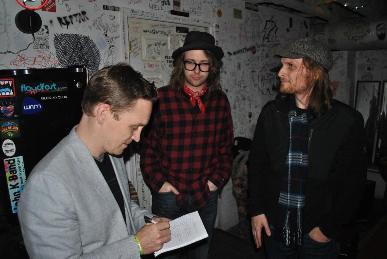 After a show, Kevin often listens to Art Bell's Coast to Coast as he drifts off to sleep. "It feels so good after we play. I sleep much better after a show, even though it's not uncommon for sleep to come around 7 a.m. On tour, especially when we are playing abroad, I find it easiest to just keep my watch set to Atlanta time. Sleep on the road is hard. Drummer Dave Johnson laughs, "It sometimes feels like I've had mono for six years. I'm not getting as much [sleep] as I need. The quality is not the same on the road."
"When I'm not touring, [bedtime is] more like 4 a.m." While hotel sleep is ideal for Kevin, sleep on tour often comes on four wheels. "The fact is most of my sleep is in the van. Getting 1.5 to 2 hours is not unusual."
As that van moves quietly through the night to their next gig, sleep provides entry into a separate world. "I have pretty happy dreams," muses Kevin. "I often have conversations with friends and family who have passed. I write songs in the morning -- always as soon as I wake up. Despite my late nights, I am by nature a morning person." Kevin chuckles at my confused look as I scribble on my pad. For an individual who hits the sack at 4:00 a.m. on an early night, it was hard painting Kevin as an early bird. "Great example. I had a show last night in Greenville. I fell asleep last night at 2:30 a.m. and was up at 6:30 a.m. this morning. I slept a little on the van from 9:00 to 11:00 a.m." Tim, overhearing Kevin's description of their schedule, interrupts brandishing a massive special forces knife... a gift from a buddy backstage. "I've only been on the road for one day and already I'm sleeping like shit."
At that point, Tim hands me the knife to hold as Drivin' N' Cryin' take the stage. I think about how well I slept last night compared to the bits and pieces these guys regularly pull together. At that moment, I have completely forgiven them for standing me up so they could take that nap.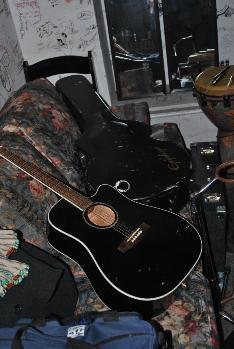 All band photography: Maeve Janelle