Last weekend, the bids for the NCAA Men's Basketball tournament went out and the field is set. Copiers and printers all over the country are churning out bracket sheets as millions of college basketball fans prepare themselves for March Madness.
The influence of travel on athletic performance has been a relatively new focus of research over the last 20 years or so. Investigations looking at the relationship between circadian rhythms, jet lag, and sleep disruption as a result of travel have become more commonplace as athletes and teams look to maximize athletic performance and speed recovery [1,2,3]. As a sleep specialist, helping elite athletes deal with sleep and travel is what I do for a living. Trying to minimize the effects of cross-country travel and sleeping away from home can be a monumental task for some players and regardless of the techniques we use to minimize these obstacles, they are nonetheless always present.
To celebrate the tournament and have a little fun, I've completed my bracket based solely on distance traveled. In each match-up, the team that traveled the shortest distance is moving on in this bracket. Here are my rules:
• I based my predictions on driving distances derived from Google Maps.
• For the play in games that have not been played yet, the same criteria were applied.
• As a University of Virginia graduate, I'm still coming down off of our regular season championship/defeat of Duke for the ACC tournament title (our first since 1976)/our #1 seed selection. While Coastal Carolina is 12 miles closer to Raleigh, I could not pick the first ever #16 vs. #1 upset in the history of the tournament against my alma mater. I'm assuming the Chanticleers chose a more scenic route since that area of the country is so beautiful.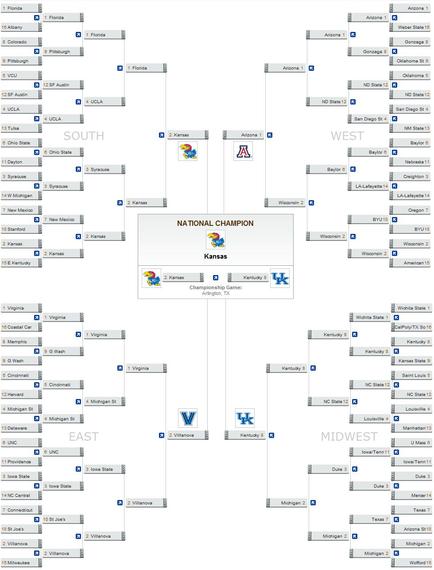 All in all, as someone who does not follow college basketball too closely, I think my picks look fairly good. I'm not terribly excited about North Dakota State making it to the Sweet 16, but reading one reporter refer to them as being incredibly "Farm Strong," I have confidence that the Bison will help support this travel theory.
Good luck to everyone hoping to cash in on a billion dollars with their bracket. If you are struggling between two teams, take a look at their travel and if you use it to break the tie, post the results in the comment section below.
Finally, a special good luck to the Kansas Jayhawks. Coach Self, you and your young players have the power to make me look like a genius. Please keep that in mind as you go about winning your fourth NCAA title.
References
1. Youngstedt SD, O'Connor PJ. The Influence of Air Travel on Athletic Performance. Sports Med 1999, Sep; 28 (3): 197-207.
2. Manfredini R, Manfredini F, Fersini C, Conconi F. Circadian Rhythms, Athletic Performance, and Jet Lag. Br J Sports Med 1998; 32:101-106.
3. Waterhouse, J, Edwards B, Nevill A, Carvalho S, Atkinson G, Buckley P, Reilly T. Identifying Some Determinants of "Jet Lag" and its Symptoms: A Study of Athletes and Other Travelers. Br J Sports Med 2002; 36:54-60.