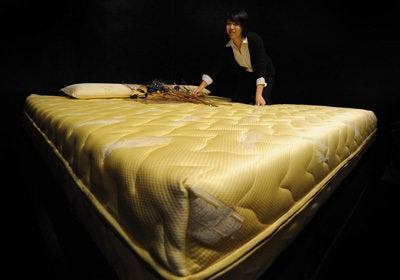 Bamboo Sheets are the latest fad for Hollywood, of course -- don't most fads start there? Unlike most Hollywood-esque trends, this one is at the heart of being eco-conscious.
So, why bamboo? Bamboo sheets are actually temperature-regulating, staying cool in the summer season and offering warmth in the winter months. Bamboo also offers sleepers an antibacterial and allergen free place to spend those endless hours of bed time.
Most importantly, they are environmentally friendly, and made from the fastest and most renewable source that is out there, with plants growing an astounding foot per day. They are also insect resistant, so there is no need for pesticides or chemicals. "The natural antibacterial elements of bamboo fabric come from a quality of bamboo commonly called "bamboo kun," reported by another news source.
This makes bamboo the ultimate in organic resources; it is vegan and animal friendly, and unlike its cotton competitor, bamboo sheets' production does not harm the environment.
And if bamboo bedding is good enough for a celebrity, then it's even better for their babies.
Take Jessica Alba, for example, who purchased organic crib bedding for baby Honor. Pitter Patter Collections luxury crib sets are loved by Courtney Cox Arquette for her daughter Coco and Julia Roberts, for her brood of happy kids.
So where can you find Bamboo Sheets? Try Target, Bed-Bath and Beyond, or online at sites like Viveterra.com. For infant crib sheets, check out Stella Maternity online.
Related
Popular in the Community