Simon Rowe approached a destitute man curled up on the sidewalk in Melbourne, Australia, last year, and asked if he was OK.
When the man replied that he was trying to get some rest, Rowe handed him $20. The man's eyes lit up and he thanked Rowe before curling back into himself in another attempt to fall asleep.
The experience "affected me in a profound way," Rowe wrote on a GoFundMe page. "[Homeless people] on the streets are subjected to terrible weather, harassment, bullying, being robbed and worse. No one should have to live like that."
That chance encounter inspired Rowe to develop the Sleepbus: a mobile shelter that will provide homeless families and individuals -- and their pets -- a safe and warm place to sleep at night.
Rowe has all the designs, engineering and paperwork to get one Sleepbus up and running in Australia. But to purchase and build the first bus, Rowe needs at least $50,000.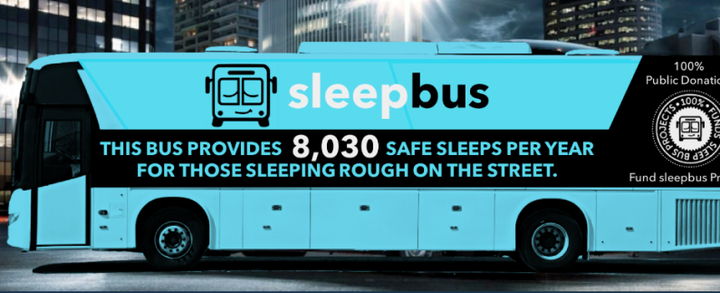 For people without homes, sleep deprivation is a fact of life.
Rowe designed each Sleepbus to have 18 to 22 sleeping pods, each with its own personal locker. The pods will have locks that are controlled from the inside and a single mattress with bedding that will be changed daily. Once they've settled in, guests can charge devices on the pod's USB station and adjust the pod's temperature with personal heat and air controls.
Guests can even watch TV on a monitor installed above the bed, which will stream regular programming as well as ads for homelessness resources.
"The TVs play an important role," Rowe told Gizmag. "When guests ... switch on the TV, it's calming. They could be home in bed watching TV. It is strategically free-to-air television for a connection to the world [that they have] been missing."
Rowe plans to have intercoms installed in each pod that can only be activated when a family is present, as well as separate settings that will give parents the ability to control the lock on a child's pod.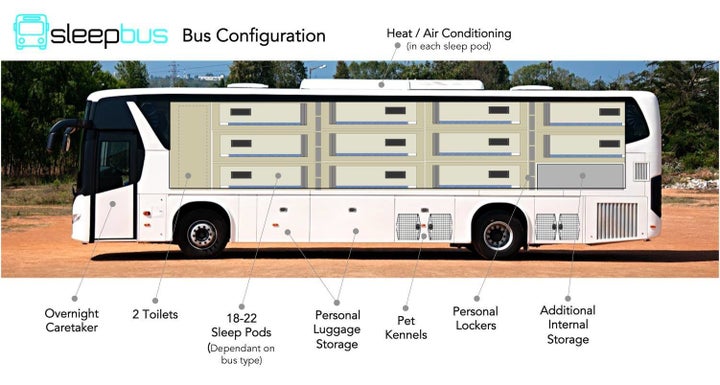 While the bus will have basic amenities -- two toilets, extra storage below the bus, an overnight caretaker to watch over guests -- Rowe does not expect the Sleepbus to replace traditional homeless shelters.
Instead, he wants them to "fill a gap" for the things shelters cannot do.
What's more, the Sleepbus can travel to the areas where it's needed most, instead of waiting for those in need to come to it. And the sleeping pods, which Rowe has already built a prototype of, passed his own sleeping test.
Low-quality sleep negatively affects one's ability to think clearly or engage with others, making it harder to get a job or housing.

Dr. Eowyn Rieke, physician at the social service agency Central City Concern
"Low-quality sleep negatively affects one's ability to think clearly or engage with others, making it harder to get a job or housing," Rieke told the U.S. National Health Care for the Homeless Council, in a newsletter.
Rowe's goal is to have more than 300 buses operating across Australia, but first he needs to get the first bus going to prove to his corporate sponsors that his plan can work.
Assuming he meets his funding goals, he expects to have the first Sleepbus ready as early as June, when it starts to get cold in Australia.
This article previously identified Eowyn Rieke by an affiliation she held in 2014, and has been updated.
Calling all HuffPost superfans!
Sign up for membership to become a founding member and help shape HuffPost's next chapter
BEFORE YOU GO
PHOTO GALLERY
These Garbage Cans Help Homeless People Make A Living