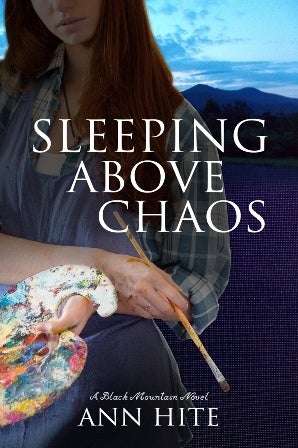 Ann Hite's fourth standalone book, Sleeping Above Chaos, in her Black Mountain novels is told in alternating stories, interconnecting Ella Ruth an abandoned girl, Lacy a seventeen-year-old black maid, and Lee and Buster, the brothers who would love them.
The reader travels to the fiery foot of Black Mountain in North Carolina in 1939 where two-year-old Ella Ruth Allen has been left in her grandparents care after her mother mysteriously disappears, and the father dumps her on the aging couple.
In the first chapter we meet teen brothers, Buster and Lee Wright, sons of the small-town sheriff. The boys are at odds; one a prankster, the other broody and sensitive. Family tragedy befalls the Wright family when the brothers' father dies in an accident. Lee uses his grief to run away, while Buster stays behind. "At seventeen, Buster was now the man of the Wright family, and he was a sad example."
Buster is reckless and always into mischief. He and his best friend, Larry, take up selling moonshine. "[They] were cocks of the walk—smart, handsome, and smooth as a sheet of glass, until . . ." Meanwhile, brother Lee has escaped out west to Montana, and eventually finds a girl, "Wasn't there always a girl?" the narrator asks before we see Lee moving on to join the war.
Back in Swannanoa Gap, North Carolina, a now-teen Ella Ruth follows a haint into the woods where she learns there are dark secrets surrounding her family and her mother's disappearance. There, Ella Ruth begins her journey to find out the truth about her mother. Angered over her granddaughter's inquisitions, and to keep the teen out of trouble and from further snooping, the grandmother sends Ella Ruth to work at the local sanatorium to tend to 'consumption' patients for the summer. But instead of keeping the teen out of trouble, Ella Ruth discovers her mother's sister is confined to that institution, and with her aunt's help, begins to dig deeper into her family's past.
Soon, troubled Buster meets up with and falls for Ella Ruth, who has now been pulled back to live with her abusive father, Paul Allen; a cruel and ornery character and the town bully who has his dirty hands tied with the Klan. The reader will wish to understand why Paul Allen is full of hatred and has an ugly soul. Allen tortures, and has his way with young Lacy, the maid and other young girls, threatening their families if they don't submit.
Inside the Allen household, Ruth Ellen eventually finds a reluctant ally in her stepmother, Bell, against her father's abusive ways. "And there was no blood connecting them. Maybe blood didn't have a thing to do with it."
Hite deftly takes the reader from small-town North Carolina to a horse ranch in Montana, and faraway to Pearl Harbor and the bloody beaches of Normandy on D-Day, and back. She weaves a colorful cast of memorable characters struggling through tumultuous adulthoods, World War II, love and losses, and the explosive Civil Rights Movement.
Sleeping Above Chaos is a complex Appalachian story of two brothers and the women they loved. "Our lives are tangled around the pureness of just loving," protagonist Ella Ruth remarks. Hite knows her mountainfolk and spins an authentic and moving southern tale full of swagger, family bonds, and reckoning.
REAL LIFE. REAL NEWS. REAL VOICES.
Help us tell more of the stories that matter from voices that too often remain unheard.
This post was published on the now-closed HuffPost Contributor platform. Contributors control their own work and posted freely to our site. If you need to flag this entry as abusive,
send us an email
.