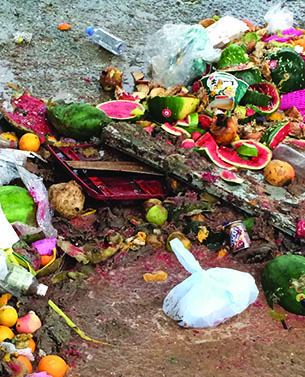 One-third or more of all the global food produced never makes it from the farm to our fork. In fact, if measured as a country, food waste would be the third largest for greenhouse gas emissions, according to the UN Food and Agriculture Organization which revised upward its estimated carbon footprint of food waste to a staggering 3.6 gigatons of CO2.
With nations around the world starting to design programs to meet COP21 climate commitments, now is the time to address food waste as the sleeping climate giant surprisingly hidden before our eyes.
The Model for Success may be the Age of Energy Efficiency
As we tackle food waste, we can learn lessons from the energy conservation movement. The last 20 years was the Age of Energy Efficiency. Technology allowed the increasingly more efficient use of electricity distributed to more people and more buildings without new power plants and the resulting climate emissions. Since 1990, the 29 member countries of the International Energy Agency saved enough electricity through energy efficiency investments to avoid the equivalent emissions of 14,500 coal-fired power plants for one year. How did we do that? Energy efficiency rebates, education programs and regulatory signals for energy efficient technology development all played a role.
Age of Food Efficiency
Now, we need an Age of Food Efficiency. We already grow and produce enough food to feed 10 billion people, yet sadly on a planet of 7 billion people, nearly 1 billion people go to bed hungry every night.

Like energy, we need to efficiently spread the food we already grow and produce across more people without increasing greenhouse gas emissions. Why shouldn't food conservation be every bit as important as energy conservation?
Like energy, we need the same prompts in rebates, education and technology development to lower food waste. We need a new paradigm. We need the Age of Food Efficiency where we waste less to feed more with big dividends to the environment.
Consumers are Part of the Problem and the Solution
The issue of food waste is not about despair or guilt. Rather, I see it as an opportunity for everyone to get involved - we can all do our own part. One-third of all food wasted globally happens at the consumer level. In the U.S., food is becoming the top item in many landfills. Let's buy just what we need so we don't throw so much away. Let's have a plan for every item placed in our grocery carts.
Here's Where the Rot Really Stinks
The other two-thirds of all food wasted globally happens at the production and distribution level, mostly in emerging economies where food often never makes it from the field from harvest, or frequently spoils in poor distribution systems or open-air markets. Access to capital, technologies and best educational practices would go a long way to make a difference - and all this could be prompted by emerging economies developing food waste reduction strategies to meet their COP21 climate commitments.
For two reasons. First, when food waste is managed as a climate issue, it will unlock new policies and new resources to do something about it.
Second, lowering food waste is the only climate policy that simultaneously reduces greenhouse gasses, feeds more people, saves water and promotes national security. No other policy can do the same.
I'm working with NGOs, policy makers, and colleagues in the food refrigeration industry to think about these issues every day. I want to hear what you think. Tweet me @JohnMandyck to continue the conversation.
REAL LIFE. REAL NEWS. REAL VOICES.
Help us tell more of the stories that matter from voices that too often remain unheard.