You may have heard that Jon Kedrowski sleeps around a lot.
On September 28, the 32-year-old became the first person to have spent the night on top of each of Colorado's 55 official 14ers. The most impressive part? Kedrowski started and finished the project in just over three months.
Appropriately, Jon has a Ph.D. in Mountain Geography, and enlisted the support of Fox31 meteorologist Chris Tomer to provide real-time weather updates on each peak. Despite this and ample caution, his tent was engulfed in St Elmo's Fire and struck by lightning on Mt. Harvard. The strike melted holes in the fabric and exploded poles moments after Jon sprinted off the summit (see video in slideshow below).
Jon told HuffPost that immediately before the strike, "the tent was buzzing, sparks were on the rocks all around... an incredible amount of energy prior to the strike. I knew I had to get off FAST!"
Equipped with a sponsorship from Sierra Designs, Kedrowski's adventure also included a bear break-in (fittingly on Little Bear Peak -- video below), blizzards on Humboldt and Kit Carson, and subzero windchill temperatures on Tabeguache and Massive.
Answering the inevitable 'Where did this idea come from?' Kedrowski says:
Growing up in Colorado, I began climbing 14ers in the early 90s as a young teenager ... I first finished all the peaks in August of 1999. I continued to climb, and I noticed every peak seemed to have room on the summit for a tent. Prior to traveling to Alaska to solo climb Mt. McKinley (Denali) in 2009, Chris Tomer joined me for an overnight bivy on the summit of Mt. Elbert [Colorado's highest] in early May. We froze our butts off... During that trip we had a long discussion about camping on all the summits ... our idea was born.
Kedrowski is compiling a coffee-table photo book on the adventure, due out next year.
PHOTOS of Kedrowski's adventure: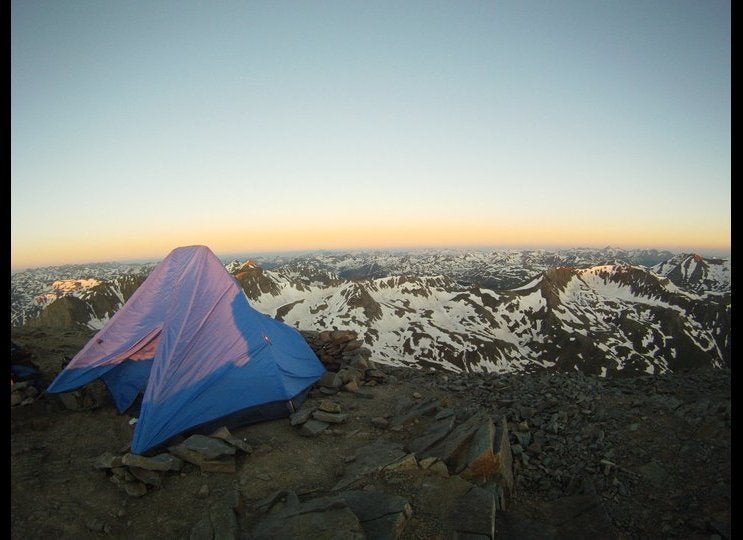 Sleeping On Colorado's 14ers
Related
Popular in the Community