This article is part of HuffPost's Project Zero campaign, a yearlong series on neglected tropical diseases and efforts to fight them.
YALIKOMBO, Congo ― Jean de-Dieu Liyande was only 42 when a mysterious ailment began keeping him up at night, wandering and hallucinating, and making him sleep like the dead by day.
No one could explain the migraines or the feeling of exhaustion that would strike suddenly, forcing him to doze off wherever he sat. He became increasingly weak and confused.
"I went to the hospital and they couldn't solve it," said Liyande, a farmer and assistant priest in the remote village of Yalikombo on the Congo River. "I went to the traditional healer, and he didn't solve it."
"People thought that I must have been cursed," the father of nine added, clutching his well-thumbed Bible.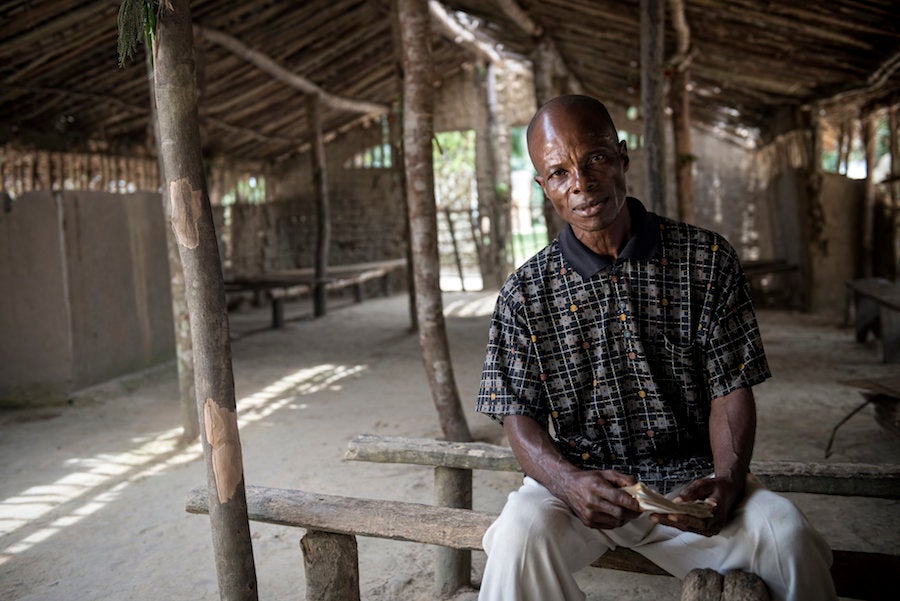 When slaughtering five chickens and a goat to remove any curses also failed, Liyande felt he was being truly tested.
It would be six years before a team of doctors, who regularly spend weeks at a time winding their way through the Congolese bush and down rivers in dugout canoes, reached Liyande and diagnosed him with sleeping sickness.
More than 80 percent of the world's sleeping sickness cases today occur in the Democratic Republic of Congo. The parasitic disease is fatal if untreated, yet difficult to diagnose early.
Formally known as human African trypanosomiasis, the illness is spread by tsetse flies that feed on human blood. Initially the parasite can cause flu-like symptoms ― fever, headaches, joint pain. A person can be infected for months or years with the more common form of the disease before major symptoms appear. But after the parasite passes into the cerebrospinal fluid, the patient will begin to suffer serious neurological side effects, including a disrupted sleep cycle, delirium, coma and death.
The disease was apparently recognized by the ancient Egyptians. It was widely documented by 19th-century European invaders, who spread sleeping sickness as they disrupted communities and ecosystems in pursuit of Africa's natural resources. Around half a million people in the Congo Basin and some 200,000 to 300,000 people in neighboring Uganda died of an outbreak around the turn of the 20th century, the World Health Organization estimates.
Last year, the Democratic Republic of Congo recorded 1,800 cases, down from 2,300 the year before, said Crispin Lumbala, director of the Ministry of Health's National Programme for Sleeping Sickness Control. That sounds like a success story, but the number of cases are falling in the small pockets of Congo where specialized testing and treatment are available. In forgotten areas, experts fear that sleeping sickness might be regaining ground.
"The real problem right now is a resurgence of the disease because we don't have a well-supported and effective surveillance program," said Lumbala.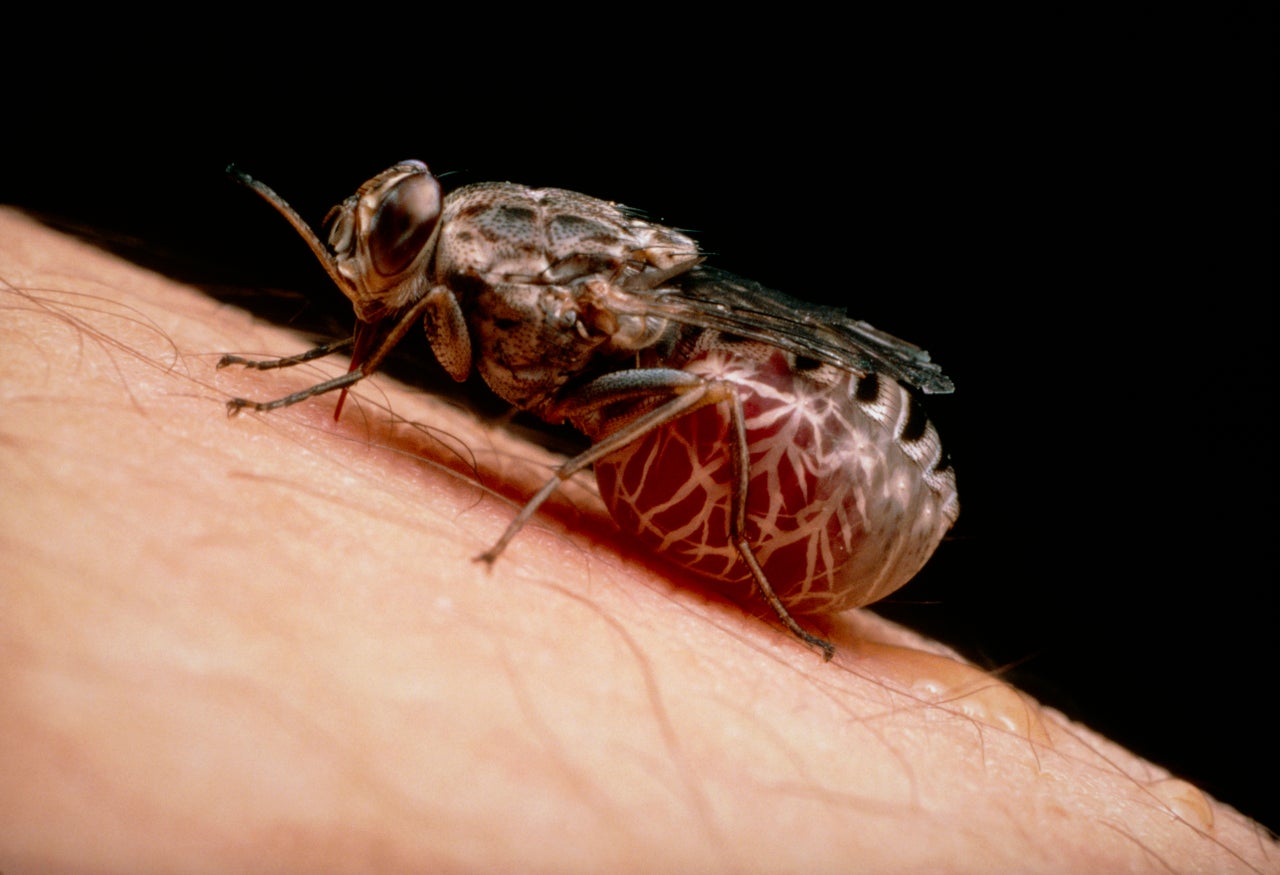 Sleeping sickness has been gaining ground in Congo since the 1960s, "when the disease was practically under control," according to Lumbala. The population was about 12 million people, and 200 dedicated units of mobile medics roamed the country to find and treat victims, he said.
But the early '60s was also when many sub-Saharan countries, including Congo, gained their independence from European colonial powers. As Great Britain, France, Belgium and others started pulling out of Africa, a lot of money for and expertise in running health programs went with them. Doctors did their best with scarce resources, but the battle against sleeping sickness was neglected for decades.
Today, the number of mobile units treating sleeping sickness in Congo has dropped to 30, while the country's population has ballooned to over 80 million. Medical teams cover only a third of the areas where sleeping sickness is endemic and test a maximum of 2 million people per year, while 12 million are considered at risk, said Lumbala.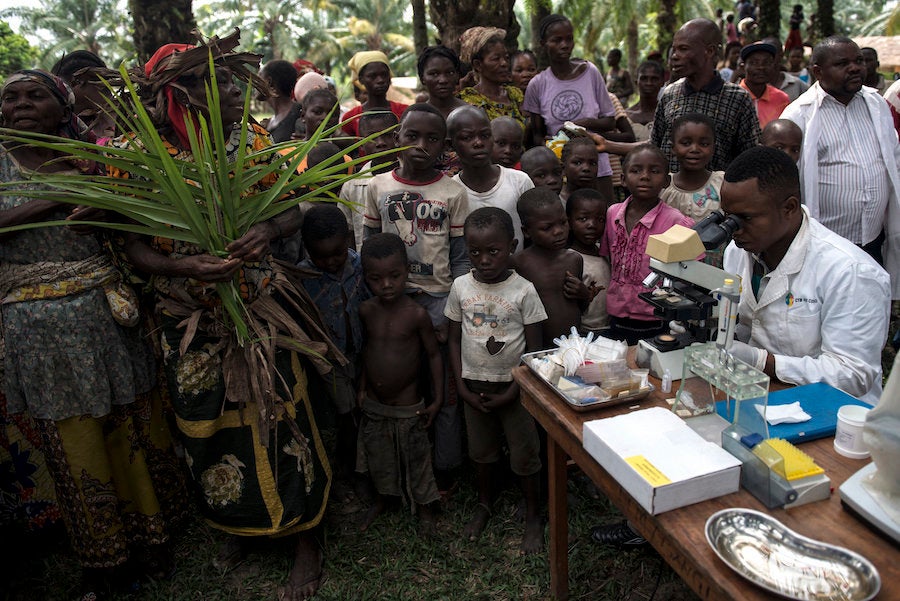 Memories of what this disease can do are still fresh in the mind of Sister Mary Magdalene, the mother superior at the Catholic mission in the village of Isangi, a few hours upstream from Yalikombo and five hours of rough terrain and makeshift bridges from the nearest city of Kisangani.
When she arrived in Isangi in 2000, she recalled, "People were dropping like flies. People were just dying where they were and those coming to hospital arrived practically out of their minds."
Doctors often mistook the symptoms for malaria, while terrified villagers spread rumors about witchcraft and accused neighbors of casting spells.
That's exactly what later happened to Liyande. In 2008, before he was correctly diagnosed with sleeping sickness, a local hospital discharged him with medicines to treat malaria. When he didn't improve, his wife and children ― who already suspected some kind of sorcery was involved ― really started turning against him.
If he had been properly diagnosed that year, Liyande likely would have been injected with an arsenic-based drug called melarsoprol. The injections, while effective for many, were extremely painful to endure, killed roughly 1 in 20 who took them, and left others with lifelong neurological damage.
In 2003, the medical charity Doctors Without Borders, which had been fighting sleeping sickness in central Africa since the 1990s, arrived in the Isangi area to contain that sleeping sickness outbreak, which was still tearing families apart and wiping villages off the map. The only practical treatment they could offer was the toxic one.
This put doctors in a terrible position, knowing what the drug could do to their patients. Dr. Wilfrid Mutombo, a sleeping sickness expert working for the Drugs for Neglected Diseases Initiative (DNDi), remembers patients arriving at his clinic able to walk and talk and leaving in body bags after treatment.
"To be a doctor is to save people and relieve their suffering," Mutombo said. "How do you explain to family that your actions made them die? It was very hard."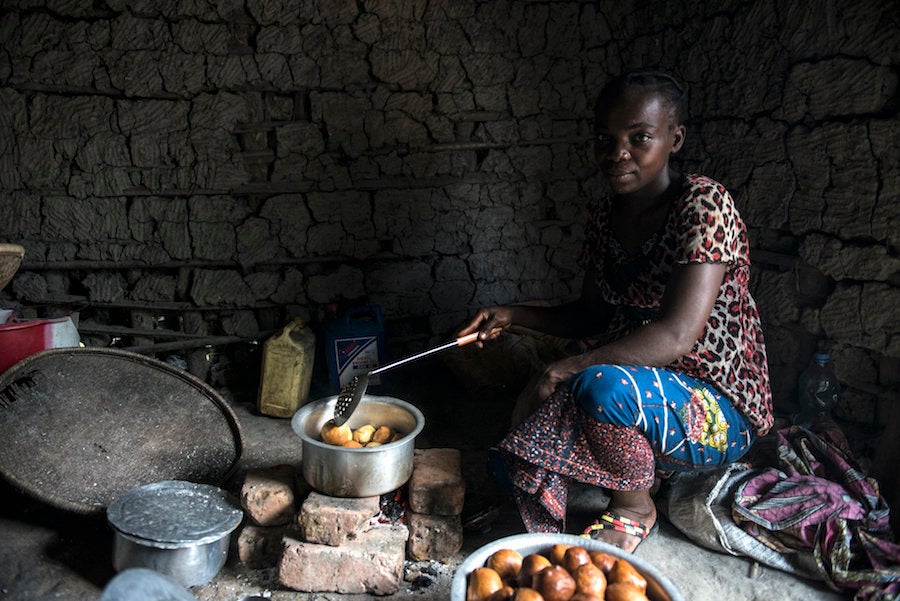 Years of trials involving both Doctors Without Borders and DNDi, a nonprofit drug development company, led in 2009 to the rollout of a better treatment called NECT (which stands for nifurtimox-eflornithine combination therapy). This is what eventually cured Liyande.
But NECT is far from the ideal answer for a disease that often spreads in hard-to-reach communities. It involves seven days of injections and 10 days of pills. The entire course of medication for one person weighs 22 pounds, and medical professionals must administer it in the kind of hospital that most remote areas simply don't have.
In Yalikombo, Liyande said, "The hospital is a mud hut with a bamboo bed, and there are no real doctors."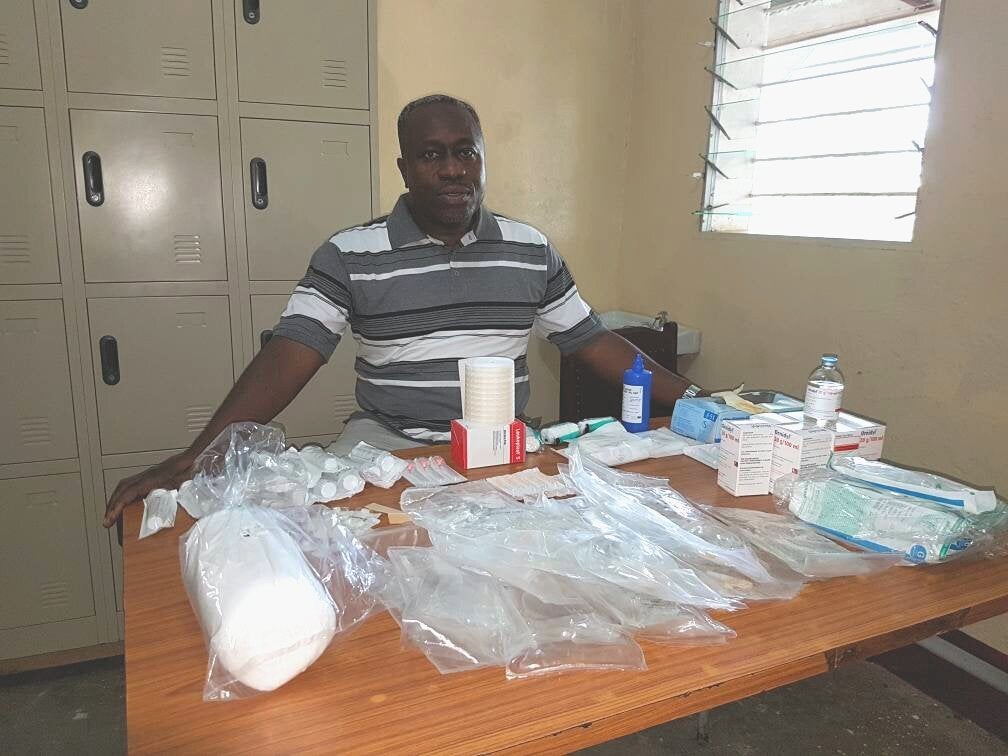 Mobile medical teams, who bring tents and testing equipment into the bush to screen for the disease, must perform a painful lumbar puncture to determine whether a case is advanced enough for NECT. If a case is still in its early stage, health workers can give the patient an antimicrobial injection right there in the village.
DNDi and its partners are working on an oral cure that could treat people at any stage of the disease, but it's still just in trials.
Meanwhile, prevention measures are limited. Other countries have made some progress in controlling the tsetse fly population, but in Congo the effort comes down to two men in their 60s who sit outside Lumbala's office in Kinshasa, making nets that trap the insect. They sew 3,000 per year ― for the whole country.
"These are grand fly murderers," said Thomas Disolo, looking up from the old sewing machine where he stitches the blue and green cloth to attract the flies. For this work, the government pays him around $10 a day.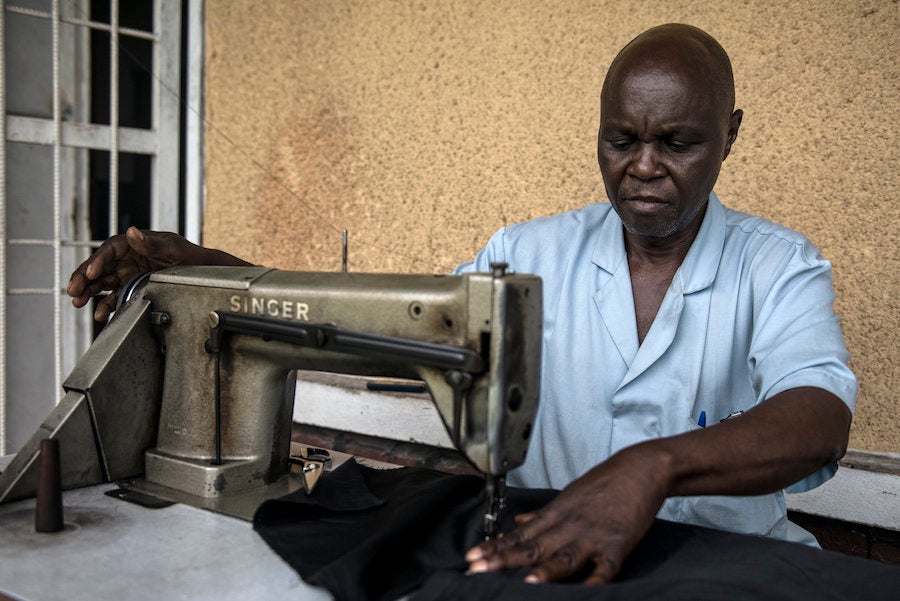 These nets are incredibly effective, according to entomologist Philemon Mansina, who has studied tsetse flies for 25 years and works for Congo's national sleeping sickness program.
"In some areas we saw a drastic drop in cases, like 80 percent," he said.
But the money to make more fly traps is lacking. And they don't work unless people in the local communities hang up the nets, empty them regularly, and otherwise maintain them.
"You used to see them everywhere," said Sister Mary Magdalene said of the tsetse fly traps. "Now you see one or two, and many flies. I don't think the sickness is going away. I think it's actually coming back."
In Yalikombo, which has at least one of these traps, Liyande said he has noticed fewer flies around the riverbank where he and other villagers fish.
After he was treated for sleeping sickness, Liyande said he had his nine children screened for the disease. They all tested negative.
Still he fears for them and countless other people in remote Congolese villages.
"You must not forget them," he said.
DNDi is a recipient of grants from the Bill & Melinda Gates Foundation, which also funds HuffPost's Project Zero series. All content in this series is editorially independent, with no influence or input from the foundation.
If you'd like to contribute a post to the series, send an email to ProjectZero@huffingtonpost.com. And follow the conversation on social media by using the hashtag #ProjectZero.
Before You Go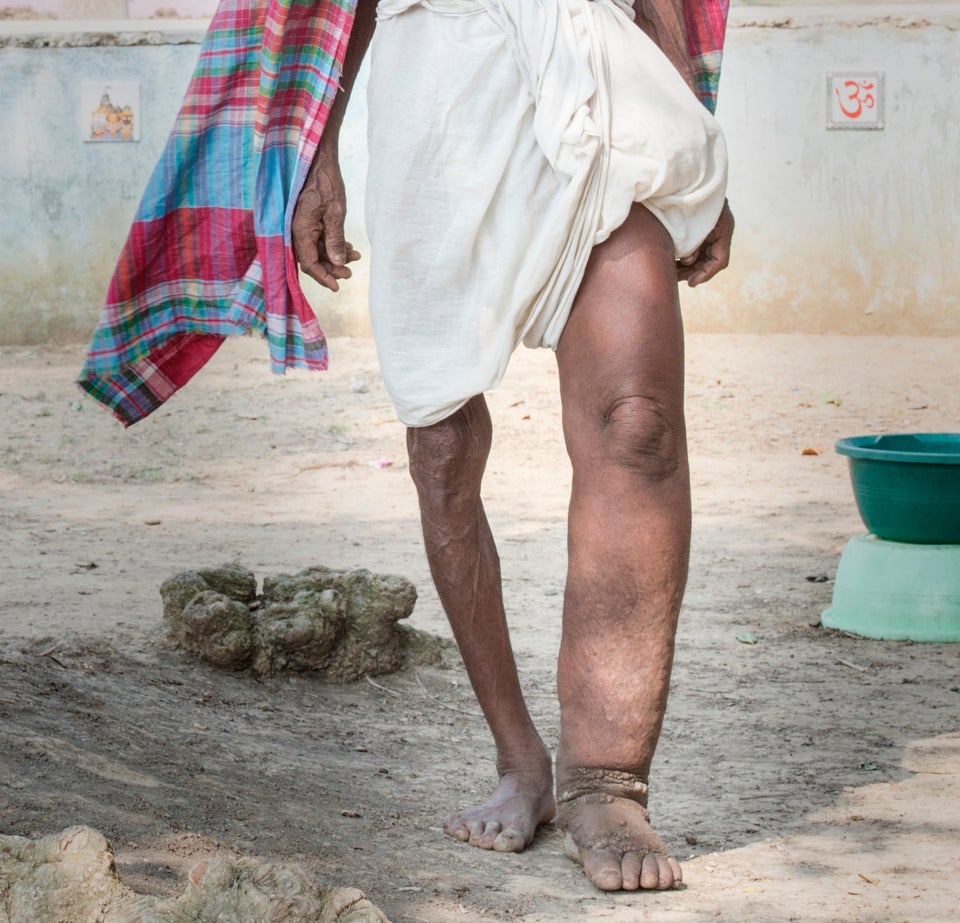 Neglected Tropical Diseases
Popular in the Community