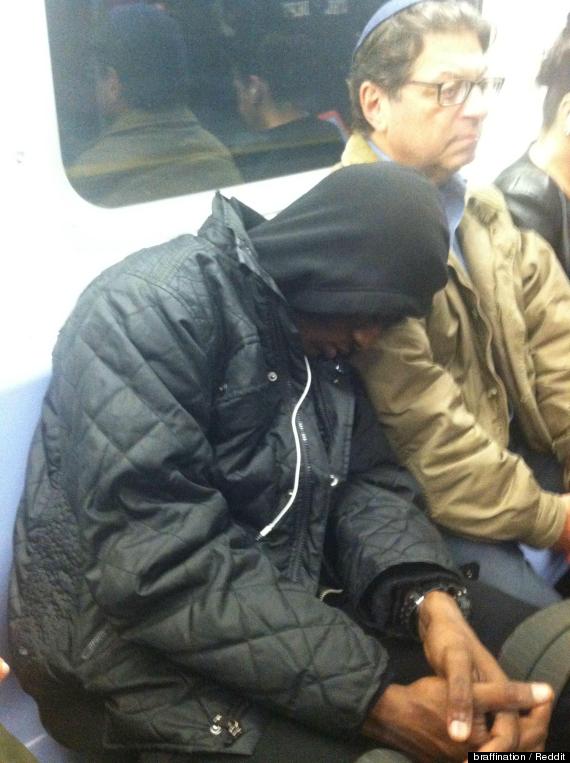 When Isaac Theil let a sleepy stranger take a little catnap on his shoulder, it was because "I simply remembered the times my own head would bop on someone's shoulder because I was so tired after a long day," he recounted to Tova Ross of Tablet Magazine.
Another subway rider was so struck by Theil's nonchalant empathy that he snapped a picture and put it on Reddit, from which it was then posted to Facebook by Charidy.
Redditor Braffination wrote, "Heading home on the Q train yesterday when this young black guy nods off on the shoulder of a Jewish man. The man doesn't move a muscle, just lets him stay there. After a minute, I asked the man if he wanted me to wake the kid up, but he shook his head and responded, 'He must have had a long day, let him sleep. We've all been there, right?'"
Theil himself has been completely surprised at the attention he's received for his small act of kindness, as the photo has been shared over 20,000 times on Facebook.
"Maybe the photo wouldn't have become so popular if people weren't seeing a Jewish man with a yarmulke and a black man in a hood, and because they might not necessarily correlate the two," speculated Theil to Tablet. "But there is only one reason that I didn't move, and let him continue sleeping, and that has nothing to do with race. He was simply a human being who was exhausted, and I knew it and happened to be there and have a big shoulder to offer him."
Rabbi Bradley Hirschfield, president of The National Jewish Center for Learning and Leadership, was moved by Theil's recollection of his own fatigue as an explanation for his kindness, and told The Huffington Post that it was a perfect demonstration of human empathy. Hirschfield said, "To be able to draw on past hardship to soften our hearts towards others is one of the most repeated commandments to the Jewish people, and is the core of many spiritual traditions."
"I would love for people to use this as a lesson to just be good to each other," Theil said to Tablet.
Related
Popular in the Community