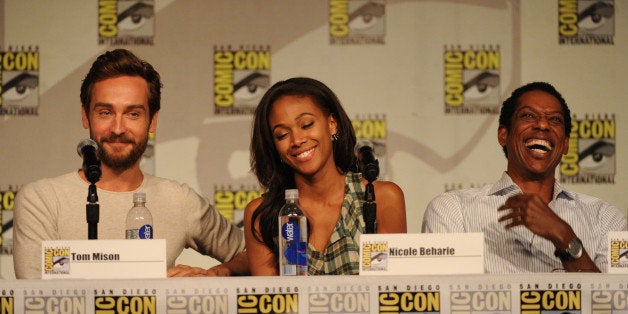 All right, Sleepyheads, we still have quite a wait before "Sleepy Hollow" returns Sept. 22, but there is a lot of information out there about things that are going to happen when Ichabod Crane, Abbie Mills and the rest of the crew return.
The show's cast and producers have been dropping hints and teasers all over the place during the last few weeks, and when I was in Los Angeles recently, I interviewed executive producer/showrunner Mark Goffman as well.
I'll post the majority of that Goffman interview closer to the show's Season 2 premiere, but to tide you over until then, here are a slew of tidbits about what will happen in the show's 18-episode second season from three different sources: The cast and producers' panel discussion of the show at the Television Critics Association press tour in July (those bits are marked with a 1); the "Sleepy" crew's appearance at San Diego Comic-Con (marked with a 2); and my interview with Goffman (3).
HuffPost TV can exclusively reveal that Clancy Brown will return as Sheriff Corbin in the sixth episode of the season, which is titled "And the Abyss Gazes Back." (3)
As previously reported, Matt Barr will recur this season as Nick Hawley, an arms dealer who gets drawn into Ichabod and Abbie's work. Hawley has a past with Jenny, but in Season 2, he and Abbie end up being drawn to each other, despite the fact that, as Goffman noted, "neither of them is particularly looking for a relationship." Hawley has "a very different energy from Crane," Goffman added. "They complement each other well. He has a completely different point of view in the world. He doesn't care. When you talk to him about the Apocalypse, he's like, 'Which one?'" because every culture has a myth or lore about an Apocalypse. "He's not worried about that, he's much more out for himself and living for the moment," Goffman added. "I think that actually part of the reason we came up with this character was because …there's so much weight of the world on our characters with the Apocalypse -- we didn't want it to always feel heavy. We need that levity, we need to show that life still is going on." (3)
As previously announced, Timothy Busfield will play Benjamin Franklin in the new season. And of course there's some of "Sleepy Hollow's" patented "twistory" involved. "Not only did Ichabod Crane apprentice under him reluctantly… his experimentation with electricity and the key he used on the iconic kite" was actually a key to open the door to Purgatory, according to Goffman. (3)
Abbie's mother will arrive midway through the second season to play a "pivotal" role. "She's a big part of Abbie's arc" even before she arrives, Goffman said. (3)
As reported elsewhere, Sakina Jaffrey will play Sheriff Reyes, who takes over for the jailed Frank Irving and who has links to Abbie and Jenny's family. "She has a history in Sleepy Hollow, but has been with the Border Patrol for a while. She's really no-nonsense and a real obstacle for" Ichabod and Abbie, Goffman said. (1)
"Crane has a former love interest that he was betrothed to in England and it turns out she's come back as what we're calling 'The Weeping Lady,'" Goffman said. She'll be played by Heather Lind (who knows from corsets and Revolutionary War soldiers -- she's also appeared on "Turn.") (3)
We will meet Benedict Arnold in Season 2. (2)
In addition to being War, Henry will be an important lawyer in town and will sow seeds of doubt in many people's minds. Henry has "behaved poorly, but for me, it's just an adolescent stage," John Noble said. (2)
Katrina will be with Headless for part of this season, and thanks to a special spell, she'll be able to see him as Abraham. Katia Winter said their relationship has a "Beauty and the Beast" dynamic. The actress added that she knows some fans want Katrina "to go away," but viewers will see in Season 2 why Katrina and Ichabod love each other so much. That said, executive producer Robert Orci said the writers will "drop a few bombs" on their relationship this season. Katrina will also get to use more magic in Season 2, now that she's out of Purgatory. (2, 3)
And finally, here are a few bits and pieces that will appear in various episodes: Crane will ride on a motorcyle driven by Abbie (a development that may cause Tumblr to explode); Crane will learn to drive; we'll learn that Crane watched "Glee"; Crane will watch Abbie vote in an election; he'll visit a bank (the Season 2 clip of this moment shown at Comic-Con was a hoot); and among the creatures Abbie and Ichabod will encounter are a succubus, a wendigo, a Pied Piper and something called the Kindred. Lastly, there will be some new clothes for Crane (not, we hope, the dreaded skinny jeans). (1, 2, 3)
"Sleepy Hollow" returns 9 p.m. ET Sept. 22 on Fox.
REAL LIFE. REAL NEWS. REAL VOICES.
Help us tell more of the stories that matter from voices that too often remain unheard.
BEFORE YOU GO
PHOTO GALLERY
What To Watch