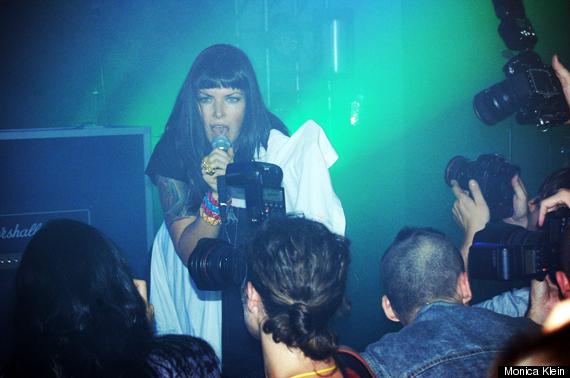 Although they were only a small part of an overstimulating, overwhelming bill that included M.I.A., Neon Indian, Interpol, Mark Ronson, Die Antwood, Tame Impala, The Rapture, and other acts, along with high profile film screenings and visual installations, the performance I was most excited to see at the twelve-hour-long, 80,000 square feet Creator's Project launch party at Milk Studios on Saturday was Sleigh Bells.
You may wonder why the chance to see this band was so exciting to me, and I've been wondering that myself. After all, Sleigh Bells has just released its debut album, Treats, only a month-and-a-half ago, and weren't even on the music blog-radar until its performance at the CMJ Festival last October. They are one indie-electronic noise duo (comprised of Derek Miller and Alexis Krauss) from Brooklyn among countless others.
But the aforementioned album, Treats, is simply the loudest, most intense, most thrilling batch of songs I've heard in a long time. It's a genre-bending, thirty-two-minute, eleven-song sonic blowout full of blaring hip hop beats, heroic guitar hooks, soaring synths, screeches, screams, snaps, claps, stomps, and many sounds I've never heard before--all packaged together with an incredibly refreshing, satisfying noise assault that afterward leaves me feeling tingly. It gets me out of bed in the morning--its effects are comparable to my first cup of coffee.
At 9 p.m. in Gallery 2, on the second floor of the massive three-floor party, Miller leapt onstage in a denim jacket, already holding his Gibson SG. Following immediately behind was Krauss, mike-in-hand, sporting gold rings, colorful bracelets, tattoos, severe eyeliner, and a black t-shirt beneath some sort of white drape. Sleigh Bells launched immediately into "Tell 'Em," the bands first single and the opening song off Treats. Although the band only played nine songs, all but one of which was from Treats, they were of course eight power songs, and the set was short and sweet. Giant amp stacks and PAs surrounded the band, multi-colored lights flashed throughout the show, and Miller strutted with his SG while Krauss thrashed around both onstage and into the audience.
I just can't get over how downright thrilling this band is. Somehow, Sleigh Bells has managed to hit all of the right notes. And although I'm not sure exactly what it means, I know the line "I've got my A machines on the table / got my B machines in the drawer" describes exactly how I feel.
1. Tell 'Em
2. Infinity Guitars
3. A/B Machines
4. Kids
5. Riot Rhythm
6. Treats
7. Straight A's
8. Holly
9. Crown On the Ground
Calling all HuffPost superfans!
Sign up for membership to become a founding member and help shape HuffPost's next chapter