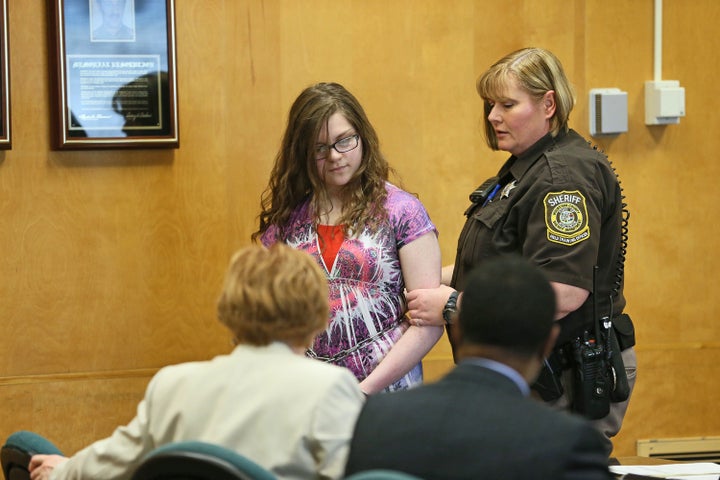 A Wisconsin teenager accused of stabbing a classmate to please a fictional horror character named "Slender Man" has been ordered to receive 25 years of mental health treatment.
Waukesha County Circuit Judge Michael Bohren ruled that 16-year-old Anissa Weier must undergo treatment at the Winnebago Mental Health Institute, the Milwaukee Journal Sentinel reported. Weier pleaded guilty in August to attempted second-degree intentional homicide, but said she should not be held accountable due to mental illness. 
The criminal trial stemmed back to a 2014 attack in which Weier and another girl, Morgan Geyser, were accused of stabbing a classmate 19 times in an attempt to gain the favor of the fictional character, Slender Man. All three girls were 12 years old at the time of the incident.
The victim survived the attack and was found on a roadside. Weier and Geyser were tracked down later that day on the outskirts of the city and reportedly told police that they were heading to the Nicolet National Forest where they'd live with the fictional creature and his servants in his mansion.
Both girls were tried as adults and were found to experience mental health issues. Geyser was diagnosed with schizophrenia and oppositional defiant disorder after her arrest. Weier was diagnosed with a delusional disorder and a condition known as schizotypy.
Weier's sentencing means the teen will spend at least three years in the mental health facility before she is eligible to request supervised release. Upon her release, she would need to remain under state supervision for the remainder of the 25-year sentence.
The victim's mother sent a letter to the judge earlier this week, saying the attack "has defined our lives." She said that her daughter frequently slept with scissors under her pillow after the attack and still keeps her bedroom windows locked, CBS News reported.
"She will struggle with the events of that day and physical and emotional scars it left for the rest of her life," the girl's mother wrote.
Calling all HuffPost superfans!
Sign up for membership to become a founding member and help shape HuffPost's next chapter