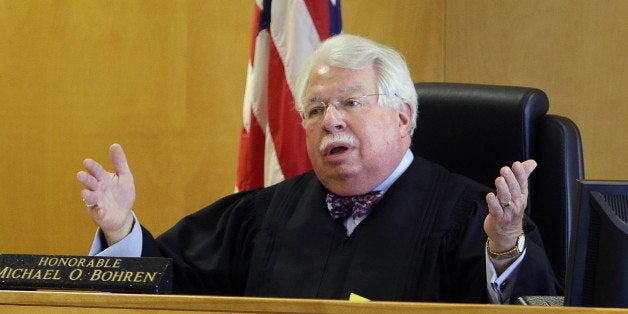 Last Monday, a Wisconsin judge ruled that two 13-year-old girls would be tried as adults for crimes committed when they were 12. The girls are accused of luring their other friend into the woods and stabbing her 19 times in an alleged attempt to please a fictional character called Slender Man. If convicted, they face 65 years in prison. If tried and convicted as juveniles, they would have been held for a maximum of five years in a youth detention facility. Though their alleged crimes were heinous, the plain and simple truth is that trying kids as adults ultimately hurts society.
In 1978, Willie Bosket also faced a maximum penalty of five years in a youth facility. At age 15, he was convicted of murdering two people, possibly a third, in an eight-day spree across New York City. When Bosket received the maximum sentence of five years, the public revolted.
Within 14 days, the Governor of New York had reversed his longstanding, rehabilitative position on juvenile transfer laws -- trying kids as adults -- and corralled a sweeping juvenile justice law through the state legislature. The first juvenile transfer law of its kind, the new law allowed children as young as 10 to be tried as adults. Twenty years later, all 50 states had passed some sort of juvenile transfer law -- the majority of which are still in effect today.
But despite their continued popularity, juvenile transfer laws are bad policy. They exacerbate all that is wrong with the American criminal justice system, furthering unacceptable biases and inconsistencies already rampant in the system, and making children more likely, not less, to fall into recidivism.
Research tells us that we implicitly view black children as older than their white peers, making us more likely to try black kids as adults than white kids accused of comparable crimes. The authors of a study conducted by the American Psychological Association found that "black boys can be seen as responsible for their actions at an age when white boys still benefit from the assumption that children are essentially innocent." Children from rural areas, too, are more likely than children from urban areas to be tried as adults, possibly because of the scarcity of juvenile justice resources in rural parts of the country.
Beyond individual characteristics, we also know, through exhaustive studies, that whether or not a child is tried as an adult is largely dependent upon the judge the child's case comes before, and nothing more. The authors of one study on the subject called such "subjective decision-making" utterly unjustifiable in the modern age.
Most importantly, study after study tells us that trying kids as adults does nothing to reduce recidivism, and actually has the opposite effect. The results of a study of 800 children showed that, regardless of sentence type or length, recidivism rates were significantly lower for juveniles tried in juvenile court versus criminal court. Modern science demonstrates that children's brains are still growing into their early 20s, with their ability to weigh right from wrong gradually developing. We also know children are more responsive to rehabilitation than adults, and that the juvenile justice system has a better track record of rehabilitation than the larger criminal justice system.
In sum, juvenile transfer laws have no place in our justice system. They project the worst failings of our adult system, from racial bias to rash inconsistency to ineffectiveness, onto our children. Given the barriers young people with criminal records confront, the more we treat kids as adults and the longer we throw them in prison -- the less education, work experience, and childhood they receive -- the less of a chance we give them to successfully re-enter society.
Today, nearly 40 years after the Willie Bosket case, New York is recognizing that its tough-on-crime juvenile justice policies have failed. Although it still has one of the harshest juvenile transfer laws in the country, it's now considering reversing course, making 21 the minimum age for children to be tried as adults. This proposal reflects all the studies and research that prove trying children as adults simply doesn't work. Across the country, too, states are reconsidering their juvenile transfer laws, acknowledging that many were passed in response to exceptional cases like the Bosket case.
We cannot let the justice system repeat history in the Slender Man case. For far too long, we've let extreme cases and retribution dictate our nation's juvenile justice policy. It's time now to resist that retributive urge, opting instead to create a morally sound juvenile justice system based on modern science and rehabilitation.
REAL LIFE. REAL NEWS. REAL VOICES.
Help us tell more of the stories that matter from voices that too often remain unheard.