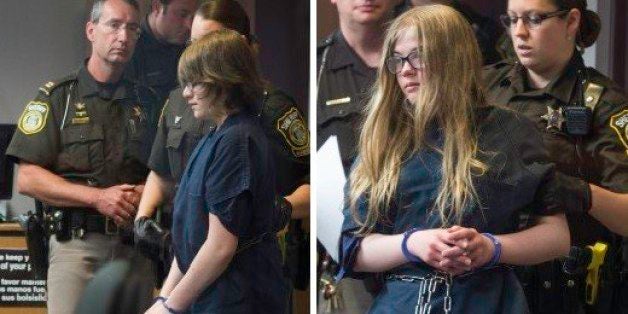 Wisconsin police have released audio of the 911 call placed after the alleged stabbing of a 12-year-old girl by two young friends who police say were trying to prove the existence of a fictional creature named "Slenderman."
The recording of the 911 call obtained by The Huffington Post details the horrifying minutes after bicyclist Greg Steinberg called the Waukesha Police Department to report the discovery of the girl on the side of a road.
"She says she's having trouble breathing," Steinberg can be heard telling the 911 operator.
A frightened young girl's voice is faintly audible in the background as Steinberg speaks.
"She says she has been stabbed multiple times," he adds.
Steinberg gives a chilling account of how he stumbled upon the child and at one point asks the victim point-blank who attacked her.
Two 12-year-old girls, identified in court documents as Morgan Geyser and Anissa Weier, were arrested for the victim's stabbing. The Huffington Post is not naming the victim but is naming the suspects because they are charged as adults and their names have been made public.
Geyser and Weier were charged in Waukesha County Circuit Court on Monday with attempted first-degree intentional homicide. Their victim, who is also from Waukesha, is hospitalized in stable condition.
A criminal complaint obtained by HuffPost alleges that Geyser and Weier tried to kill the victim to prove the existence of a fictional creature called "Slenderman."
"Many people do not believe Slenderman is real [and we] wanted to prove the skeptics wrong," one of the girls said, according to the complaint filed by the Waukesha Police Department.
The complaint alleges that Weier told police she learned about Slenderman on a website called CreepyPasta and later introduced Geyser to the site.
On Tuesday, James McCann, co-founder of A Paranormal Group, a nonprofit that investigates unexplained phenomena, told HuffPost that Slenderman appears in crowd-sourced fiction as a demonic character who stalks, traumatizes and abducts children.
"It's believed to reach his realm level, you have to kill somebody," McCann said.
Law enforcement authorities say that Geyser and Weier planned to kill the victim for several months and set their plan in motion on Saturday, when they led her to a wooded area near David's Park and stabbed her 19 times.
The two girls then backed away from the victim and began what would have been a very long walk to the Nicolet National Forest in northern Wisconsin, where they allegedly believed Slenderman lived in a mansion, police said.
The victim, who sustained numerous stab wounds to her torso, legs and arms, managed to crawl out of the woods, at which time Steinberg spotted her and called 911, police said.
The complaint states that the victim later told authorities she had been stabbed by her best friend, Morgan Geyser. The two suspects were arrested while walking near Interstate 94, police said.
Questioned by police, Weier allegedly said, "The bad part of me wanted her to die, the good part of me wanted her to live."
Geyser allegedly said she was sorry for what happened, according to police, but added, "It was weird that I didn't feel remorse."
READ THE CRIMINAL COMPLAINT:
Like Us On Facebook |

Follow Us On Twitter |

Contact The Author
Related
Popular in the Community