A young Wisconsin girl who authorities say survived a gruesome stabbing attack waged by two of her friends has offered a brief, yet moving statement to her supporters.
Enshrouded by some of the hundreds of purple paper hearts she's received from strangers all over the globe, the 12-year-old holds a sign that reads "THANK YOU," in an image her parents have released to the public.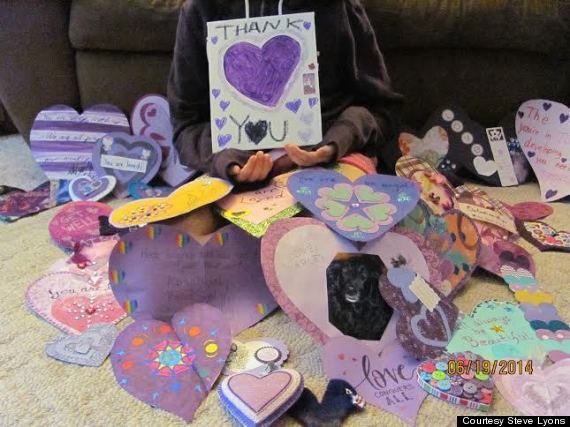 The girl -- whose name hasn't been released because she is a minor -- was lured into the woods in Waukesha, Wisconsin, on May 31 by two of her classmates and was stabbed 19 times with a kitchen knife, according to the criminal complaint.
The girl narrowly survived the attack, but was able to crawl out of the woods and was spotted by a biker. When asked how she found the strength to keep going, she said, "I wanted to live," the Associated Press reported.
But the victim isn't focusing on the details of that dark day.
Instead, she and her family are embracing the outpouring of support they've received since the attack.
The girl was released from the hospital a week after the incident and has been spending her days going to rehabilitation and medical appointments, and adjusting to her "new normal," according to a two-page statement released by her family.
But part of her "new normal" involves getting an incredible amount of love and support from friends, family and complete strangers.
An online campaign set up to help raise money for the victim's mounting medical bills has collected more than $48,000. The family hopes to raise $250,000.
In addition to monetary donations, the family has asked supporters to send homemade hearts to their daughter, which have been flooding their mailbox. A local artist drew the girl a tree trunk with leaves consisting entirely of purple hearts sent from people from around the world.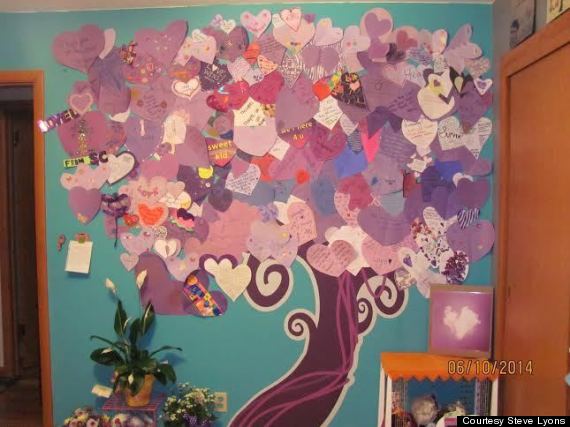 "We simply cannot put into words how grateful we are for the prayers, packages and heartfelt messages," the victim's parents said in their statement. "We are overwhelmed by the outpouring of love and support."
To help support the 12-year-old stabbing victim's recovery, find out how you can get involved with her fundraising campaign here or visit any BMO Harris Bank branch.
REAL LIFE. REAL NEWS. REAL VOICES.
Help us tell more of the stories that matter from voices that too often remain unheard.