Art collective and "living magazine" The Culture Whore is back with another massive queer party -- and this is one has an incredible line-up that you really don't want to miss.
The Culture Whore is already known for throwing some of Brooklyn's most immersive queer parties, and now the collective is presenting SIDESHOW on Tuesday, May 20, a showcase of the borough's strangest and most talented performers. This party aims to highlight the true freaks of Brooklyn, featuring performances by the likes of Boy Georgia, Gabe Gonzalez, Boywolf and Untitled Queen.
"We wanted to do something a little different," Mark Dommu, Culture Whore founder and co-director, told The Huffington Post. "Our parties are these massive fantasy events where art and hedonism come together in this beautiful, glittery explosion, but our audience is diverse enough that it also contains people who are looking for something just as strange and wonderful but maybe a bit more accessible. Not everyone is comfortable dancing through sunrise! So we've created this event that concentrates what we're doing and heightens the performance angle of it."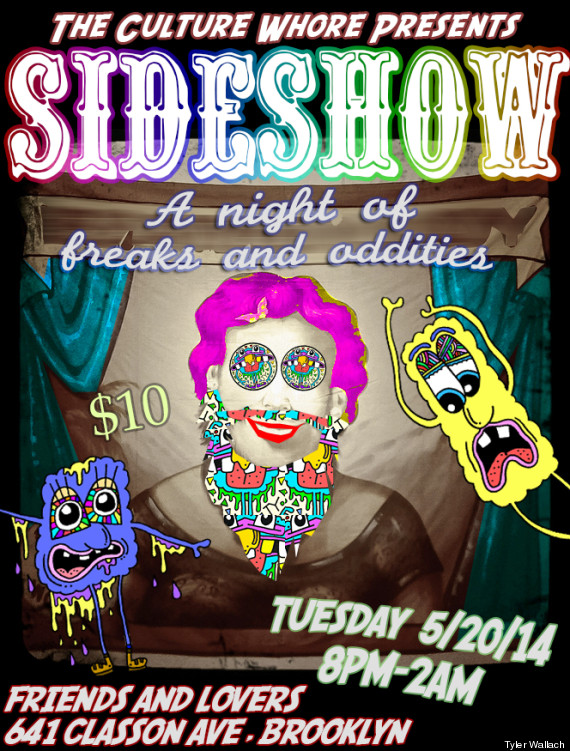 The Culture Whore is a "living magazine" that celebrates "the glorious spectrum of New York City's luminously weird artistic community through immersive, high-concept, queer-focused events," according to Dommu. The group's past events have included AN1M0RPHS, SATANIC SMOKEOUT, Halloween's HOGWARTZ RAVE and DICK THE BALLS.
SIDESHOW will also serve as the release of "ARTSLUT:: a ZiNE for Culture Whores," a new publication from Dommu featuring the work of a number of talented artists. In the words of the Culture Whore himself, "Rip off your homogenous veil, shower your scars with glitter and come meet us where the wild things are!"
REAL LIFE. REAL NEWS. REAL VOICES.
Help us tell more of the stories that matter from voices that too often remain unheard.