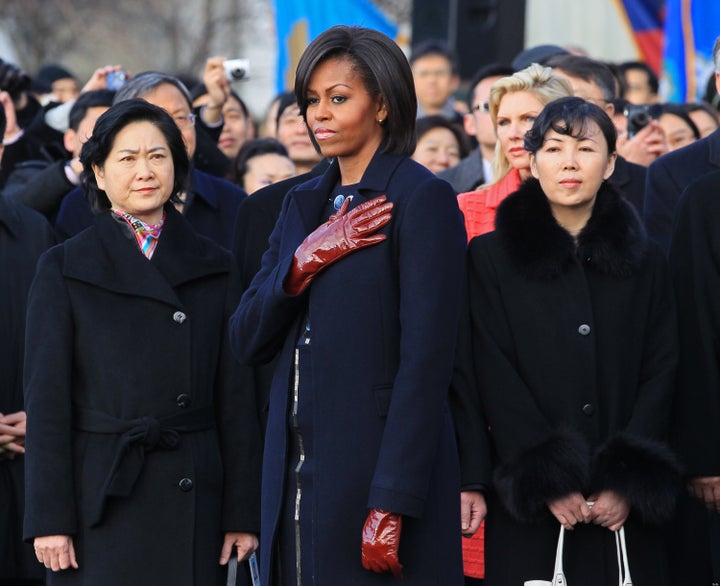 As Ashley Halsey III, in the Washington Post, reports:
It is the kind risk teenagers take: darting across six lanes of traffic, paying no mind to the flashing sign warning pedestrians to await the green light.

Wayne Cuffy and his buddies bolted across Landover Road on their way to the mall Tuesday night, a mistake that cost the 15-year-old his life when he stepped in front of a Ford Expedition at Dodge Park Road.
Pedestrian deaths increased sharply during the first half of 2010, according to the Governors Highway Safety Association (GHSA). The reason may be First Lady Michelle Obama and her "Let's Move" campaign.
That's right! While an intelligent read of everyone else's reporting on the slight uptick in pedestrian deaths might lead you to conclude that more pedestrians are distracted by their iPods and smart-phones, or that pedestrians are growing more aggressive, The Daily Caller's Amanda Carey is pretty sure that this is all being caused by that time Michelle Obama urged children, "Let's Move!" as though she meant, "Let's move right in front of some moving cars!"
Carey basically echoes this piece from the Washington Examiner, in which the executive director of GHSA discusses the extent to which Michelle Obama is to blame for people dying in the streets in a way that I would term "highly equivocal":
GHSA executive director Barbara Harsha said her organization doesn't know why there were more deaths in the first six months of 2010 than in 2009, but the increase is notable because overall traffic fatalities went down 8 percent during this period, and the increase ends four straight years of steady declines in pedestrian deaths.

But the "get moving" movement, led by Obama's "Let's Move" campaign to eliminate childhood obesity, could be to blame, Harsha told The Washington Examiner.

"There's an emphasis these days to getting fit, and I think people doing that are more exposed to risk [of getting hit by a vehicle]," said Harsha, who conceded to having no scientific evidence that the Let's Move campaign has led to an increase in walkers and runners, or deaths.

"This is all speculative," Harsha said. "Obviously, further study is needed."
Kids, before you exercise, remember to get yourself stretched out at least as far as the above stretches the meanings of words like "told" and "conceded."
UPDATE: GHSA's communications director, Jonathan Adkins, tells the Huffington Post: "Barbara Harsha was completely misquoted by the D.C. Examiner. Certainly, we don't blame Mrs. Obama for the uptick in pedestrian deaths. In fact, we support "Get Moving" programs. We just want to ensure pedestrian safety."
Meanwhile, deaths from heart disease -- the nation's leading killer of humans -- were down considerably in 2010, beating expectations. Medical professionals, however, worry that these trends will be reversed if more isn't done to stem the "twin epidemics of diabetes and obesity in young people." So, yeah, maybe now isn't the best time to conclude from the GHSA study that the safest thing you can do is sit on your couch all afternoon, stewing in your own filth and drinking ranch dressing straight from the bottle. But if you hate Michelle Obama, by all means, indulge!
[Would you like to follow me on Twitter? Because why not? Also, please send tips to tv@huffingtonpost.com -- learn more about our media monitoring project here.]

Related
Popular in the Community