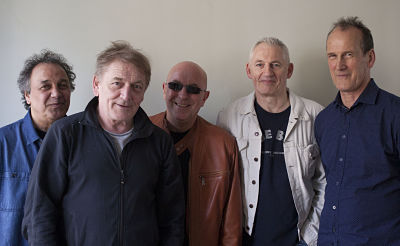 "I think Ronnie Lane would have a huge smile on his face if he heard On The Move but I'm also certain he would say something incredibly funny about us too! He had a great mischievous sense of humour and nothing could escape a witty comment from him! The amazing thing is that many of the reviews of On The Move have ended by saying that Ronnie would surely have approved of the album and that he'd be leaning up against the bar with a brandy in his hand and a huge smile on his face. We couldn't ask for more than that..." -- Steve Bingham
It's rather mind-boggling for those of us of a certain age to fathom that we were first introduced to Ronald Frederick "Ronnie" Lane over a half century ago. Nicknamed "Plonk" for reasons I won't address in this forum, Ronnie was the heart, soul, and integral songwriter for not one, but two of rock 'n' roll's exceedingly influential and most beloved ensembles: The Small Faces and The Faces. Though Steve Marriott and Rod Stewart may have been the more celebrated faces - you couldn't take your eyes nor ears off the charismatic, ebullient elfin bassist who plied his craft with a decidedly working- class London cockney character pooled with a libretto borne of romance, resignation, and realism.
Yet at the very pinnacle of the Faces' fortune and fame in 1973, Ronnie Lane ditched the satin and silk of stardom to create a fresh new ensemble steeped in traditional folk, blues, country, and pop which he aptly dubbed Slim Chance - a pun on their potential for commercial success.
Though out-of-step with the then current crop of glam and hard rockers and burgeoning punks, Slim Chance emerged as an enchanting, dexterous collective of musicians as reflected in their cherished long-players with Ronnie: Anymore for Anymore (1974) which featured their sole hit "How Come," Ronnie Lane's Slim Chance (1975), and One for the Road (1976) along with their legendary performances as captured on the must-see rock documentary Passing Show: The Life and Music of Ronnie Lane (2006) by director Rupert Williams.
In the present tense, the influence of Slim Chance is readily evidenced; spanning indie rockers, Americana artists, to acoustic-electric roots superstars Mumford & Sons. Sadly, Ronnie passed after a long battle with multiple sclerosis in 1997 - however the Slim Chance story did not end there.
Fast forward to the year 2010 wherein primary Slim Chance band members Charlie Hart and Steve Simpson ostensibly "trawled" the streets of South London seeking additional former Slim Chance members - all in the spirit of Ronnie's infamous jape that he accrued his aforementioned posse by way of the Exchange and Mart classified adverts. Among the pleasantly "rummaged" was bassist Steve Bingham.
Since then, Slim Chance, with a little help from their friends and fans old and new, have returned to the stage, ranging from pubs to festivals, and to the recording studio. As an undeniably blissful Steve Bingham conveyed to me back in the heady days of 2014 at the Half-Moon in Putney, London shortly before Slim Chance raised the roof to an audience which crossed generations: "I'm so glad we got back together... there was something slightly unfinished about the first incarnation of Slim Chance."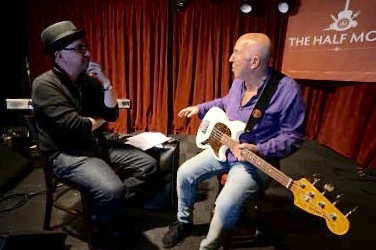 Slim Chance's first-post Lane release entitled The Show Goes On: The Songs of Ronnie Lane (2013) jettisoned the band back into the 21st Century with updated versions of gems aplenty from Lane's laudable canon. Notes Bingham:
We were all really happy with the response to The Show Goes On... however the album was somewhat of a tribute to the late, great Ronnie Lane as it contained all his songs which we all still love playing as they are brilliant, but gradually we wanted to become a recognized force just as Slim Chance. As we are all writers, it was decided that each one of us should put forward something totally original for consideration on the new album...
As such, Slim Chance waxed the appropriately titled follow-up On The Move at Charlie Hart's Equator Studios in South London, with the multi-instrumentalist Hart helming the producer's chair. Aside from the fact that "he makes the best soup in Lewisham," according to Bingham, Hart's life experience on the bandstand, as a recording artist and valued sideman in his own right, along with his expertise behind the console made him the optimum choice. "It's not easy being a part of the band and having to play and produce at the same time," Bingham relates, "but Charlie has managed this with flying colours and he has the gift of making people feeling totally relaxed - but at the same time he's very much in control of what's happening and he's able to make crucial decisions and stand by them which is essential for the continuity of the sessions."
As they did with Ronnie, the current line-up of Slim Chance digs deep into the roots of rock 'n' roll throughout On The Move with songs, grooves, and arrangements that resonate as simultaneously classic and modern. Their command of the blues, to my ears, stands with their virtuoso countrymen Eric Clapton, Albert Lee, and Andy Fairweather-Low, among others. Hart explains why Brits sing and play the blues as well as us Yanks.
"What happened in the late '50s and '60s in England was amazing," details Hart.
What had been a bland cultural pop and classical music scene after the war was transformed when young people were hit by a wave of fantastic recordings by the likes of Leadbelly, Muddy Waters, Howling Wolf, Bo Diddley, Snooks Eaglin, John Lee Hooker, B.B. King, and a host of others. There was something about the immediacy and authenticity of this music that struck a chord with the younger generation in England, who were looking for musical excitement. This was a 'music of the people for the people,' a protest music too, and it fitted in well with the cultural revolution that was occurring at the time. And not only did we love the music, we got hold of guitars, drum kits and so on, learnt as fast as we could, and up and down the country kids were forming bands committed to playing to the blues in all its various forms...
Regarding my references to Slowhand and his peers, Hart adds "and just because of the law of averages, some of those players turned out to be very talented exponents, and even helped pushed the form further."
Mr. Bingham kicks off On The Move with his self-penned "Fishing Line" - a track which percolates by way of a relaxed four-to-the-bar feel and hushed delivery evocative of JJ Cale.
The song does indeed contain all the elements of Slim Chance which I would classify as being a rich mixture of great underlying grooves overlaid with soaring fiddle, mandolin, squeezebox and guitar from Steve Simpson and Charlie Hart who are both masters of all those instruments. The lyrics to 'Fishing Line' are quite simply about asking the powers that be for help and guidance when the chips are down. The fisherman isn't catching anything and the wind is cold... it is a feeling I remember well from my childhood fishing trips with my dad!
Among the most heartfelt tracks is Hart's fiddle heavy paean to Mr. Lane entitled "Line In the Sand" to which Charlie's lyric quotes Ronnie verbatim: "follow your heart... watch your step, fools rush in where the devil treads..." Notes Hart:
Well, yes, this song does attempt to describe Ronnie's take on things to quite some extent. Ronnie was quite an emotional person, certainly not calculating or highly rational, and he believed people should recognize their own and other people's emotions. Even at the height of his fame, Ronnie didn't want to be cut off from ordinary people and live the life of a secluded rock star. But this openness made him vulnerable in certain ways, and he himself knew one had to watch one's step. Also, he was a quick and intuitive judge of character, and believed in surrounding himself with people he could trust. As far as musicians went, he was looking for those who played with spirit, rather than for material gain.
Steve Simpson's ramblin' gamblin' man reading of the traditional "Duncan and Brady" harkens back to his younger years. Recalls Steve "Duncan and Brady" has been a personal favorite of mine since I first heard Leadbelly on vinyl at Art College way back when. I was very fortunate to work for a while with the enormously talented Paul Brady when he brought his Hard Station (1981) album to the UK from Ireland and Paul did an amazing version of "Duncan and Brady," which I've had in mind since then. It's a great story-song, and Paul is a great influence..."
The lads render three Ronnie Lane compositions for On The Move - including the rare b-side dirge "Done This One Before" which features frequent Slim Chance collaborator Des Horsfall on lead vocal. That particular track emerged as Hart and Simpson were in the process of rebuilding Slim Chance and compiling "a never-ending song list," exclaims Simpson, who describes this Lane composition as "a tale of survival, and fresh hope each day."
Steve Bingham delivers a rousing lead vocal for Slim Chance's remake remodel of Lane's "The Poacher" - a track Steve cut with Ronnie. " If somebody had said to me in 1974 that forty-one years later I'd be singing lead vocal on 'The Poacher' with Slim Chance I'd have thought they were nuts! " he emphasizes.
A fan favorite then and now, Bingham affords this writer a history lesson:
The Poacher' was set to become a massive hit in 1974 and we were booked to appear on the legendary Top of the Pops music show which practically guaranteed a Top 10 chart entry. However, the BBC technicians decided to go on strike and so "The Poacher" went down in history as the biggest hit that never charted!
The photographs included for the On the Move CD gatefold package, designed by Neil Dell, depicts Slim Chance from their 1970s beginnings to the present day. The image of The Horseman which adorns the cover was rendered by Geoff Appleton, whom Hart met by slim chance at an art exhibition hosted by a friend. After experiencing Slim Chance at the Half-Moon, Appleton produced a series of designs. "Geoff magically arrived at the image of the horseman charging into the unknown," recalls Charlie. "We knew there was an element of the 'outlaw' involved, and also musical limits being extended, which was the basic idea behind this album. We all immediately knew that was the one, and the title On The Move followed on naturally..."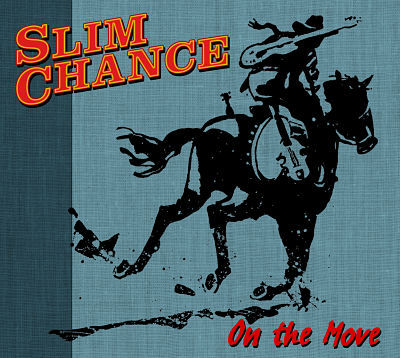 Bassist Bingham waxes prophetic on the return of Slim Chance and their new album.
The great thing about Slim Chance is that we've all "been around the block" many times and we all like to laugh about it! There is always humor when we get together and we all like and respect each other which of course is essential but not always present in some bands! There are no egos or moody trips from anyone and I simply can't recall a time when I didn't come home from the studio with a smile on my face. I believe this vibe shines through on the album and funnily enough lots of critics have said that the music sounds like it's played with a smile on the musicians' faces and I'm really happy to know it has that effect on people!

We've all followed vastly different paths in life but all of us have remained professional musicians throughout our careers and the wonderful thing about Slim Chance now is that we are all bringing different musical influences to the band and it shines through in both our live performances and the recordings. Slim Chance has truly evolved into a melting pot of musical styles which simply can't be pinned down to one particular genre although the influence of Ronnie Lane has and always will be a big part of our music.
On The Move is out now on Fishpool Records and is performed by original Slim Chance members Steve Bingham (bass, vocals), Charlie Hart (accordion, fiddle, organ, Spanish guitar, vocals), Steve Simpson (guitars, mandolin, fiddle, vocals) and current Slim Chance players Jim Russell (drums, percussion) and Geraint Watkins (piano, accordion, vocals) along with Alun Davies (acoustic guitar, vocal), Des Horsfall (vocals, acoustic guitar), and John Lingwood (drums, percussion).
On The Move Horseman illustration is by Geoff Appleton.
Slim Chance band photograph by is Miles Dell: from left to right; Steve Simpson, Geraint Watkins, Steve Bingham, Jim Russell and Charlie Hart.
Photo of Tom Semioli and Steve Bingham at the Half-Moon, Putney, London, is by Mark Preston.
For all things Slim Chance, go to www.slim-chance.co.uk
Calling all HuffPost superfans!
Sign up for membership to become a founding member and help shape HuffPost's next chapter