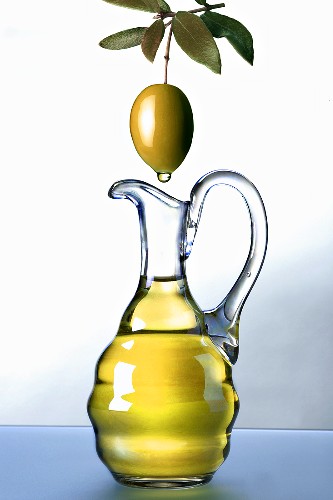 Nancy Harmon Jenkins
There's a problem with Spanish olive oil, and it's not just in Spain. In recent days, international media have been full of news about over-supply, dropping prices and an economic squeeze. When even China Daily reports on the situation, you know that olive oil has truly gone global.
The problem begins with the European Union, or the EU, in Brussels and its Common Agricultural Policy (CAP). The complex piece of legislation has been revised and reformed several times over the years, and it's in dire need of new reform right now, as anyone who's not in big-farm agriculture will tell you.
Big olive oil producers get the subsidies
CAP's major goal, according to its website, is to move European agriculture from intensive farming to more sustainable methods. But in the olive oil sector the policy has had the reverse effect, thanks to fat subsidies paid to the largest olive oil producers and concomitantly very little paid to smaller, more sustainable farmers.
An estimated 70% of CAP's budget (almost half the EU's entire cost) goes to subsidies and price supports. Of that sum, 80% is paid to the largest holdings, including expansive olive oil farms in Spain's southern region of Andalucia, where 40% to 50 % of the world's olive oil is produced in any given year. The largest chunk of CAP money is paid to farmers in Jaén province: 465 million euros or about $590,000,000 annually, according to an Olive Oil Times quote taken from El Diario Jaén newspaper. Almost all the farmers involved are in the olive oil sector.
The result? Any economist worth her salt could predict it. Generous subsidies lead to over-production on a massive scale. More and more land has been brought into cultivation with intensive orchard systems called "super high-density." These systems, developed in Spain, have been exported to California, Chile, Australia and other countries in recent years.
Trees, planted so closely they look from a distance like vineyards, are pruned and harvested by machine, cutting down on labor costs and increasing yield enormously. The record-breaking 2011-12 harvest in Andalucia added another 285 million liters to what was already a glut of 95 million liters, confirming Spain's position as the world's leading olive oil producer by far.
Over-production can mean lesser quality olive oil
But this isn't fine extra virgin fare in a fancy dark-glass bottle costing upward of $40 a liter. Think instead of the bottles stacked on your local supermarket shelves, bottles that often bear what looks like an Italian name on the label. Many are produced by Spanish multinationals and filled with cheap, undated oil from the huge plantations of Andalucia.
This is olive oil as a commodity; produced in quantity, priced cheaply, supported by government subsidies and intended for a global market as competition to canola and other vegetable oils. This is olive oil as kitchen grease, pure and simple. It's not surprising that subsidies produce gluts, which in turn create lower prices and the need for more supports in a continuing cycle. We witnessed the same scenario with corn in the U.S. when Nixon's Secretary of Agriculture, the infamous Earl Butz, promoted the HFCS, high fructose corn syrup, with the resulting unhappy outcomes for U.S. agriculture and the U.S. diet. "Get big or get out" is what Butz told U.S. farmers. A similar message is being heard all across Andalucia. Industrialized commodity producers are all that can survive, one producer told a British reporter.
The ripple effect
While the problem is most acute in Spain, the reverberations are felt across the Mediterranean, even in Palestine where farmers are squeezed by the Spanish drop in prices and by EU subsidies that give European producers unfair advantages. "The only ones who can escape," said Nasser Abufarha, who heads up Canaan Fair Trade, an important cooperative in the north of the country, "are those producing specialist, connoisseur-type oils," his own company's specialty.
The latest proposed CAP reforms have been categorically rejected by Spain's olive oil producers. They would allocate subsidies at a flat rate per hectare of trees rather than on the quantity of oil produced and reward farmers who practice more sustainable methods. The reforms would also limit the amount an individual farm can receive to 300,000 euros (about $381,000 according to the current exchange rate). Another EU proposal is to suspend payments entirely when a country's deficit exceeds 3% of national output -- a violation of EU budgeting rules that most member states ignore.
Related: Want a simple pasta sauce? Try a tomato and olive oil emulsion.
So what's the answer?
Pushed by Spanish producers, the EU's solution is to pay to stock a reserve of some 100,000 tons of Spanish oil to take it off the market. Olive oil doesn't improve with time, and oil from 2010 and possibly earlier harvests isn't much good by now except for rectifying into refined olive oil. A commentator on the Financial Times website suggested going back to ancient Roman customs and bathing in olive oil, while another, more reasonably proposed converting it into bio-fuel. An alternate solution is for farmers to focus on production of high-quality premium extra virgin oils which command a higher price in the marketplace and for which there is growing demand -- especially as consumers become more aware of what exactly is in those bottles of pseudo-extra virgin. There are a number of Spanish producers, in Andalucia and elsewhere, who produce high-quality extra virgin olive oils and sell them at a premium -- proof, if such is necessary, that there is a smart way out of the conundrum.
Zester Daily contributor Nancy Harmon Jenkins is the author of several books, including "Cucina del Sole: A Celebration of the Cuisines of Southern Italy" and "The Essential Mediterranean."
Also fresh on Zester Daily:
China's mid-summer Dragon Boat Festival calls for rice tamales.
Where do the finest Swiss chocolate makers get their cocoa?
Restaurant chefs should quit holding back on the heat.
Calling all HuffPost superfans!
Sign up for membership to become a founding member and help shape HuffPost's next chapter