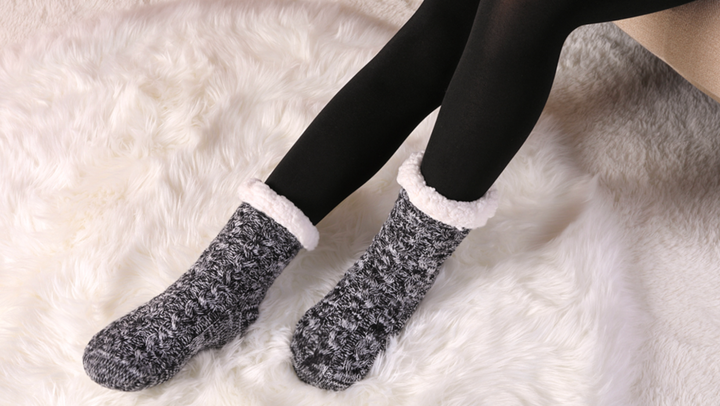 HuffPost may receive a share from purchases made via links on this page. Every item is independently selected by the HuffPost Shopping team. Prices and availability are subject to change.
Even though I'm a generally hot-natured person who prefers the crisp fall air over the brutal heat of summer, there's one part of the temperatures dropping that I just cannot deal with: my toes turning into icicles. The second we transitioned into the chillier season, I immediately swapped out my around-the-house flip-flops for slippers and cozy socks. But not just any socks — fleece-lined grippy socks that start at only $10 on Amazon.
I first became familiar with these socks many Christmases ago when I was too young to appreciate being gifted a quality pair. Though simple, these socks definitely come in handy on days when it's colder than my freezer outdoors and my space heater is working overtime. They're stretchy and lined with fleece, and have silicone rubber grips on the soles to keep you from slipping and sliding around on hardwood floors.
If you're starting your holiday shopping early and need to cross a few stocking stuffers off of your list, these socks are a perfect option. Not to mention they have over 6,000 five-star ratings on Amazon. They come in 40 colors, including red, blue, pink, black, purple, marled black and light gray. Keep in mind the socks are a "one size fits all" style, but the product description states they are most suitable for people who wear women's shoe sizes 6-10.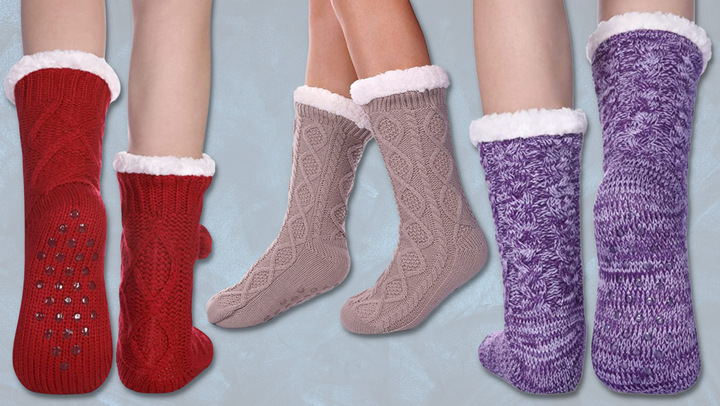 As for the durability, I can attest that they hold up. I have a few pairs in various colors that I've had for roughly two to three years each, and they're all still in good condition even after multiple washes. But if you'd rather have a second, third and fourth opinion, let the promising reviews below sway you into adding a pair or two to your cart:
"Bought these for keeping in my hubby's truck when we travel, [my] feet get cold and these are so perfectly cozy. I also took them on the plane with me to keep my feet warm. They were perfect!" — E. Jones

"Winter in Western New York is cold & snowy but with these slipper socks on my family's feet, they will all be toasty warm. I bought these as a Christmas gift when they were on sale and was thrilled when they arrived and were so nice. I highly recommend them." — Deb

"I have to say I'm impressed. I really wanted something to keep my feet warm while working from home, but not slippers. I'd tried fuzzy socks with a foam cushion, but they just weren't great. So ordered these not expecting a lot, but I have to say they're really nice. I also have some texture issues, don't like fleece, flannel, etc. So generally don't like touching the lining of stuff like this, but these are actually pretty soft without giving me a grating feeling." — Amazon customer
Before You Go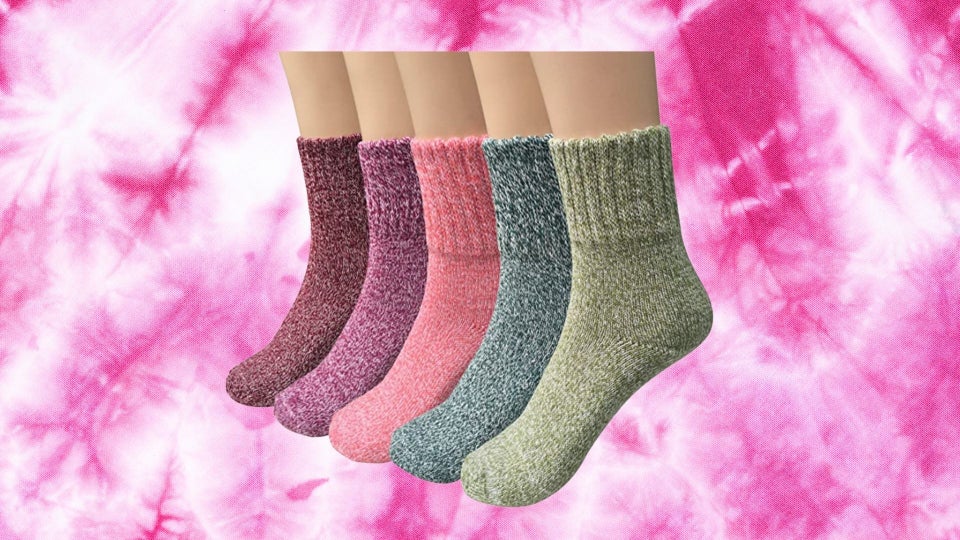 Warm And Wooly Socks That Will Still Fit In Your Shoes