Paradigm Shifters is a series of interviews with a select group of women and men from eclectic walks of life. It will highlight unspoken, real life insights on how they have been able to turn weakness into strength. A naked soul point of view of how their breakdowns were really a preparation for breakthroughs. They are your quintessential Paradigm Shifters; internal shifts converted into genuine change.
Everything I have ever done has been focused on this underlying theme of shifting the paradigm because, "what we think determines what we feel and what we feel determines what we do." Hence why Empowered by You takes lingerie, which has traditionally been seen merely as a tool of seduction and redirected that energy as a tool of empowerment.
I hope from these stories you will look at your own situations, struggles and accomplishments through a different lens. At the very least you will be more equipped with real life tools to change your own paradigm. At the end of the day we are our own Alchemist turning the silver we were born with into the gold we are destined to become.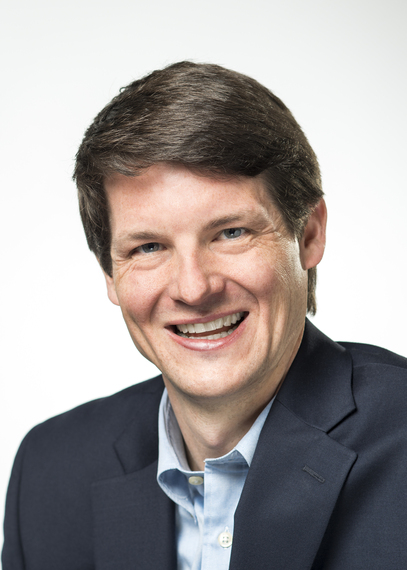 Sloan Evans - Chief Executive Officer of Pure Barre
Do you think you could create a united force that has a bigger impact?

Absolutely - we focus heavily on creating a community atmosphere within our studios. Our concept is really not something where you pop in, get your exercise knocked out for the day, walk out and check the box that you exercised. We look for studio owners who are a reflection of their respective communities to create a valued and unique environment inside each Pure Barre location - that's what makes us special and there's power in bringing that to life. One thing we have done in the past, and what we will continue to do, is our Pure Give challenge that will be launching again in August. It's a competition where our studios choose charities they are passionate about and compete to see who can raise the most money. Pure Barre Headquarters provides a donation match for the top three studios and other fun incentives along the way. Our studios and clients have a friendly, but competitive, spirit amongst them, which we use to drive this charity initiative. Last year over the month-long project, we raised over $175,000 that supported over 100 different charities. We encouraged our studio owners and their communities to align with the local charities they felt very tied to, allowing Pure Barre clients to affect change through their studio. The fun part was watching studio owners post the results in real-time through our website so everyone could track each other's progress along the way - definitely representative of a united Pure Barre force across the nation. This year, we have high expectations for the return of the Pure Give program which will run from August 3 - August 31.
What has made your transition between so many different types of jobs easier?

Coming from outside of the fitness industry, I made a point of listening and absorbing. We had a small, talented team at that time that had really grown the business from the ground up. My goal was to be a quick learner and focus on the most important aspects of the business, and not make any drastic decisions that would impact the unique momentum around the brand. When I came on, people were already very passionate about Pure Barre's technique and the in-studio experience was really resonating. We focused on enhancing the infrastructure and support system for our franchisees, since they are the ones driving the client experience and representing the brand in their local communities each and every day. My goal was to build a team here at the corporate office that truly supports our franchisees and continues to perpetuate all the wonderful things that are already happening at Pure Barre.
Have you had an experience that shifted your perspective?
I transitioned from a more traditional business environment to a passion driven one, which really changed my perspective on things. A career that allows you to pursue a passion while impacting people's lives so directly through the success of the company is a wonderful thing. I have three children, and it changes my perspective in terms of their future paths. This has really opened up my eyes to what great things they have to anticipate - there are so many great opportunities for them to chase after. Pursue something you're passionate about and create an opportunity around that, whatever it may be. The practical vs. more risky path is a common struggle and it's not easy to take that risk, but hopefully we're opening up people's eyes through Pure Barre to what those opportunities could be. When I think about our studio owners, they are absolutely living their purpose everyday.
What is your biggest breakdown to breakthrough moment?
Early on, I was trying to do too many things at once. Realizing that I didn't need to have the skillset and expertise to do everything on my own, my breakthrough was building a talented team and empowering them to take ownership of the areas where they shine. A memory that sticks out is a time I arrived to an important company meeting 5 or 10 minutes late. I walked in and one of our very talented team members was doing a much better job at handling the situation than I would have done. Being late to that meeting allowed me to realize that the team members I had brought on were very capable and that the best thing I could do in that moment was remain quiet. They handled it beautifully. I feel strongly about hiring the smartest, most talented people I can find and empowering them to make a difference in their roles. We can accomplish so much together that way.
What do you want your legacy to be?
I hope to leave behind an environment where people feel very much apart of everything we are doing - something bigger than themselves, bigger than a brand name, bigger than their name, and something that we can all look back on and be proud of. Hopefully there's something here that lives well beyond all of us and not so much for the exercise and the wellness on its own, but more so the impact it can have on someone's life on the whole.
Pure Barre not only touches the lives of the thousands of people that take the class, but also the studio owners that become self-employed impacting their families and ultimately the community. Evans' approach to growing the company resides in empowering his team to be the best version of themselves whilst lifting the studio owners with intense listening and strengthening the core of the company that already exists. It is few and far between one meets a leader that leads from his core causing a transformative impact on everyone Pure Barre touches.
Calling all HuffPost superfans!
Sign up for membership to become a founding member and help shape HuffPost's next chapter