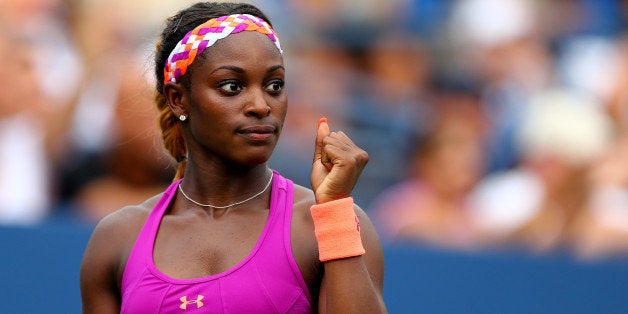 NEW YORK -- Sloane Stephens is the best American tennis prospect to come along since the Williams sisters, and her recent play has backed up the hype. The 20-year-old Florida native made her first Grand Slam semi-final this season, at the Australian Open, where she defeated the 16-time Grand Slam champion, Serena Williams. Stephens is ranked a career best 15th in the world and is hoping to make her deepest U.S. Open run yet.
On Tuesday, an off-day in between matches in Flushing, Stephens spoke with The Huffington Post about the pressures of being a much-hyped prospect, the seemingly endless comparisons to Serena, and her shoe-shopping obsession.
This has been a breakthrough year for you, but can you highlight what has been the most important to your success?
I've had a good year. It's been a bit stressful, but really good at times. I think just everything, I've had so many crazy experiences, but breaking top 20 was a highlight for me. It kinda weirded me out, because it was only the third week of the year, and I was like: 'Man, this is a goal I thought would take me six months.' So I was like, 'Okay, well I have to find something else now.'
What is that something else?
Probably top 10. I'm pretty close. I don't have any points to defend after U.S. Open and I have five tournaments left. The rankings are so weird, that like from where I'm 16 now to 10, is only like 300 points. It's crazy.
You have a new deal as a face of American Express. Do you feel the expectations bestowed on you to be the next big thing in American tennis?
I do feel a little bit of pressure, but I'm just thankful that Serena [Williams] is still playing, and people can still put a lot of pressure on her and expect her to win. Obviously she's such a great champion that I don't think anyone would replace her but I think that she's still playing is a good thing for me. It relieves some of the stress for myself.
If you both advance, you would play her in the fourth round on a feature court. When you find yourself playing on [famed U.S. Open courts] Arthur Ashe or Louis Armstrong, that is a big change from the beginning of your career. Do you feel the crowd as well?
Packing out Armstrong [in the first round] was awesome. They were extremely loud and so pumped up. That's what you look for in a home slam, in the first round against a girl from Luxembourg who people don't know.
It can be hard not to compare you to Serena, because of the athleticism and power? Is that fair though?
Yeah, I mean it's fair, but everyone has an opinion on how they think we're similar. How we look alike, how we walk alike, how we play alike. But I think in general, I'm my own person. There's nothing really you can say. It is what it is, I guess.
Let's shift away from tennis. What is that you love to do when you're not playing?
I like to shop. That's what I do. Online shopping; any kind of shopping.
When you're on the road, will you walk around aimlessly and find boutique shops?
The other day when I was in Toronto, I was looking for these shoes. I was gonna buy them on Ebay, but there was a store that actually had them in Toronto, and I was trying to find the store. It was like 30 miles away from where we were staying. I couldn't do it, but I had to call the place. I found them and I had them ship them to my house. Great lengths; I go through great lengths.
What is your shopping guilty pleasure then?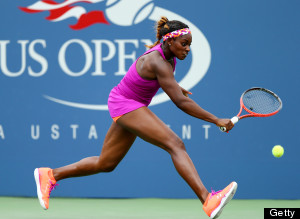 Of the comparisons to Serena Williams, Stephens tells HuffPost: "It's fair, but everyone has an opinion on how they think we're similar." (Getty Images)
The other day I bought four pairs of shoes. Well, five pairs of shoes, and I'm going home with like, 10 pairs.
I can imagine your closet is quite full then.
I have two closets, because I had to steal the one in the hall because it overflowed. So my mom made me clean it out. She said I was hoarding old clothes. But I still don't have enough space so it doesn't matter. It's very interesting ... But yeah, it is very impressive.
When you see other players, especially young players on tour that are ranked ahead of you, do you compare yourself to them at all?
No, not at all. Honestly, I'm only focused on myself.
What would be the biggest challenge for you then? Because the extraneous stuff is good, but it does take away from resting and practice time.
Yeah, obviously you're off-court commitments; sometimes it's overwhelming. I think everywhere you go, something will be up in the air. There's gonna be an issue, but it's worked out well.
Do you have a realistic set of goals, aside from getting in the top 10?
The slams are really important to me, but I haven't set any goals on like, I'm gonna make finals and I'm gonna win this. I just kind of go with it. I mean I'd like to do a lot better in the lower level tournaments next year.
Your star has risen a lot over the past 18 months. Are you getting recognized more these days away from the court?
Yeah, by like random people. It definitely has gotten a bit more enhanced.
That's good right? Because it means you're doing well, but does it take away from your everyday life?
Sometimes, when people are really aggressive it does [take away].
Tennis players are not allowed to speak with their coach during a match. I often see you looking over at your box though and talking or even yelling. What exactly is happening there?
Oh, I just have like full-on conversations. They can't even hear what I'm saying half the time. I just keep talking. I yell at them to get emotions out, and it makes you feel better.
This interview has been edited and condensed for clarity.
Email me at jordan.schultz@huffingtonpost.com or ask me questions about anything sports-related at @Schultz_Report. Also, be sure and catch my NBC Sports Radio show, Kup and Schultz, which airs Sunday mornings from 9-12 ET, right here.
Calling all HuffPost superfans!
Sign up for membership to become a founding member and help shape HuffPost's next chapter