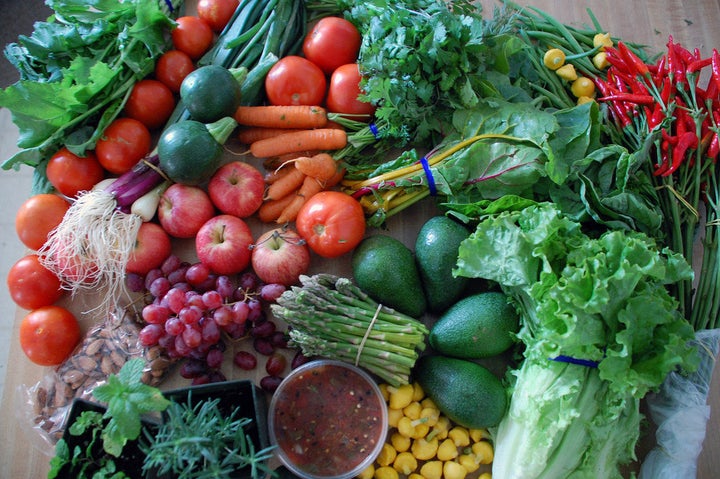 What is "slow food" you might ask? It is the organic and eco-friendly answer to fast food. Whatever McDonald's or Taco Bell might be to you -- chemically altered, fat infused, artery hardening, and diabetes-causing edible trash -- "slow food" is the opposite. The healthy alternative to the nation's carcinogenic diet, slow food is all-organic, nutrition-based and locally sourced.
The center of gravity for the movement, Slow Food USA, describes the concept as "a way of living and a way of eating" where "people eat food that is good for them, good for the people that grow it, and good for the planet." The vision is powerful. Respecting farmers, our bodies and the environment in the quest for food equals a win-win for everyone. SFU president and organic farmer Josh Viertel explained his vision of returning to "the table" and sharing "three square meals" to the sophisticated New York crowd at a recent "Slow Food meets Big Business" event sponsored by Columbia Business School Alumni Club.
Josh painted a romantic picture of happy childhood memories around the kitchen table doing homework, eating home-cooked meals and "arguing as only [his] family could." He explained, "The table was a place where you could disagree with someone and still love them." (Maybe that was his family, but in my hot-blooded clan, death threats were made. Only kidding... sort of!) Josh repeated his passionate view throughout the evening that three shared meals were the best antidote to an unhealthy, obese and fragmented American society.
Despite the fact that the Slow Food USA movement hubs out of Brooklyn (a borough with definitely more veggie patches than Manhattan), the lovely vision of sharing three meals a day is one that many urbanites cannot relate to. While we are mostly concerned with healthy wholesome foods these days in Gotham City, residents tend to eat largely on the run. Josh noted the habit of small sporadic snacks in place of meals is a serious social tragedy. Yet this is precisely how most of us eat with little inclination to change it. The idea of "three square meals a day" would make the average anorexic-prone New Yorker cringe and add on hours more at the gym -- not to mention who has the time!
New Yorkers do share meals "at the table" quite often over power breakfasts, business lunches, social events and professional dinners. In fact, we do our meal sharing in some of the best restaurants in the world! That's where a lot of our deals get done and friendship is shared -- at tables all over New York's incredible foodie landscape! Most New Yorkers enjoy wining and dining "out" as much or more as they like dining "in." Just look at the success of "restaurant week" (which typically lasts a month) as 5 Star restaurants offer fabulous $24 prix fixe meals! Okay, I digress...
The charismatic Viertel's vision highlighted the difference between slow food's "three squares" and the hurried New York habit of wolfing down a "bagel with a schmear" and a cup o'joe on the dash to work or school. Can any employed urban dweller imagine lingering over a home-cooked olive and feta cage-free omelette on a weekday morn?
While Josh spoke about the joys of cooking our own food, I wondered if whipping up a daily protein shake counted. And for those New Yorkers who have chefs and frequent dinner parties does dining around a carved mahogany Louis XIV table that comfortably seats 16 serve as a home-cooked meal? I decided that for some New Yorkers it did -- all being relative of course.
The vision of slow food and its charming leader Josh is one that I hope to achieve someday. I try to imagine a time when I have a couple of hours in a day to chill, a kitchen stocked with more than a corkscrew and a jar of Dijon, and the personal mindfulness to relax comfortably rather than work. I was feeling a bit inadequate in this homespun food fantasy when I realized that in truth New Yorkers do love "slow food." Just look at the crowds of locals who fill the Union Square Farmer's Market on any given Saturday gathering their seven varieties of goat cheese, seasonal beets and gluten-free bread...
We definitely love our "slow food" in New York -- we just love to get it fast and eat it on the run!
Monika Mitchell is Good-b's CEO and one of 2012′s "Top 100 Thought Leaders in America in Trustworthy Business." She is also the co-author of "Conversations with Wall Street" after spending 12 years in the financial industry. She is not sure but she thinks the last time she ate three meals in one day, she was around 10 or 11 years old.

REAL LIFE. REAL NEWS. REAL VOICES.
Help us tell more of the stories that matter from voices that too often remain unheard.