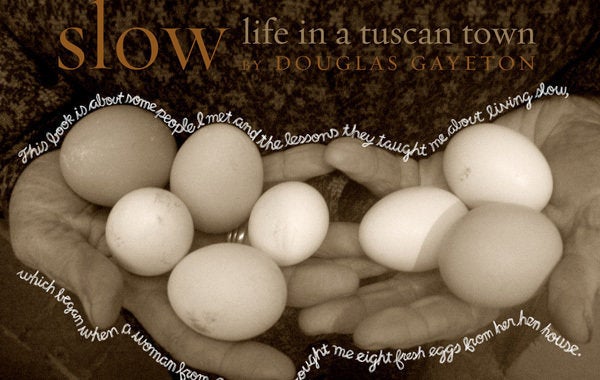 I was telling a producer at PBS the other day about "Slow: Life In a Tuscan Town" by Douglas Gayeton (which I am right smack in the middle of publishing) and she gave me an American Masters on Alice Waters...the same Alice who had written an introduction to "Slow". I watched it that night, astonished to realize that thirty-eight years had passed since Alice opened Chez Panisse starting the "delicious" food revolution. She laid a foundation then for farmers and restaurants to work together to put fresh, fabulous local ingredients on the table. Sounds revolutionary today, right? Well, I am with Alice and, although I am known as a publisher of exquisitely made books, I plan to be known, more and more, as a publisher of exquisite books that matter. I am not a proselytizer but I want to celebrate great ideas, told in a galvanizing way. I want them to be produced audaciously and beautifully. "Slow" is high on my list of examples. Of course, I have to market audaciously and beautifully, too, promoting community as I go.
So, here is an example of something fun we are doing: today more than thirty restaurants around the country -- from Chez Panisse Cafe in Berkeley to Dino's in Washington and Tomasso in Boston will celebrate "slow food" in honor of "Slow: Life In a Tuscan Town" by Douglas Gayeton which, in turn, celebrates slow food and (funny how that follows) slow life . Zagat elected to support this crazy idea and, lo and behold, restaurants, tiny and large, hosted by local "slow food" groups and edible magazines, are creating special prix fixe menus and celebrating local and delicious food everywhere tonight. Monsanto, step aside... farmers, chefs and consumers are coming together in celebration of healthy local food!
Douglas came from a fast town, Los Angeles, to the slow village of Pistoia, Italy ten years ago and there he fell under the spell of "slow" living. He came to photograph the farmers, spent days with the mushroom hunters, and then, spent days putting together dozens of photographs (called flat film) into one photograph on which he wrote his notes, reminding himself of what he learned that day.
PBS, who had sent him there in the first place, didn't get the film they had commissioned but did get the photographs that they posted and Douglas promptly won a Webby.
He returned and married Laura Howard. They moved to a goat farm in Petaluma, had a delicious baby, and eventually met an editor from our company named Katrina Fried who decided maybe there was a way to make a book out of all those Italian pictures. When it was published, giving back was on his mind and Douglas decided to donate six of his huge and fascinating prints to Marin Organic which sold them for $50,000.
There's so much wisdom in this book from the people of Pistoia that makes us slow down and take stock in a way that we might not normally do in our fast food lives. I love this quote from Dario the butcher:
FOUR THINGS AN ANIMAL MUST HAVE

I. A GOOD LIFE: A healthy life with natural feed and ample clean space to move around (just like for people)

II. A GOOD DEATH: no trauma when being transported, which often leads to shock

III. A GOOD BUTCHER: someone who knows how to select the right parts and cut them in a way that brings out its best qualities

IV. A GOOD COOK: someone who can dignify the animal and all those whose labors led it to this table.
I hope it is clear why I love this project but, if not, I will tell you: Douglas is brilliant and that is rare, not just as a photographer or even a storyteller, but as an ever evolving human. He has something to say that matters and that is the one and only thing I will take a tree down for--because, you know, a lot of them come down to make books. And, I am literally watching him evolve from a Los Angeles documentarian on the fast lane to a guy who went in search of his grandmother's family , who took in the quality of a slow life and gained a deep and abiding commitment to sustainability, slow food, and the health that comes from knowing your food, knowing your farmer, and caring for the animals that sustain you. Douglas' book is a bit of a meditation on caring and I love that.
Now Douglas is photographing in Marin County, California and working on a new book, "Lexicon of Sustainability". This matters to me and I can't wait to publish it.
Calling all HuffPost superfans!
Sign up for membership to become a founding member and help shape HuffPost's next chapter