At home in the fridge, there are always some carrots, peas in the freezer, potatoes and onions in a cupboard. My staple ingredient is fish sauce, ginger, dried chiles (that I dry myself from fresh chiles, finely chopped and left on a plate for a few days), lemongrass and a bag of coriander or mint.
There are so many ways you can turn these ingredients into a quick one-pot, tasty, delicious and frugal meal as well as being healthy and nutritious.
This should take about 15 minutes to prepare, which can be done earlier in the day to be set aside for dinner. (Especially great to do when your little baby is asleep)
If you don't finish the pot in one go, its great for breakfast or lunch the next day, adding more peas or courgettes and herbs to fill it up.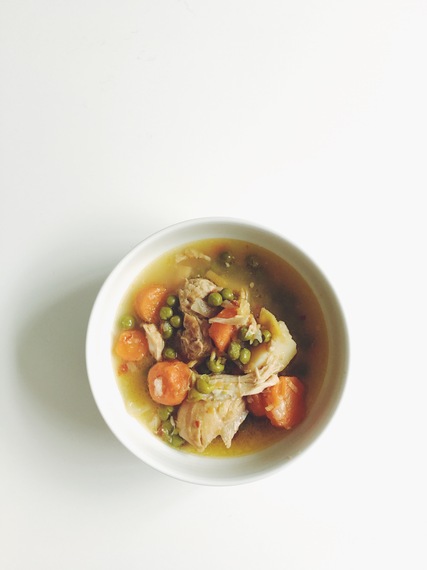 Slow Poached Chicken with Ginger, Lemongrass and Chiles
Serves 3- 4
6 chicken thighs (skinned, chopped or left whole)
2 tbs rapeseed or olive oil
1 thumb ginger, peeled, coarsely chopped
I onion, coarsely chopped
3 carrots, peeled, cut into 2cm chunks
200g baby/ new potatoes, peeled or unpeeled, cut into bite-size if necessary
1 tsp dried chiles
1 lemongrass stalk, cut into 3 pieces
300ml homemade or good quality chicken stock
3tbs premium fish sauce
150g fresh or frozen peas
1 courgette, slice into 1 cm pieces (optional)
Some coriander or mint (optional)
black pepper to season
In a medium hot sauce pan, add oil and brown the chicken thighs for approximately 2 mins on each side for approximately 2 mins. Set aside on a plate.
Using the same pan, add the onions, dried chiles, ginger and lemongrass to slightly brown. Return the chicken to the pot, add the carrots and potatoes. Pour the chicken stock into the pan and season with fish sauce and black pepper. Place the lid on the pot and on the lowest heat setting and cook on a low simmer for 30 - 40 mins.
When ready to serve, add peas and/ or courgettes and cook for a further 5 mins. If available add chopped coriander or mint.
Serve with steamed rice, rice vermicelli, baguette or buttered toast.