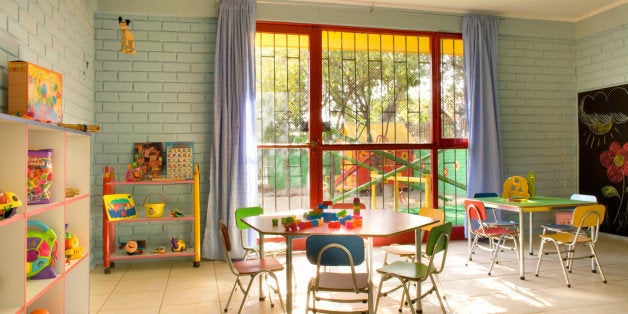 I am one of the mothers who, at this point in the summer, is excited, almost giddy about her daughter starting kindergarten. I am excited for her to embark on a new journey and I can't wait for her to join a new community, her new school. But, amidst my happiness and excitement is the realization that she is growing up. It started with her first smile as I changed her diaper, then it was her first word, "juice," which she repeated after me; followed by her first steps, at 20 months old, and then her first day of preschool. These milestones seem never-ending and are simply exhausting.
I don't know why this is happening, but I'd like her to slow the f$%& down. What is the hurry? She cannot wait to ride the school bus every morning and what she doesn't know is that after I will send her off with a huge smile and have a great day, I will then turn around to enter my house with the ugliest crying while swallowing down the bile in my throat. Does she even care? How can she not know that this affects me, too? Have I done too good of a job raising her that now at the age of five, she is done with me?
As I went to buy her new booster seat for the car, it hit me that she is growing in more ways than one. This summer, thus far, she has sprouted and I feel as if she is growing taller each and every day. She is more independent and more able to make her own way. She is constantly telling my husband and me that she is a big girl now, which we have started to mirror back to her when she is being naughty. The question is, who decided that she is a big girl? Did we say it first or did she? I'd like to take it back, please. Oops, I didn't mean that. Could you please slow the f$%& down? Enough with this growing up thing.
The mothers who tell me that it keeps getting better, in terms of kids growing up, are full of shit. In some ways, I see their point. My daughter is much easier at age five than she was at age three, but how could it possibly get any better? Can someone explain this to me? When does she reach her peak? Those days when I see a glimpse, ten years into the future, when she is acting obnoxious and uses that tone that adolescents use best, I don't think that may be better. What I have now is this little person who still needs my approval, who hugs and kisses me a million times at drop-off and who always gives me a running hug at pick-up. I have a smart girl who smells of sweat, chlorine and her pomegranate conditioner. What could possibly be better than that?
I have decided that I will allow this milestone to occur and I know there are more to come. I do hope though that she will enjoy the school bus ride and her first days as a kindergartner. I hope she makes new friends and soaks up all of the learning she can. Instead of growing up, let's call it moving forward. That feels less threatening and more encouraging, for both of us.
But, when she tells me of her first crush, I will be sure to tell her, with great intensity, to slow the f$%& down.
Related