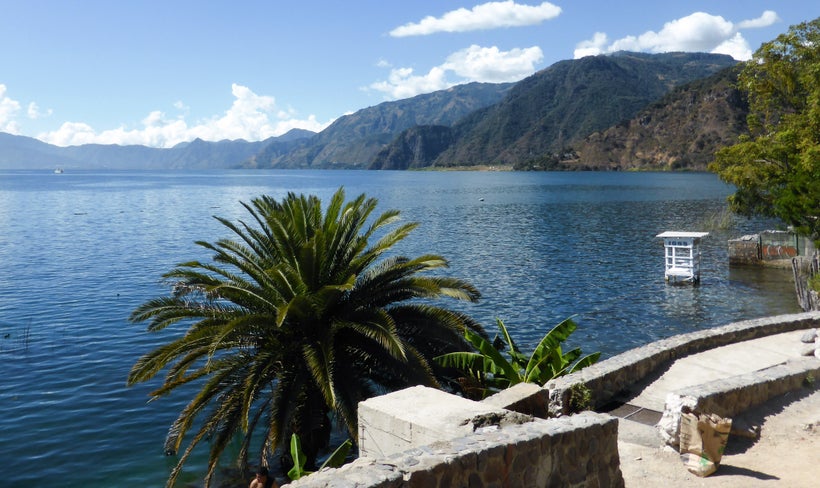 This article comes to us courtesy of InternationalLiving.com, the world's leading authority on how to live, work, invest, travel, and retire better overseas.
I hear the chickens first, as I do every morning. I roll over and slowly open my eyes to take in one of the most incredible vistas I have ever experienced. Through the floor-to-ceiling glass walls, the sparkling waters of Lake Atitlan beckon. The sky turns from pale pink to a rosy, golden glow. And the shadows of the fast-moving cloud formations dance across the volcanoes on the horizon.
The rent on my little lakeside cottage is just $18 a day (about $525 a month) but that view was priceless. I had planned to stay here for a week or two. That time turned into a month, and then two months.
As a blogger, I like to travel slowly. Some bloggers are constantly on the move, hopping from one country to another...but I prefer to take my time, to immerse myself in different cultures and enjoy the simple comforts—like reliable WiFi and a home to hang your hat for a time. I've been on the road for over a year now, and I have only made it through Mexico and into Guatemala.
Today, my husband and I are staying in a cottage rental on the shores of Lake Atitlan, in the Guatemalan Highlands of the Sierra Madre mountain range. We're staying just outside the small village of San Marcos La Laguna, the prettiest of the lakeside villages. San Marcos boasts a perfect combination of travelers and locals with excellent restaurants, friendly expats, and a thriving yoga community—all without the bustle of the more commercial towns on the lake.
As a part-time vegetarian, lunch often finds me at a local restaurant where a delicious vegetarian plate of the day can be had for a mere $3.50. The climate supports a lush variety of fruits and vegetables. During my daily hikes up the steep hills flanking all sides of the lake, I was surrounded by coffee plants, banana and lime trees, and avocado trees. I would have the ripe fruit literally raining down from above.
All of the villages around the lake have one thing in common. One of the most perfect year-round, spring-like climates imaginable. At an elevation of 5,125 feet, Lake Atitlan's average daily temperature is in the mid-70s F.
I am happier now than ever before. Long-term travel is rewarding in its own right, but the opportunity to share my passion for travel with others through blogging makes it so much more enriching.
Calling all HuffPost superfans!
Sign up for membership to become a founding member and help shape HuffPost's next chapter
This post was published on the now-closed HuffPost Contributor platform. Contributors control their own work and posted freely to our site. If you need to flag this entry as abusive,
send us an email
.