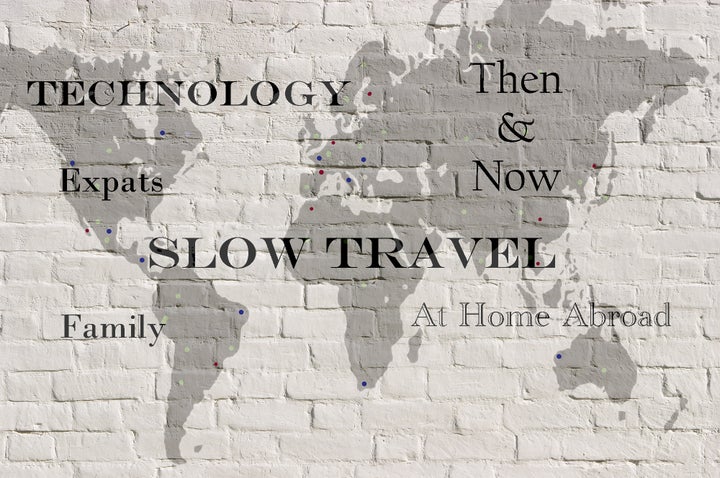 Slow Travel — Then and Now
Slow Travel. It's the art of living in a place for a limited time, immersing yourself in a new culture, learning as much as you can about the people, the language, the life there, and then choosing a new destination and moving on. Repeat again and again.
For the last six years we have lived as slow-travelers in Mexico, Central and South America and Europe. Our untethered, slow-travel lifestyle in which we work remotely caught the attention of the Huffington Post and Alena Hall wrote this article about us.
But the slow travel life we live now was not possible a decade or two ago. How do we know this? Because we lived a version of it 20 years ago using the technology available then to live a dream.
That dream in 1996 was the project we called Blondins' Assignment America. We slow-traveled through the United States for nine months, roughly paralleling a school year while our children attended their local school in Michigan via the Internet. It was groundbreaking.
On September 30, 1996, we left our home in Boyne City, Michigan. What might be the world's largest field trip and hands-on learning experience began in Cleveland, Ohio, with science, rock and roll, and natural history. It progressed to marine life in Maine, the story of independence and immigration in New England, and national history and heroics in Philadelphia. It then intensified during our two-week stay in Washington, D.C. during an election cycle, and never slowed as we headed West.
To give you an idea how ambitious we were, here is a list of places we visited in just the first month and here is an article about our first 10 weeks.
We received a fair amount of press at the time, which led to a U.S. Department of Education invitation to be featured speakers at a conference called "Families, Technology and Education." Our paper was called, "People Make Dreams Come True, and Technology Expands the Possibilities: An Educational Journey across the United States." Pretty cool — and still relevant.
While the 90s may seem like the middle ages technologically, our Power Point presentation played well to a crowd of 400-500 educators from around the country. It included a pretty sophisticated video on animal and plant life our children produced in Big Bend National Park.
At that time high-speed Internet was rare. Google did not exist. Yahoo, Netscape and AltaVista were early players but wireless was still a dream, so we connected wherever we could for email and uploading web pages using dial-up. Dial-up, you say?
We would walk into 7/11s, Laundromats, local businesses, libraries, and even museums with local access numbers (you might have to Google that one), our laptop and a 50-foot phone cord. Strangely enough, after telling our story about school via the Internet, most people agreed to share their phone line. It was always a challenge but we met fascinating people in the process.
Fast forward 20 years. We have accessed the Internet in some remote areas of the world with just a Wi-Fi code — and the ability to ask for it in a foreign language.
Travel sometimes feels too easy now. There was very little infrastructure in place in 1996 so when we landed in a new place, the local visitors center was our go-to source for information. Now we maneuver at will using a phone.
The past 20 years have propelled us from dial-up to ubiquitous wireless, from folding maps to GPS-guided navigation, and from limited cell access to smart phones more powerful than the laptop we used. Then, we used a 1.2 MP Kodak camera; now, we take high-resolution images on phones. It's brilliant.
Today we are still using current technology to live an untethered lifestyle, but we know firsthand what a wild trip technology has taken in 20 years. We felt like pioneers in 1996 and now the planet hosts millions of travelers instantly documenting their adventures to the world. The variations of our story are endless – and now, like then, technology can make dreams come true.
Betsy and Mark Blondin have traveled and lived in diverse places in Latin America and Europe during the last six years, meeting expats with wonderful stories that inspired their latest book: At Home Abroad: Today's Expats Tell Their Stories. They have three grown children and enjoy the slow-travel lifestyle. Betsy is a freelance editor who enjoys helping others publish their work, and Mark is a data storage consultant. Join them at TodaysExpats.com or on Facebook at At Home Abroad for more about the book and its remarkable authors.
We hope you visit Blondins Assignment: America for insights into that journey and keep in mind the site was built as we traveled using Microsoft's Front Page and that we have left it vintage for historical and sentimental reasons.