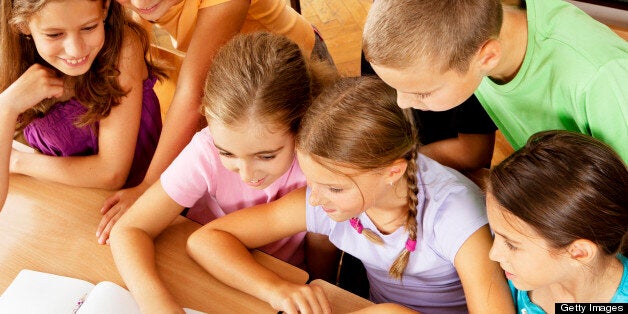 The much-admired education scholar Ted Sizer used to talk a lot about how "less is more." Sometimes it took puzzled listeners a while to understand what he meant: By engaging deeply with fewer topics, students would profit far more than they do from the superficial journey through the hundreds of topics we commonly ask our teachers to rush them through.
His words come to mind as I think about the debate swirling around Randi Weingarten's speech earlier this week. Immediately, she is accused of "betraying" the movement for higher standards, "eviscerating" accountability, and otherwise trying to "slow down" reform.
What few will acknowledge is that she is mostly right. By muting some of the features of our accountability systems, we can press the accelerator on our improvement systems. As Ted Sizer might say, we can speed up by slowing down.
As the organization created to press for vastly improved education for the nation's large and growing population of low-income students and students of color, nobody has been in a bigger hurry for change than we have. But our experiences during the past year have convinced us that the ambitions of national and state leaders to get all of our students "college and career ready" have raced far ahead of our ability to support the simultaneous transformation of multiple parts of the system. That's not just about changing standards and assessments, but also aligning curriculum and instructional materials, technology, teacher and principal training, educator evaluation and compensation, and more. And all this change must be accompanied by supports for English Language Learners, students with disabilities, and other struggling students.
We need to do these things right, not just as fast as we can. Right now, the timelines for different pieces have built-in conflicts.
Let's take teacher evaluation, for example. Largely at the behest of the federal government, most states are engaged in a sorely needed overhaul of their evaluation systems that will take into account measures of how much students actually grow. But in many states, the first year of this new kind of evaluation will take place during the last year of the old state tests, which are not even remotely aligned with the new Common Core standards. At a time when we are trying to convince teachers to shift over to new standards, including a value-added or growth measure based on old tests is just plain nuts.
But in truth, the same thing applies to states that roll out their evaluations in the first year or two of the new tests, the slowest timeline allowed for NCLB waiver states. Anybody who thinks that it is just fine for statisticians to create a "value added" measure from last year's old tests -- which often covered more and different topics -- and the new, very different tests, surely doesn't spend much time with teachers. Statisticians will say it's possible, and that it is also possible to do the same with the first two years of new tests, even if they are still in flux. But just because we can do these things, doesn't mean we should.
Some of these same timeline problems -- rating schools on the old tests while asking them to teach new standards or creating "growth" metrics that span from old tests to new ones -- also undercut the power of our school accountability systems.
So, where does all this leave those of us who are in a hurry?
Hopefully, ready to apply a little common sense in determining what should continue to move ahead, what should be softened or slowed to help the work take root, and what more we might do to assure adequate attention to the implementation of the new standards. For starters, administration of the new assessments should not be slowed in any way. Teachers, students, and parents need to see results from the new tests quickly. Data should be disaggregated and reported publicly. And we should continue to use assessments to identify, prompt action, and evaluate our efforts in the very lowest performing schools.
Educator evaluations should not slow down, either. Teachers and leaders need solid feedback, especially on implementation of the new standards. And districts/schools need the information from these evaluations to make smarter and more strategic staffing decisions, including matching more strong teachers with the children who need them now.
So, what should we be willing to revisit?
For the parts of educator evaluations that are based on student learning growth, we should either not factor in state assessments -- or at least significantly reduce the weight on those assessments -- until new college- and career-ready assessments are up and running and the initial kinks worked out. This doesn't mean the weight on student learning should go down, only that the weight on other measures of learning growth, such as performance on a series of "anchor assignments," should go up.
On the school accountability side, states could maintain their existing school ratings -- or, perhaps, adjust them only if the newer results help a school move up -- until the new assessments are firmly in place. And states or districts that have adopted formal stakes for students should explore ways of lessening them during this same time period. Yes, there are real, life-altering stakes for students who are not college ready when they graduate from high school, and we often don't tell them that until it's too late. We must change that: Honest feedback is vital. But to hold back a third-grader next year based on a wildly new test that neither he nor his teachers were prepared for isn't the right way to start.
And what do we need to add to the agenda?
If we're going to get a laser-like focus on the thoughtful, equitable rollout of the Common Core State Standards and aligned educator evaluation systems, states and school districts should be held strictly accountable for that work. Progress here can and should be measured through at least annual surveys of teachers (on changes in their understanding of standards, their practice, and the amount and quality of feedback they get); students (on their day-to-day classroom experiences, amount and quality of work); and parents, supplemented by external reviews of district and school capacity, including equitable access to quality instruction.
If the new standards are to have a more powerful effect than the old ones in transforming learning, districts must be accountable for ensuring meaningful progress on these measures across all of their schools, including high-poverty schools and those with a high proportion of students of color. Indeed, if we do this part of the work right we may have the makings of a real multiple-measures rating and accountability system for our school districts, something we have sorely lacked.
It will take some effort to figure out the details of making these ideas work. Certainly, nobody wants to undermine the handful of states that moved out ahead of others. And we sure as heck don't want to give aid and comfort to foot-dragging states like California.
But by putting some common sense back into the mix, we should be able to get the energy exactly where it needs to be: on supporting in multiple ways the shifts in instruction required by the Common Core. We need to give our students, educators, and schools the support and breathing room necessary to get this right.
In other words, slowing a few things down so that we can speed up the only thing that matters: results for our students, especially those who have lagged behind.
Popular in the Community