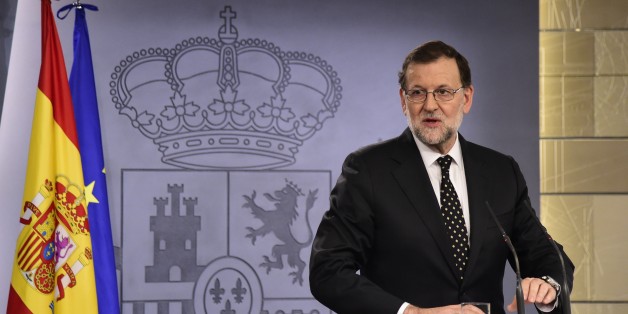 Read on
HuffPost Spain
"I have no idea. Everything seems impossible."
I don't know how many times I have responded in this way to colleagues, friends or strangers who ask me how I would make sense of the convoluted message that people sent with the polls on election day. I also ask the same of like-minded people. Because the arithmetic suggests several possible scenarios: but logic demolishes them all. Experience does not serve us now: everything is new. Such that the outcome was always the same: "I have no idea, everything seems impossible."
On Friday, the newspapers and the morning talk shows were still listing possible coalitions.
And suddenly, there was already a possible government on the table. With ministers and budgets. With the audacity of an acrobat, Pablo Iglesias has left behind several of his own red lines and has shifted the play into a new box. Along with the socialist establishment, which is allergic to Podemos (We Can Party), he tempts Pedro Sánchez with Moncloa Palace, and at the same time he places responsibility on his shoulders for the breakdown in the construction of this left-wing government. In communicating first to the king and soon after to public opinion, he dealt a blow that demonstrates confidence and security after days of confusing messages. All of it, they figure, must compensate for the incongruences: override the referendum on Catalan independence, which on election night was made a condition sine qua non; or start to distribute seats and budgets before sitting down to talk politics. This goes almost unnoticed, but Iglesias also sends a message to the markets, before increasingly-obvious anxieties in Brussels: they want to renegotiate the deficit, but their government will have to pay the debts. Overall this sweetens the virulence of his attacks on Sánchez without relieving the pressure where it hurts most: Are you, O Pedro, the true leader of the PSOE (Spanish Socialist Workers Party)?
The response from Sánchez has been perfect: thanks for the offer, but right now it's Rajoy's turn. We can talk, but politics will always come before position. Alberto Garzón, the third man invited to Moncloa, says the same thing: one hand strangles while the other hand rescues him. And Sánchez and Iglesias are getting even cockier: they'll debate on a TV set if necessary -- live streaming, open Periscope!
While we wonder if Rajoy has died (politically), the acting president gives an unexpected turn of the screw. He keeps breathing. The election, the humiliation, can wait. He won't resign from anything. The term stretches on, and there is another round of meetings with the king. With what new offer? There isn't one, it's the same as always: A government made of the PP (People's Party), the PSOE, and Citizens; Esperanza Aguirre said on Friday that this coalition is essential and it makes no difference to her who chairs the organization (!). The vice-secretary of the PP, Fernando Martínez-Maillo, claims that Rajoy has a "generous and brave" offer up his sleeve that the leader of the PSOE can't refuse. What is it? If he realizes that he has no support, why does the king stand by him?
It's Rajoy's final bet because it will be time, that old friend, that will finally destroy Sánchez's leadership. Because every time Iglesias speaks, we hear an ardent socialist: in his poorly hidden contempt we get a preview of the agony that it would be for them to govern together. They also know what Rajoy has come to remember: that governing is not just numbers and arithmetic, there must also be coherence. The PP has an absolute majority in the Senate, and no Constitutional reform can happen without their consent.
Meanwhile, life goes on, business as usual. Federico Ramos de Armas, the President's sub-secretary, is resigning, due to the recent scandal involving Acuamed. He was vice-president Sáenz de Santamaría's right hand. Oh, and the PP has been subpoenaed to testify about the hard drives that were destroyed in the Bárcenas case. These headlines pass almost unnoticed: the citizen's hard drives have no more to give.
But all of a sudden, a possible left-wing government has become visible. Sánchez has two options on the table. And both are toxic.
This post first appeared on HuffPost Spain. It has been translated into English and edited for clarity.
REAL LIFE. REAL NEWS. REAL VOICES.
Help us tell more of the stories that matter from voices that too often remain unheard.