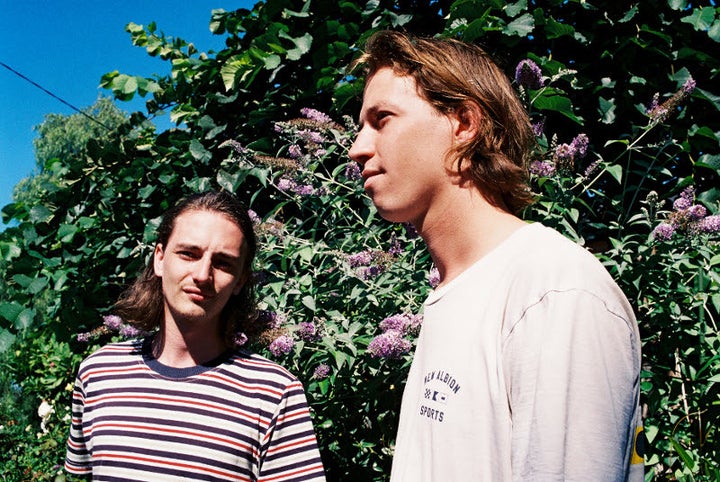 Aussie act Slum Sociable will be releasing their debut self-titled album on November 24th, but today have given fans a taste of what's to come with their newest single off the release, "Moby Bryant," which premiered on The 405. The track is much different than the band's other releases as they dive into a darker, more eerie sound than they have previously, but for very good reason.
Vocalist Miller Upchurch recently opened up about his battle with depression, sharing how he was overwhelmed to the point where he would shut himself off from the world. However, with World Mental Health Day taking place earlier this month, Upchurch decided to use his voice and his music in an effort to open a conversation about mental health and the stigma that surrounds it. In honor of the band's new single, which can be streamed below, Upchurch shared with us a personal article about his experience with anxiety and depression.
"Dealing with depression and anxiety can feel like a full time job. You wake up in the morning stressed about nothing, you get tired by midday because it's exhausting to fight yourself on every topic you think about, meticulously pick apart how your social interactions went and stop yourself from zoning out of conversations. Sometimes just keeping your head above water is the best you can do. It's very important to, as hard as it sounds, organise yourself around your mental health. Giving yourself some allocated time to recover from these emotions has been hugely beneficial to me, everyone will cope differently, but if you can find a way to give yourself some clarity instead of running blindly through the day, you thank yourself for it.
At night time, all of the days activities and interactions play over and over in your head, and without meaning to, you find ways to feel guilt and regret over even the smallest things. Nighttime is also when you get a random extra boost in energy, just so you can stay up for way too long thinking about all this negativity.
I have to add that not every day is like this; some days start better than others but end badly, and some days are good the whole way through. Sometimes you get a whole week or month without what you yourself would classify as an 'incident', or a regression. I just find that being aware of your mental health, instead of ignoring it, can make a world of difference. If you address it, that makes it real and manageable, and I've just been trying to live by my own words here, one day at a time."
Popular in the Community