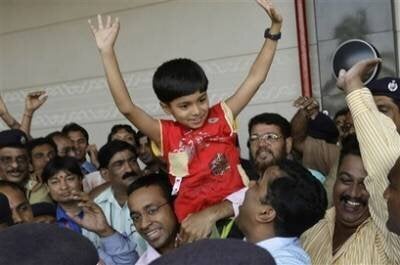 As founder of Orphans International Worldwide (OIWW), I have walked through the hovels and shanties of Jakarta, Bogota, and Port-au-Prince. Cite Soleil in Haiti is actually far worse than Mumbai's Dharavi, at least as portrayed in the $100 million (and counting) smash Slumdog Millionaire.
Question is this: Is this brilliant film "poverty porn"? Or might it lead to changes in the lives of the countless orphaned and other children in the slums of Mumbai that it so graphically portrays? Mumbai has hundreds of orphanages. It needs to begin to focus on ending orphanages and the cycles of poverty that fill them with desperate kids - if nothing else, by building and endowing a school there.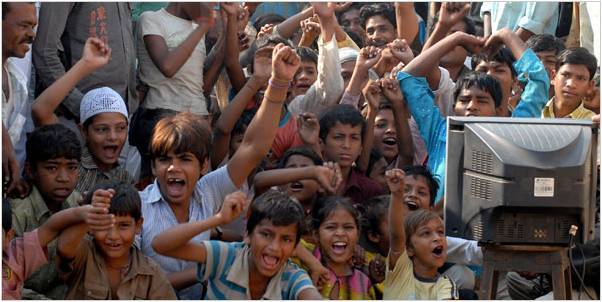 The friends and neighbors of "Slumdog Millionaire" child actor Mohammed Azharuddin Ismailcheer while watching the Oscars award ceremony on television outside his shanty, in Mumbai.Photo: New York Times (copyright European Pressphoto Agency).
Shanty towns are densely populated collections of squatters -- sometimes 250,000 of them -- living in extreme poverty. Rough and dangerous, these slums have no sewers, no stores, little to no electricity, and little police presence.
Many children living on their own in these slums are not biological orphans, but rather economic orphans, abandoned by parents who can no longer cope.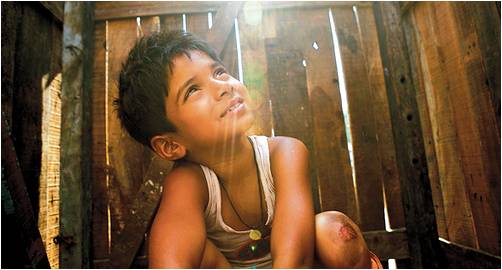 Ayush Mahesh Khedekar in "Slumdog Millionaire" (copyright Warner Bros.).
What these hells offer are persistent unemployment, high rates of illiteracy, and countless danger. Armed gangs often roam their streets. Murder, rape, kidnapping, looting, and shootings are common because every few blocks a rival faction is in control. Police are nowhere to be found.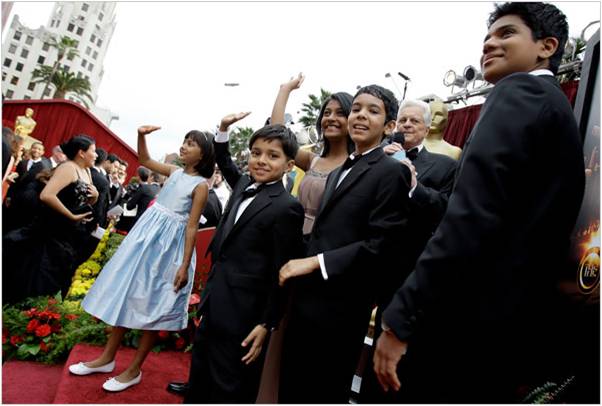 On the red carpet at the Oscars in Hollywood, the children of "Slumdog" meet the world.
Dharavi, known as Asia's largest slum, is an administrative ward of Mumbai with a population of over a million people. One of its neighborhoods is Garib Nagar ("poor enclave"), where the award-winning Slumdog Millionaire was filmed last year.
In Asian culture, dog -- kutte in Hindi, anjin in Indonesian -- is about the ultimate low in name calling. Throughout Asia, especially in Islamic societies, but also in Hindu, Christian, and Buddhist circles, dogs are rarely the beloved pets they are in the United States. They are considered to be both dirty and dangerous.
Throughout India many have protested the use of "dog" to describe the youth of Dharavi. For the orphaned of Mumbai, however, the greater insult of the film is "slum," not "dog." A child may throw off the yoke of name-calling far easier than the yoke of poverty.
Two of the film's youngest stars today are enrolled in a school run by the charity Aseema, and the filmmakers have agreed to pay their school fees, as well as endow their futures. The filmmakers seem to have agreed to cover all of the kids made famous by the film.
Based on my own experiences I say: This is not enough. Not nearly enough. I have done this much myself as a "nobody," through Orphans International Worldwide, for as many children in Haiti and Indonesia. These filmmakers must do bigger things, like build and endow a school.
One reason I have recently created the James Jay Dudley Luce Foundation is to provide assistance and professional development to the caretakers of impoverished children in the developing world. Children, even impoverished children, may be cute, but there is nothing cute about poverty. It eats away at the human body and soul until death occurs, psychologically, long before physically.
Orphans International Worldwide has a policy never to show children in need or distress. Rather, OIWW portrays children "after," not "before" or "current.'' Sally Struthers can stroll though the garbage dumps of the world showing you pathetic children, but this is truly pornographic. My organization will not stoop so low.
Slumdog must not stoop so low either. If the filmmakers do not help do more with their millions to transform the lives of Mumbai's dirty and begging children than pay the pitiful amount to endow ten kids, they have failed miserably. Slumdog would truly be the pornography of poverty.
Slumdog and those who profit from it -- including its adult stars Dev Pate, Freida Pinto, and Anil Kapoor -- are called to do bigger and better things. When they do, they will find that nothing they have ever accomplished will give them so much personal satisfaction. I know.
Edited by Ethel Grodzins Romm
Related
Popular in the Community