 Whether due to resource constraints, capacity constraints, lack of urban planning and management or lack of political will, many cities struggle to keep up with the increasing demand of an exploding urban population. Judy Baker, a Lead Economist from the World Bank Institute's Urban Practice, recently hosted a conversation on the World Banks' Striking Poverty site about slums and service delivery to the urban poor. The discussion showcased innovative approaches to inclusive development, data and planning tools and informal value chains.
For Sheela Patel, Chair of Slum/Shack Dwellers International, the most important aspect of transforming the poverty agenda is engaging the poor in the design and execution of the "transformation we seek to develop from the outside." Her organization, SDI, is a "laboratory for creating that critical local, national, and international voice of the urban poor to engage with their mayors, politicians, technical professionals, city and state administrations, and global development agencies." Patel explains that the capacity to engage, to co-create and co-produce is lacking in all those actors, including the urban poor. In building this capacity, Patel explains, "no one stakeholder can produce transformation, yet change in one stakeholder can bring about change in others."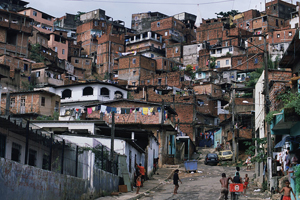 3 million of São Paulo's 11 million inhabitants live in irregular settlements or slums, and 80 percent of the Brazilian population lives in cities, according to Tereza Herling, Municipal Ad-Secretary of Urban Development, City of São Paulo. To face this growing challenge, the Municipal Housing Secretary developed HABISP, a comprehensive housing information system used to prioritize investments and projects in slum upgrading programs. About 3,000 irregular settlements and slums are mapped in the system, along with information on infrastructure, risk areas and socioeconomic and health conditions. This data was used to prepare the Municipal Housing Plan, which was then discussed and refined with residents' participation.
Because housing in many cities is too meager to serve the large numbers in need, it tends to be appropriated by better-off groups, leaving "encroaching on land and building housing incrementally as the only option," Sheela explains. Consequently, "informal settlements are places where private investment has long outrun public infrastructure," according to Melanie Walker, Deputy Director for Special Initiatives at the Bill & Melinda Gates Foundation. Informal but sophisticated value chains have sprung up, and small operators provide water, electricity, solid waste collection and even sanitation. Because these services are essential, slum dwellers must buy them, "even though they are unpredictable, of dubious quality and expensive."
As Sheela emphasized, community engagement is an essential first step toward improving service delivery in slums. Melanie elaborates: "This is more than demand aggregation; it is business-model creation. Community members become service providers, protectors, repairers, conservers, and even innovators." In Dhaka, a group called Waste Concern, uses a decentralized solid waste management process. "Remarkably, this works economically" says Walker. "Collectors, sorters, vendors and processors get paid for their efforts and working conditions improve. Cities get cleaner. Landfills get smaller."
This concept was reinforced by other contributors who provided more than a dozen examples of innovative, inclusive programs including: CLIFF, bridging housing gaps, LabourNet, bridging the transition from informal to formal employment and Change by Design, bridging the communication gap between planners and residents.
Engaging slum dwellers in both planning and implementing solutions improves outcomes for residents and for the city. Yet significant challenges to scaling the capacity to co-create remain. Visit URB.im for ten memorable quotes from the Striking Poverty conversation to see the range of issues shared around the need for data, opportunities for public-private partnerships, the issue of trust, scalability (and why few of the existing good ideas go to scale), ICT for giving the poor a voice and what should be next for the Millennium Development Goals.
Photo © Copyright The World Bank. All rights reserved.
REAL LIFE. REAL NEWS. REAL VOICES.
Help us tell more of the stories that matter from voices that too often remain unheard.