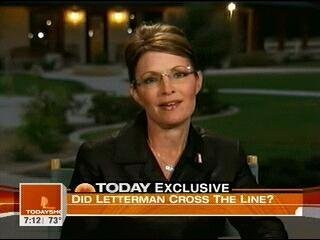 Alaska governor Sarah Palin received a resounding vote of support today in her war of words with David Letterman as thousands of slutty flight attendants marched on Mr. Letterman's TV studio in New York.
The protest march, organized by the National Association of Slutty Flight Attendants, attracted as many as twenty thousand slutty marchers, according to NYPD estimates.
"Say it loud, we're slutty and proud!" chanted the protesters, who lined the sidewalks in front of Mr. Letterman's studio to show their support for the Alaska governor.
Kendra Kalounis, the executive director of the slutty flight attendants' group, said she had canceled a tanning appointment to attend the march and added that slutty flight attendants were a political force to be reckoned with.
"Do you know the difference between a regular flight attendant and a slutty one?" she said. "Lipstick."