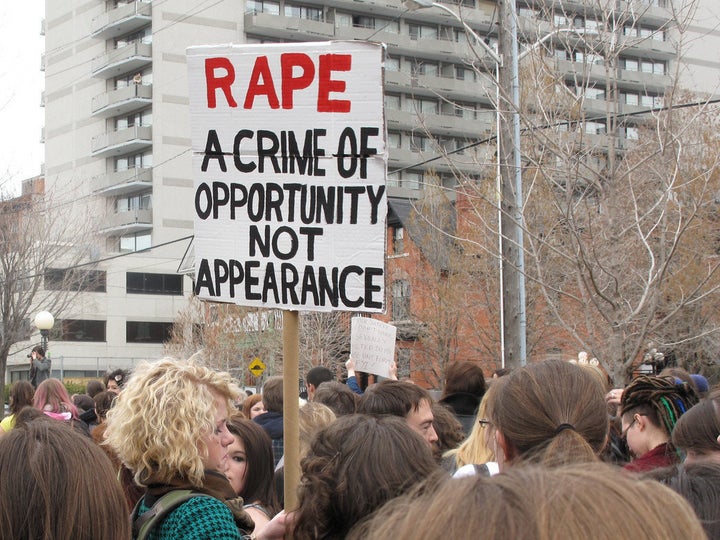 Earlier this year, the Toronto Police Service made international news when one of their representatives said that "women should avoid dressing like sluts in order not to be victimized." Almost immediately, people banded together to express their outrage over the statement, and the misconception that rape can be "caused" by a woman's appearance. A march called "SlutWalk" occurred in Toronto soon after, inspiring similar events around the world.
This week, SlutWalk comes to Chicago with a march planned for June 4. We caught up with Jessica Skolnik, a co-organizer of the event, to find out more about this movement and how Chicagoans can get involved.
CB: How did you get involved with SlutWalk Chicago, and why is it an important cause to you?JS: Jamie Keiles (co-organizer) and I connected over Tumblr; we'd both read about the Toronto SlutWalk in places around the feminist blogosphere and were interested to see what it would be like to bring such an event to Chicago. I'm a survivor of sexual assault who faced enormous hurdles, including blame and disbelief, when I came forward, so this is a cause in which I have a good deal of personal investment. I've also been doing feminist and labor organizing for the past 15 years or so and I believe strongly in using my energy, skills and training to help this society be a more equitable one for everyone - and I also believe strongly in continuing to learn from other people as I do so.
It seems that the thing that confuses or interests people the most about the march is the use of the word "slut." Could you explain the significance of this word in relation to the event?The SWC organizing team uses the word "slut" as a way of getting at a complicated concept in an efficient manner, not as a reclaimed word (though we recognize that individuals might want to reclaim it for themselves, we think the idea of trying to do so as an organizers is far too problematic, especially given the varying histories that might inform folks' reasons for not wanting to or not being able to engage with the word "slut" in a positive manner). Our event's name tips its hat to the work done by the Toronto organizers and other organizing being done around the world - and it allows us to open up and continue discussions about how sexual double standards are connected to interpersonal violence and victim-blaming. The word "slut" is obviously an ugly slur, and I think understanding why exactly it's such a powerful slur helps us understand some extremely complex social issues
What's the message that you hope to spread through SlutWalk Chicago, and what difference do you hope it will make?There's a dominant narrative in our culture that sexual assault is something straightforward, and there are a lot of myths out there about who rapists are, where and why sexual assault takes place, and who survivors are. The dominant narrative suggests that the legal system is something that works for survivors and against rapists. The reality is so much more complex and difficult, and when survivors' experiences don't match up to the narrative we tend to blame ourselves and absorb a lot of blame from the outside world for the violence perpetrated against us, which is an incredible injustice. We're hoping to get the facts out about sexual assault and what survivors experience in a public way and get people talking about realities instead of myths. There are many nonprofit organizations that do an amazing day-to-day job supporting survivors and collecting statistics that dispel those myths, but we think this is a great opportunity to continue that conversation in a very public space.
We also live in a culture where rape jokes are almost de rigueur for pop culture, in everything from TV to movies and standup routines, which says a lot of unfortunate things about how ubiquitous the experience of rape is and how we perceive it as a culture, and where folks' appearances and private lives (particularly women, queer folks, non-white folks and so on) are endlessly scrutinized and judged, from clothing choices to bodies. Living under the pressure of that scrutiny and in a world where violence against our bodies is a punchline is a pretty oppressive situation in and of itself, and we hope that SlutWalk Chicago will be a venue in which we can publicly acknowledge that situation and work towards changing it.
Certainly we won't end rape. We're aiming, though, to envision a culture where consent training is part of sex education, where survivors' support is taught to police departments and other such organizations, where "yes" clearly means "yes" and "no" clearly means "no," where rape is not a looming and ubiquitous threat, where the infinite variety of people's bodies and personal consensual choices and experiences are understood and accepted rather than shamed and feared, where we don't perpetuate oppressive ideas as a society just because they're what we know. This is just another step toward a more open, honest, supportive society.
Do you think this is an especially important message to spread in Chicago, a city with crime problems as well as an abundance of college students, who are often the victims of rape?I think it's a critical message to spread everywhere, but it seems particularly timely here, given issues like the Tiawanda Moore case (which is scheduled for trial just before the walk) and the Rogers Park police sexual assault allegations, both of which have been in the news recently. The tension between official systems of justice and the possible misconduct and missteps that can occur within them is highlighted in both of those cases. I also think Chicago is an incredibly diverse city with a lot of different needs and relationships to that official system of justice, and that gives us a unique opportunity to bring people together to build solidarity and figure out what a truly just society in which folks get the support and resources we need would look like.
For people who'd like to participate, what should they expect when they show up on June 4?We expect folks will start getting there around 11. We'll be starting out at the Thompson Center plaza at noon and marching toward Grant Park, down the park to Jackson, and then back up to Daley Plaza. We'll have a DJ set up in Daley Plaza (the very talented Jocelyn Brown), some great organizations are tabling at Daley Plaza, and we'll have speakers from 2 to 3 p.m.: representatives of nonprofits, organizers and artists. There will be an afterparty at Zella and my band (Population) is playing with Martial Canterel and Anatomy of Habit at the Viaduct Theater at night, so people interested in hanging out all day have plenty of chances to rally together and share ideas - and have fun in the process.
One of the really powerful and meaningful critiques of the SlutWalks has been an intersectional critique - one that takes into account how the event is received and interpreted by folks across racial/class/gender identity boundaries (and how marginalized many folks have been by mainstream white feminism), and so in the days following June 4th we're also working on helping to organize an open forum to discuss these issues. (We'll have information on our website and on Facebook, Twitter and Tumblr when we have a location, date and time for that forum.) I'd like to reiterate that SlutWalk Chicago is just one event in an ongoing movement against interpersonal violence and oppression that has been happening in a lot of spaces for the last few decades, and we're excited not just to see what happens on June 4th but beyond as well.
For a route map, event itinerary and information about how to get involved, check out the SlutWalk Chicago website.
Popular in the Community