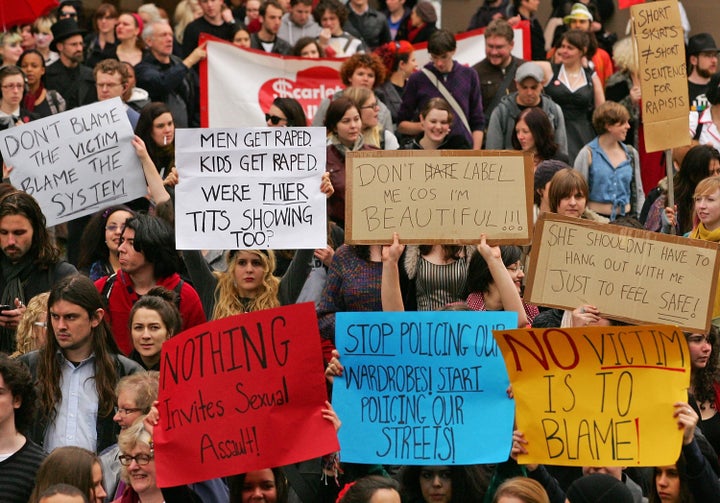 During a safety forum at Osgood Hall Law School in Toronto in January, police constable Michael Sanguinetti told a room filled with women that to avoid being sexually assaulted, they should "avoid dressing like sluts," The Huffington Post reported in April.
Outraged ensued. Rotten tomatoes were thrown, tar was warmed and feathers were readied. No, not really. But according to SlutWalk organizers, they should have been.
Though Sanguinetti issued a written apology, a small group of Canadian women organized a march to bring awareness to social attitudes about sexual assault. They dressed in their finest lingerie, wrote "slut" on their foreheads, and took to the streets with signs of protest, hoping a few dozen supporters would show up. Instead, 3,000 people crowded the streets. SlutWalk was born.
And this Saturday, it's coming to Dolores Park.
SlutWalk San Francisco boasts a group of 18 organizers and contributors that has been hosting meet-and-greets, happy hours, and sign-making parties in anticipation of the event.
"We're so excited for Saturday," organizer Lauren Chief Elk told The Huffington Post. "We were so moved by the outrage of the women in Toronto. Especially since most of us have experienced sexual assault in one way or another. Rape happens all over the world, but here in the United States, we have a strong tendency to blame the victim."
Chief Elk experienced this first hand in 2007 when she and two of her soccer teammates witnessed the famous De Anza rape incident at a baseball team party. Allegedly, Chief Elk and her friends were attending a party when they found a vomiting, 17-year-old semiconscious girl being gang raped by a group of cheering baseball players. They immediately intervened and took the girl to the hospital. Four years later, a civil court dropped charges against all of the suspects.
Chief Elk was left heartbroken not only by the acquittal, but by the way the case was handled. "The defense lawyers called the girl a slew of derogatory terms and it was allowed. They called her a slut -- they even asked what she was wearing," she remembered. "This was an unconscious 17-year-old girl," she added. "But we live in a rape-positive culture."
Chief Elk explained that questions about what a victim was wearing during an attack only enforce attitudes that rape is acceptable. "We come up with all sorts of excuses," she said. "It's incredible that these attitudes are still encouraged."
When Chief Elk heard the story of SlutWalk, she immediately joined the team. "For us, it's about awareness," she said. "We hope to reach everyone, from law-enforcers to law-makers to victims who are too scared to come forward." SlutWalk participants aim to wipe out the argument that anyone deserves to be raped — regardless of actions or appearance. "People always ask me, 'does you have to use the word slut?'" said Chief Elk. "And I answer them, 'yes, absolutely.'"
To join in on the cause, head to Dolores Park this Saturday at 2 p.m. and march in the first SlutWalk San Francisco.
In the meantime, check out our slideshow with pictures from SlutWalks across the world:
Related
Popular in the Community