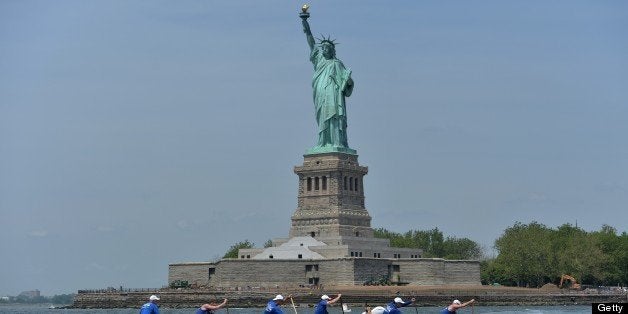 Warm, and full of puffing sailboats, and washing-machine clean. I am having a hard time believing this is New York harbor -- and that I am kayaking it.
The water is as transparent as my bathtub at home, but a lot more challenging and choppy. And unlike my tub, the harbor and the Hudson River are cordoned off into security zones I am not allowed to explore.
It's a couple of summers back, in early July, and three friends and I are determined to see the Statue of Liberty by sea. Not by ferry, though. We want to paddle there, and we've found an outfit, Manhattan Kayak Company, willing to guide us to Liberty Island from the Pier 66 boathouse, just west of 12th Ave. and 26th Street.
None of us knows a spray skirt from a rudder -- only my wife's brother, Bill, has ever kayaked before -- but we're happy about our adventure and feel confident as we make the rounds of drugstores to buy up disposable CVS "Sport" cameras and boxes of Nature Valley Energy Bars.
Paddling day dawns with an eerie smog that is like nothing I remember from growing up here. The newspaper blames forest fires in Quebec and at the top of the front page there's a warning from the New York City Department of Health to "refrain from strenuous outdoor activities."
As it turns out, we've got even more pressing worries. We find out that, due to the ever-present threat of terrorism, there is a 150-yard "Exclusionary Zone" around Ellis and Liberty Islands. Manhattan Kayak founder Eric Stiller tells me that, the other day, when kayakers accidentally got too close, Army Black Hawk helicopters buzzed in out of nowhere and circled the little boats until they paddled off.
"They'll be watching us today," warns Eric as we get fitted for lifejackets at the pier, and check out the Necky "Amaruk" two-man sea kayaks. I knock on the flank of the baby blue one that Bill and I will be piloting: solid plastic.
It's time for our mission briefing. Eric and colleague, Ray Fusco, roll out an oversized map of New York City's rivers, bays, inlets, and islands. To get to the Statue of Liberty we will have to pull off a 10 nautical-mile round trip, while wrestling with two- and three-knot currents. "The Indians called it 'Great Waters Constantly Moving,'" says Stiller. "Twice a day the Atlantic shoves salt water almost 100 miles up the Hudson."
What really worries me, although I don't say anything about it, is the information -- delivered in passing -- that Stiller used this harbor trip to train for his recent kayak circumnavigation of Australia. At first I think this has to be a joke, but nobody's laughing.
And it's time to load up the boats.
Pushing off from the dock, our Amaruk moves slowly at first, like a clownishly scaled-down version of the ocean-going ships that used to sail from here. When Bill barks at me from his seat directly behind, I realize our slow progress is because I'm drenching him with river water instead of digging in with my blades as I dip each down and backward.
I can see this is not the Hudson that I knew as a kid -- a swirling mass of yellow bubbles, empty boxes of Cracker Jacks, and bobbing bottles and cans. I don't see any fish, but according to Stiller, shad and striped bass started coming back after the Federal Clean Water Act of 1976, and someone he knows is trying to grow oysters by hanging a net off one of the Manhattan piers.
As we bounce around, trying to get used to the chop, I am staring into the haze to see if I can get a look at our famous destination. "There she is!," shouts Fusco, who is leading the flotilla. When I follow his finger, I can just make out a sculptural smudge in the direction of Jersey City.
Fusco herds us expertly, like seagoing broncos, and we buck and wobble south past Manhattan's Chelsea Pier. Five avenues east into Manhattan, I find the turreted brick building where I grew up. Once, when I left the city aboard a ship, my mom waved goodbye by flapping a red-white-and-blue sweater from up there.
Fusco is yelling orders all of a sudden, and we turn to see a Circle Line ferry bearing down hard to starboard. We've got the right of way, but sometimes boats can't see kayaks and we paddle furiously toward shore. It misses us, but we get the wake, full blast, and as I'm shaking water off my sunglasses, and out of my ears, my friends, John and Adam, are laughing in their kayaks just behind.
We're at the place where we will have to power across the busy Hudson to New Jersey, and I am impressed to find that my partner, Bill, is ready. "Fifteen strips of bacon," he keeps saying, referring, I guess, to breakfast, and the bacon must be working since we are moving fast.
Fusco instructs us to aim for Jersey's Lackawanna Ferry Terminal, but we can barely see the thing, and now we are keenly concerned with other boats. Fighting the current, our kayaks snake between garbage barges, tugboats, sailboats, cigarette boats, another Circle Line, and, looming out of the smog, a ghost-pale cruise ship: the Nordic Empress.
Making it to the Jersey side of the river gives us a sense of accomplishment and since we're out of the two-lane nautical highway, we take a break. Our CVS cameras come out for snapshots of the Manhattan skyline just across the water. There is the Woolworth Building. Here is City Hall. And right at the tip, near Battery Park, the Staten Island Ferry steaming for port.
Fusco is worried that the Hudson's mighty tides may turn against us if we don't push on. That would mean not making it to the Statue, so we stash our snacks and grab paddles again. We reach Ellis Island, but I'm distracted by blobs of sunscreen that are melting off my forehead and blurring my eyes. And here are the "Restricted Area" buoys we were promised, keeping us back, with an insignia that reminds me of the 1960s Civil Defense signs that used to point out bomb shelters in Cold War New York.
We are coming close now. I am eager, and my strokes are getting splashier and even less efficient as my forearms tire. I can hear Bill grunting, paddling harder to make up for this, and then, out of the blue, all of our kayaks pull up short.
There is the pointed crown, suddenly clear of smog. And Liberty's torch reaching and stretching higher than I had ever remembered.
We are low, and the sea-green statue is glowing with sun, staring down and beyond our knot of boats, clutching its tablet, thinking quiet copper thoughts.
This is not the Liberty we all knew from ferries and from spiraling up the staircase inside. It is as if we'd discovered her ourselves, finding an artistic shape in some wild and remarkable place. In the middle of a field. Or sticking out of a large tract of sand.
It is time for congratulations. We try to arrange the kayaks to allow everyone to shake hands. I chug down a Ginger Ale I've been saving in my spray skirt, and one of the guides, Theresa, yanks out her bilge pump and fires off a couple of festive rounds. For a second, with these salvos of water, it feels like a holiday.
The flame of Liberty's torch is gold leaf, and as we paddle around to the south and then the west side of the island, it is a bright and perfect focus of our arc. At one point Bill and I are in-between buoys and forget about the restricted zone until Fusco yells. We have not gone far into it, but Fusco is frantically pointing at the Coast Guard cutter Bainbridge Island which is anchored nearby.
We hear Fusco's command "Paddle back--hard!" and as we struggle and tug our blades, we can just make out white-uniformed officers and a mounted machine gun on the cutter deck. A US Park Police boat comes screaming out of the haze on our port side, and for a second we are sure it's coming for us.
But Adam and John are pointing back at Liberty Island and something near the shore. It's a motorboat that's whizzed way past the buoys and gone all the way in there. The US Park Police take only seconds to get to it, and as we paddle away, we keep turning back to see what the cops will do. "Yep, they're being arrested," reports Fusco, who has sharp eyes. "And now they're towing the boat."
Bill and I feel lucky not to be a part of this, and we are paddling harder and harder, churning north, leaving the statue and the buoys behind. A breeze kicks up to escort us up past Ellis and along the Jersey coast, and like a wand, it changes the Hudson into fat and lazy swells.
No one is talking much, because the water is making us work. And because the skyline is clear now, catching the first red edge of evening and spreading it out from sharp piers to ships along the shore. Finally, as we move across the Hudson, it tints our tiny kayaks in alien colors not yet named by man.
I think of Eric Stiller paddling here, pushing for Australia, and break into a grin. My arms and shoulders know that I have exploded my kayaking limit, and that I'll have to leave that adventure to Bill with future record-breaking breakfasts of bacon for fuel.
But we have made it to Liberty, and that is enough. We have done it in the teeth of barges and cruise ships, despite coast guard cutters and police boats and forest fire air.
And as I search for a turreted building five avenues deep within the city, I am aware of one thing.
That, if my nautical mom were still alive, she would be watching from her terrace, scanning the river to pick out our plastic flecks of blue and orange and green. She would be watching as we floated our slow way home along the coast of Manhattan and slipped into our pier.
And that is what we do: bumping the plastic Amaruks against the dock, hauling ourselves out, and stumbling as we try to get used to land.
We've been paddling the Hudson, we keep telling ourselves, and already this seems strange as we get beat out for a taxi on 23rd Street and get on a bus. We are debating our New York dinner, but Adam has solved it.
"Anyone," he says, "for local fish?"
* * *
Peter Mandel is an author of picture books for kids, including his read-aloud bestseller: Jackhammer Sam (Macmillan/Roaring Brook), and his newest about zoo animals passing on a very noisy sneeze: Zoo Ah-Choooo (Holiday House).