It's rare to find a progressive city in tears about the arrival of a new business with a focus on bringing physical fitness to the community. Planet Granite, a Bay Area rock climbing and yoga gym, seemingly well intentioned, has set its sights on a beloved Culver City neighborhood treasure, the Culver City Ice Arena. Built in 1962, once home to the L.A. Kings and a longtime breeding ground for Olympic Champions, the iconic ice rink has lost its lease.
Coverage on the loss of this historical place has been limited, citing the emotional upset of skaters and parents, and explaining the simple reason for this tragedy; a property owner doubling the rent and forcing out a small business to be replaced by another with a heftier checkbook.
Scheduled to close Feb. 2, many have suggested that nothing that can be done to save the rink.
However, if I were Planet Granite right now, I would be looking at this community tragedy from a PR perspective and recognize a tremendous opportunity to turn this situation around positively and come out the hero.
It would appear Planet Granite has a PR problem and they're not even here yet. PG clearly underestimated the impact of selecting 4545 Sepulveda Blvd. as their next location for expansion. "I don't think they realize how invested this community is in this rink," said Annie Burrows, a parent who also wrote a public Facebook letter about the consequences of this loss.
As Culver City Councilman Michael O'Leary said himself to an overcrowded room of heartbroken rink supporters at last night's town hall meeting, "this rink has created a sense of place... and a quality of life issue."
When bringing your business to a new community creates a quality of life issue, you know you've got a problem. "I want to be an ice skater and if it closes down, it will be hard for me to do that," said a 7-year-old skater, dressed in her costume as she addressed the City Council.
Indeed, the loss of the rink will signify crushed dreams, a loss of what should be clearly noted as a thriving community recreational center, and the end of hockey and figure skating for an entire region of current and future Olympic hopefuls. Not to mention, the potential risk posed to Culver City from both an environmental and socio-economic perspective.
In the midst of this community crisis, a quick visit to Planet Granite's website conveys an enthusiastic announcement from PG regarding their discovery of "the perfect spot" for their new West L.A. location. The sad reality of the situation is that this property is currently the "perfect and only spot" for more than 800 skating school students, many of which will see their skating community vanish instantaneously upon the arrival of the new gym.
Dozens of messages flood the Planet Granite Facebook page. Richard Sturms wrote on their Facebook wall, "I'm sorry, but we do NOT want you here!" to which PG replied, "We are sorry that your rink is closing. When we were offered the lease, we had been looking a long time for a great location."
Surely, a company like Planet Granite, with their community involvement in the Bay Area has the potential to see beyond their business expansion and join the Los Angeles community as opposed to "one day...build a new community" as they state in their Facebook response.
PG's current position does not allow them to bridge with L.A. residents and address the actual needs of the community which it wishes to serve. At a time when the clock is running out and a positive outcome seems grim, there may be a potential solution, however unlikely, which could create a lucrative opportunity for the property owner and save Culver City Ice.
It would require good will and a discussion between City Council, PG and the property owner, with open hearts and open minds to create an environment where both businesses could thrive and the landowner could make a significant profit.
This solution was proposed to great cheer by Gary Kemp, a skating instructor who has worked at Culver Ice Arena for more than 20 years. Gary suggested that the landlord offer the expansive west side of the property to Planet Granite, allowing both businesses to coexist. While that portion of the property is currently zoned residential, the City Councilmen last night said that they may consider entertaining a rezoning of the area, a topic they would have to agendize, to allow for commercial activity.
If the property owner is acting in financial interest, would it not be in his best interest to split the space and gain an even larger profit? Would the City Council actually consider rezoning if it is in the best interest of the community? Simple math would show that even if the property owner offered PG a discount for taking the west portion of the property, with the addition of the rink's rent, he'd be gaining significantly more than if he leased the property to PG alone.
If Planet Granite were to entertain this idea and allow the rink to coexist, the Los Angeles community would wholeheartedly embrace their arrival and PG would not only salvage their current PR problem, they would show Angelenos that they do in fact care about the cultural ecosystem which they are literally planning to destroy upon arrival.
Last night, Culver Blvd was lined with little girls with bows in their hair, waving homemade signs that read, "Save Our Rink!" "Keep Culver City Frozen," and "Keep the Dream Alive."
With the help of Culver City, Planet Granite and the property owner have the power to show that a business can serve the community in greater ways than the services they provide.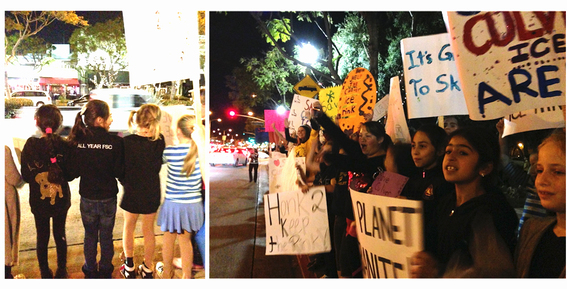 Related
Popular in the Community