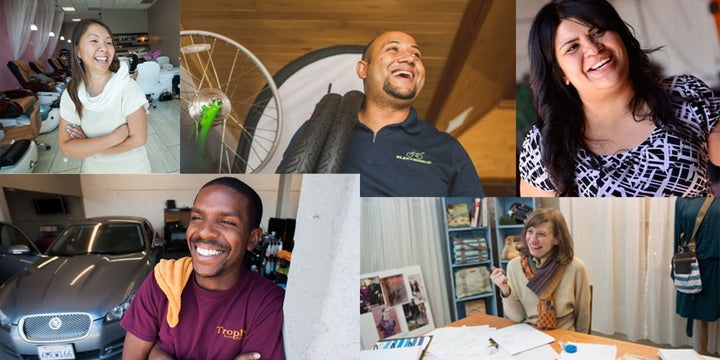 For many, entrepreneurship means risking the promise of a stable income and benefits for a shot at greater long-term financial success. Yet, in an economy characterized by increasingly unpredictable income volatility—even within a single job—many individuals view entrepreneurship as a necessary tool to realize a more certain economic future. Particularly for entrepreneurs of color, business ownership holds the promise to reduce generations of financial disparity. In fact, a report published by the Association for Enterprise Opportunity and funded by the W.K. Kellogg Foundation reports that business ownership reduces the average wealth gap between black and white adults from a multiplier of 13 to a multiplier of 3.
Small business ownership's promise of long-term asset generation is not without tradeoffs. Unexpected shortfalls in revenues or increases in expenses can be devastating to a young business, and recent research by the JPMorgan Chase Institute reveals that small businesses operate with tenuous cash reserves to cover these costs. In fact, the typical small business could only cover expenses for 27 days in the case of a financial emergency. For businesses in low-wage industries, that time window drops to 19 days.
The consequences of small business cash flow volatility extend to the business' employees, as well. The JPMorgan Chase Institute found that most small businesses experience unstable payroll and employment volatility. Volatility in payroll outflows is highest for younger small businesses with employees, and those with more volatile payroll patterns tend to have fewer cash buffer days.
Building on unstable ground
Recent research commissioned by mission-based small business lenders Accion in the U.S. and Opportunity Fund (made possible with lead funding from the W.K. Kellogg Foundation and JPMorgan Chase & Co.) confirms that for many entrepreneurs, financial stability is equally important – if not more important – as business growth. Yet, as soon as a year after receiving their loans, many Accion and Opportunity Fund clients continue to cite finances as a key source of worry. Additionally, most business owners in the study said they are not prepared for a financial emergency. "It's a huge concern as a business owner, that something could just happen one day and it could really, really damage us as a young business," said one Los Angeles entrepreneur.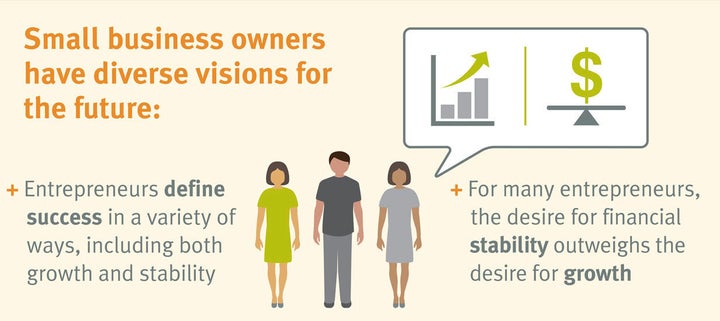 Business cash flow volatility often has consequences for household finances. Most small business owners (76%) respond to cash flow challenges by using personal funds. This could mean drawing from personal savings, foregoing a personal salary or maxing out credit utilization limits, which can damage one's credit score and impact opportunities to secure future sources of financing. (The majority of small business owners use personal credit scores to apply for business capital.) Accion and Opportunity Fund borrowers generally re-invest business profits into the business rather than the household – 55% of study respondents experienced an increase in business profits in the previous six months but only 30% increased their household savings over the same period.
When the solution is the problem
The declining availability of traditional small business credit means that fewer and fewer business owners have access to a critical source of working capital to help them withstand financial emergencies. The gap has also fueled the rise of high-cost alternative finance providers, which promise rapid access to funds that address business owners' acute financing needs but can come at a cost. Because the industry is unregulated, there is broad diversity in the quality of these products from a consumer perspective—including variance in the level of effort made by the provider to disclose costly fees and pricing features and ensure that the customer can afford to repay the loan.
Often, small business owners find themselves in a cycle of debt after taking out a high-cost loan. In fact, approximately one in four small business loan applicants cite refinancing existing debt as their main reason for applying. Recognizing this trend in their own applicant pool, Opportunity Fund analyzed alternative loan contracts for 104 small business owners seeking relief from high-cost loan debt. Their analysis found that the average loan imposed an annual percentage rate (APR) of 94%. Further, the average monthly loan payment for business owners was nearly double their net income.
What is the role of mission-based lenders?
The challenges that arise from high-cost alternative loans illustrate that access to capital does not necessarily support economic prosperity. Even for those who access responsible finance products, financing is just one component of an entrepreneur's journey toward long-term economic stability and resilience. What else should mission-driven lenders do to meet these challenges?
Business ownership is a powerful tool to foster inclusive economic growth. In order for that power to be realized, mission-based lenders must do everything in their power to ensure that the financial products and services available to underserved entrepreneurs are centered around their long-term success.
Join Accion and other mission-based organizations in supporting #FinHealthMatters Day (June 27), by tweeting and socializing stories about what financial health means to you. Be sure to use #FinHealthMatters when you tweet!