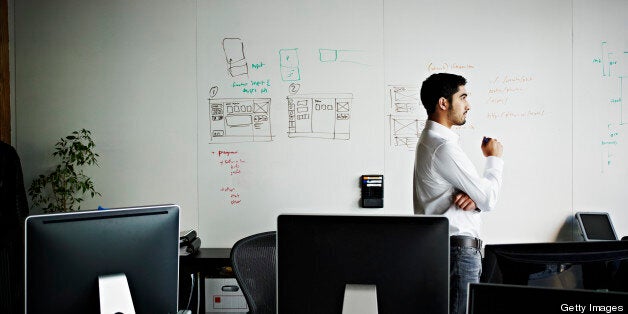 With the economy still far from recovered, it seems like a less-than-ideal time to start a new business. Yet right now is actually the perfect opportunity to dream big, follow your passion and create your own path to success.
The old school paradigm of success, where you grab hold of a bottom rung on the career ladder and start climbing, just doesn't apply anymore. The economic downturn resulted in millions of Americans falling off their career ladders and into the unemployment line.
Instead of waiting around for a company to see your value, it's time to strike out on your own. Millions of Americans already are. In fact, 543,000 new businesses are created every month. These small businesses have added nearly 40 million jobs to the U.S. economy in the last 30 years.
Plus, new groups of people are jumping into the startup space all the time. While nearly 30 percent of entrepreneurs are under 35, the number of older workers turning to entrepreneurial endeavors has jumped nearly 10 percent between 1996 and 2012. And since 2006, more than 44 percent of startup companies in Silicon Valley were founded by immigrants.
No matter what your background, now is the perfect time to become an entrepreneur. Let's look at some reasons why:
It's Easier to Find Business Education and Mentors
Thanks to the Internet, taking your good idea and adding some business savvy has never been easier. First there is a veritable library of books you can purchase to give you some insight on how to start up your business, from Steve Blank and Bob Dorf's The Startup Owner's Manual to Eric Ries' The Lean Startup.
Eventually, you'll need to get your nose out of a book and start learning by doing. No worries, because a sense of community has become essential to entrepreneurship. Startup communities abound with great advice, networking opportunities, and mentorship.
Every major city (and even some local neighborhoods) have at least some form of startup community where you can go to learn from others and build your circle. These communities can be found on sites like Meetup and through social media.
If you don't have time to show up at a networking event, or geography is in the way, social media has lowered communication barriers. Now blogs, crowdsourcing and social media tools are helping startup founders and entrepreneurs to connect, share advice and lend a helping hand. Thanks to knowledge sharing and new technology, the answer to your entrepreneurial question is probably only a click away.
Technology Makes Starting a Business More Affordable
New technology, particularly cloud-based technology, has considerably brought down the cost of establishing and running a new business venture. Now you don't have to pay for office space or data storage, you can work remotely and store your information in the cloud.
There are millions of apps, sites, and services out there with low entry fees (some are even free!) that will help you build and run your business. New technology has dramatically brought down the traditional costs associated with starting up and running a business, lowering the barrier of entrepreneurship to those with small capital but big dreams.
There Are More Ways to Find Funding
Securing capital can be a nightmare of VC funds, angel investors and endless networking events. Who needs all that? Well, now is the perfect time to jump into the entrepreneurship game because there have never been more paths to funding.
Sure, there's the traditional VC funds and angel investors, but now you can also fundraise straight from your customer base. Crowdsourcing sites like Kickstarter and Indiegogo make it simple to raise large amounts of money, especially if you have a built-in audience. Or you can cut out investors entirely and use the IRS ROBS Project, or Rollovers As Business Startup, to rollover your 401(k) plan to finance your fledgling company.
Then there's the JOBS act, which will ease security regulations and make funding more readily available for small businesses. And don't forget the U.S. Small Business Administration, which offers loans and grants to help startups and small businesses succeed.
With the tough economy and so many people suddenly out of work, we need positive thinking and people willing to dream big. Now is the exact right time to become an entrepreneur because now is when we need entrepreneurs the most.
These people will become the future backbone of our economy and create jobs for the millions of unemployed Americans. But most importantly, entrepreneurs will give us hope that with passion, vision and hard work we can still achieve great things.
When times are tough, positive thinking is needed more than ever. The very act of becoming an entrepreneur means you can envision a brighter future, which can motivate others to see that future as well.
What are some reasons you think now is the best time to become an entrepreneur? Share in the comments!
Aaron Pitman is a Angel Investor, self-made millionaire, and Founder and Partner of RA Domain Capital, a domain name development firm. He's a positivity nut who welcomes anyone to reach out to him through Twitter @aaronpitman, Google+, or you can visit him directly at aaronpitman.com.
Popular in the Community