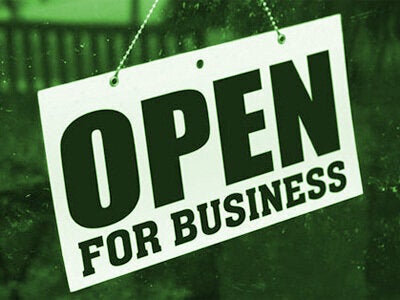 It's no secret to business owners that there are great deals to be had in this tenant-friendly economic climate. However, in any economy, if you combine inexperience, emotion, and an inflexible landlord, you have a recipe for some disastrous decisions.
Signing a commercial lease is a serious commitment. Therefore, be sure to listen to the right legal counsel and take advice from experienced business owners who have rented offices, storefronts or warehouses. According to real estate expert Otto J. Kostbar, Esq., of Jamesburg, NJ: "Unlike residential tenants, there are no laws that protect commercial tenants. You are on your own to negotiate a lease that protects your own interest. Remember, a bad lease can kill your business."
So, directly from "the trenches," here are eight common mistakes and how to avoid them:
1) Signing a long-term lease without insisting on proportional concessions from the landlord.
Of course, most landlords prefer that commercial tenants sign long-term leases (5, 10 years or longer). However, in return, you should ask for certain items in relation to the length of the lease, such as free rent for a period of time and/or a tenant fit-up at the landlord's expense.
2) Negotiating in "panic mode."
Maybe you're getting kicked out of your short-term lease because the landlord wants to sell the building or put in a chain store. Perhaps your business has grown quickly and you need to lease a space to accommodate your increased client base. Or, if you're opening a time-sensitive business such as a school, you could feel pressured to be up and running in September, and that could affect the way you handle negotiations.
If these or any other circumstances send you into a tizzy, take a deep breath and remain level-headed. You have to keep an open mind and know that there are always creative options for whatever circumstance you're in. And, to further alleviate some of the fear, surround yourself with plenty of supportive advisors, colleagues and friends. Landlords can usually sense when a potential client is desperate. Don't let that be you.
3) Failing to get reasonable "out" clauses built into the lease.
At the very least, you need an "option to sublease" and an "option to sell the business and assign." It's reasonable for the landlord to require her express written permission for you to exercise these options, but make sure you have the phrase "Landlord will not unreasonably withhold" written after the requirement for her permission.
Another way to have an "out" is with a shorter-term lease with options to renew. Here you get some flexibility combined with protection against getting kicked out anytime soon.
Some other possible "out clauses" have to do with the part of the lease that deals with bankruptcy, additional forms of "default," "personal guarantees" and the like. This is where you really need your attorney's advice to come up with an agreement that's fair for you and also satisfies the landlord. The legalese can be mind-boggling, so make sure your lawyer explains everything to you in plain English.
4) Relying on the landlord's word that your business is approved for zoning.
Get permission from the city or township zoning officer before entering lease negotiations. Your landlord may really believe what he tells you, but he's not the one who makes that determination. It doesn't matter how good the lease deal is -- if the town won't let you go into the space you're considering, you've wasted valuable time negotiating a lease.
Know that zoning rules vary according to location, are often outdated or illogical, and are subject to the interpretation of whoever is in charge. If you get turned down, you can try for a variance (an exception that the townspeople vote on), but that costs time and money, and variances are often turned down by the municipality. Just be prepared.
5) Thinking that you're signing a "standard business lease."
Yes, that's what landlords and perhaps some inexperienced (or burned-out) attorneys will tell you. But, there's really no such thing as a standard business lease. (See the book Negotiate the Best Lease for Your Business by Janet Portman and Fred S. Steingold.) Leases are negotiable, clause by clause.
6) Being attached to any one property.
You're putting yourself at a huge disadvantage when you think a particular space will "make or break" your business. You have to go into negotiations knowing that if you don't get a fair deal, you can move on and your business will thrive elsewhere.
7) Using "any old" lawyer.
Choose a real estate lawyer who's very experienced in commercial lease negotiations, and with whom you feel comfortable. Also, check references with other business owners he's helped with their leases. According to Josh Elkes of Direct Title, Inc. in Freehold, NJ, "The best kind of attorney for commercial lease negotiations is one that has entrepreneurial ventures of his own. He understands the game of business and can advise you on getting the best possible deal for your particular situation. You also want a lawyer who understands the art of diplomacy ."
8) Rejecting a good offer out of emotion.
If you find a landlord who is willing to give you some free rent and provide a full build-out -- and the property's in a great location -- it sounds like a very good deal. So what if the real estate agent mistakenly told you the utilities were included in the rent? Don't blow off the deal out of anger. Stay calm and consider that you may be paying a few hundred dollars a month for electric and gas, but you're potentially gaining hundreds of thousands back by not paying for a tenant fit-up.
In short, when you do your research, go in calmly, and get the best support, commercial lease negotiations can actually be fun. You don't have to make these colossal mistakes. Instead, you can get a lease deal that supports your company's good health.
Find out more about the author Melody Stevens at www.melodystevens.net.
Content concerning legal matters is for informational purposes only, and should not be relied upon in making legal decisions or assessing your legal risks. Always consult a licensed attorney in the appropriate jurisdiction before taking any course of action that may affect your legal rights.
Related
Popular in the Community