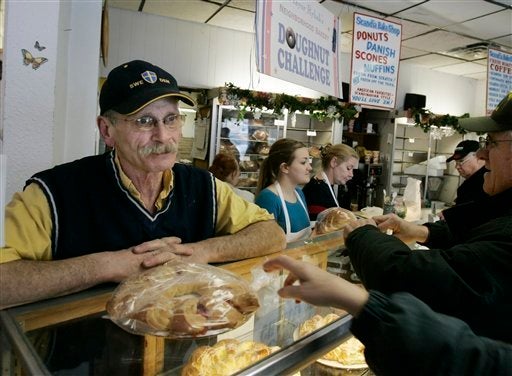 Confidence might be essential for an economic recovery, but for the 77 percent of small businesses reporting that they were negatively effected by the recession, optimism is in short supply.
In its monthly report, entitled "Small Business Economic Trends," the National Federation of Independent Businesses (NFIB) found that small business optimism declined for the third straight month during the month of May.
The reason for that continued pessimism seems related to reports of low sales. Indeed, when asked what single problem most concerned the surveyed small business owners, "poor sales" was the most frequent reply.
That isn't new. Poor sales have been the number one concern of small businesses since late 2008, actually beating out taxes and insurance costs. Though consumer spending has been on the up since mid-2009, it's been decelerating of late, according to analysis by the Bureau of Economic Analysis .
The below graph illustrates volatile personal consumption and consumer spending's recent decline: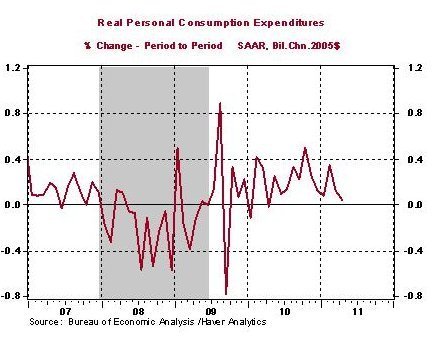 Though the percentage reporting poor sales has now declined from its mid-2009 high of 34 percent, that one in four small business owners is still reporting problems with sales raises troubling concerns. For one, the lack of demand could be holding back a broader jobs recovery, and it may have been for some time.
"What's limiting employment now is lack of demand for the things workers produce," Nobel Prize-winner Paul Krugman wrote in a blog post over a year ago. "Their incentives to seek work are, for now, irrelevant." Simultaneous with the slowdown in consumer spending, unemployment has increased to 9.1 percent in May from 8.7 percent in April, according to the Bureau of Labor Statistics.
According to the the same NFIB survey, a slim majority of the small businesses sampled planned on decreasing their payrolls in the next three months. This is the first time the survey has found a planned net decrease of employment since September of last year.
That's not to say they aren't investing in anything. Some companies have opting to buy equipment rather than hire new employees, The New York Times reported earlier this month, noting that businesses have increased spending on equipment by 26 percent during the recovery, compares to 2 percent on employees.
Then there is the effect of mass economic uncertainty. Companies, fearing the future, have tended to hoard, not spend their resources during the recession and in its aftermath, the Wall Street Journal reported in May. In a March survey, cited by the WSJ, 67 percent said they planned to cut off at least some spending related to business development.
Related
Popular in the Community