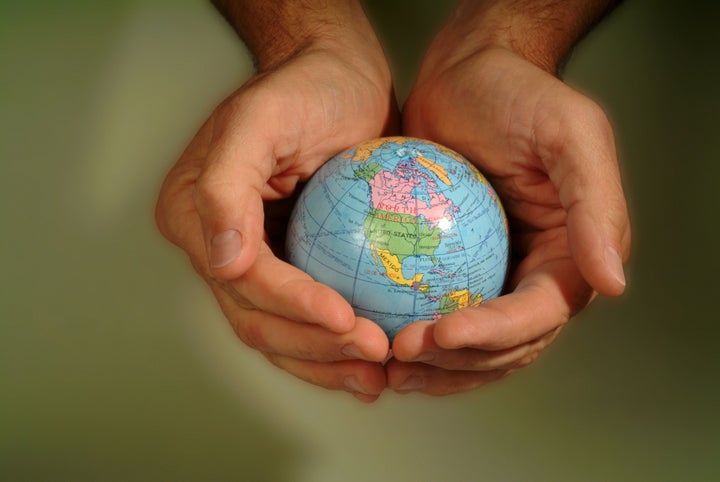 We were standing in a park in Tokyo when we felt what seemed like ten New York subway trains traveling beneath our feet. Something was shifting our center of gravity, but we didn't know what. A classmate pointed to a crane high atop a building swaying back and forth. We looked up at the skyline made of glass and saw the city's reflection on the glass undulating. Then, all of a sudden, we began to see the buildings themselves shifting side to side.
My co-founder Andrea Sreshta and I were on a class trip with Columbia Graduate School of Architecture in March 2011, when the earthquake occurred near Sendai, Japan. We spent that first evening sitting on our twin beds in our hotel room, feeling each aftershock and waiting for the next. We saw images of the tsunami's devastation and the people who had lost everything. Our hearts went out to the millions homeless and we wondered where they were sleeping on this first night. During the rolling blackouts that occurred over the next few days, we used a handmade solar light we had prototyped together the year before. We wished we could send a light to each person in need.
Tokyo felt like a call to action. It was strange that Andrea and I had spent the last year developing a product in response to the Haiti earthquake and now, here we were. Once again a natural disaster had caused millions of people to be homeless and without electricity, a humbling reminder of how inevitable these crises are. Unlike Haiti, Japan had well-established and well-developed infrastructure. Tokyo's skyline had been designed to withstand earthquakes, and it had. Yet, in the aftermath of the earthquake and tsunami, people still lacked fundamental resources for survival.
When we consider our most basic human needs, we often think of food, water, and shelter. In our second year of architecture school, just a year before our trip to Japan, Andrea and I were in a design course that started two weeks after the Haiti earthquake. We were charged with creating aid or infrastructure to improve living conditions for the victims. One of the facts that saddened us most was the lack of safety at night in the tent cities, especially for women and children. We couldn't imagine losing everything and on top of this fearing for personal safety. As we brainstormed what we could design that could make a difference, we turned our attention to another critical need: light. A portable source of light had the potential to greatly improve the safety, survival, and comfort of the victims.
Inspired to design a simple, rechargeable lighting product that could be cost-effectively distributed, Andrea and I developed an inflatable light. A number of classmates were designing inflatable shelters and we applied the same logic to make a pack-flat lantern. We purchased handheld heat-sealers on Amazon, a number of different types of plastic bags, rechargeable batteries, inflatable valves, solar panels, LEDs and started prototyping in our kitchens. The result of our efforts was the LuminAID light: a solar-powered, inflatable lamp that packs flat and inflates to create a waterproof lantern, providing up to 8 hours of LED light. For every 10 solar flashlights, you can pack and ship approximately 60 LuminAID lights.
Andrea and I co-founded LuminAID Lab in January 2011 to bring the product to market. When we graduated, we launched a "Give Light, Get Light" campaign on the crowdfunding website IndieGoGo. We set out to raise $10,000 in 40 days, enough to fund our first round of production. Our goal was reached in the first 7 days. By day 40, individuals from over 25 countries had pre-purchased over 1,500 lights for personal use and had sponsored over 3,300 lights to partner organizations, totaling over $51,000. With the help of this campaign, LuminAID Lab has put donated light on the ground in over ten different countries. One organization, Can-Do Org, recently distributed LuminAID lights in Haiti. When we saw how excited these people were about the product, it came full circle for us. The product we first prototyped in our kitchens was finally in the hands of the people who inspired us to design it.
Our ultimate goal, but also our greatest challenge, is to make the LuminAID an essential emergency aid item included with relief supplies. Pitching a new type of product to large agencies and organizations responding to disasters is no easy task, but we believe disaster relief aid is where the LuminAID has the greatest potential social impact. The images of northern Japan, and the experience of feeling the earthquake shake Tokyo, served as one of many catalysts for us. LuminAID Lab is a small company with a big vision: to turn one simple product into a sustainable business that can provide comfort and safety through light to people who need it most.
Anna is a 2012 Cartier Women's Award finalist. For more information, please visit this website.
Popular in the Community