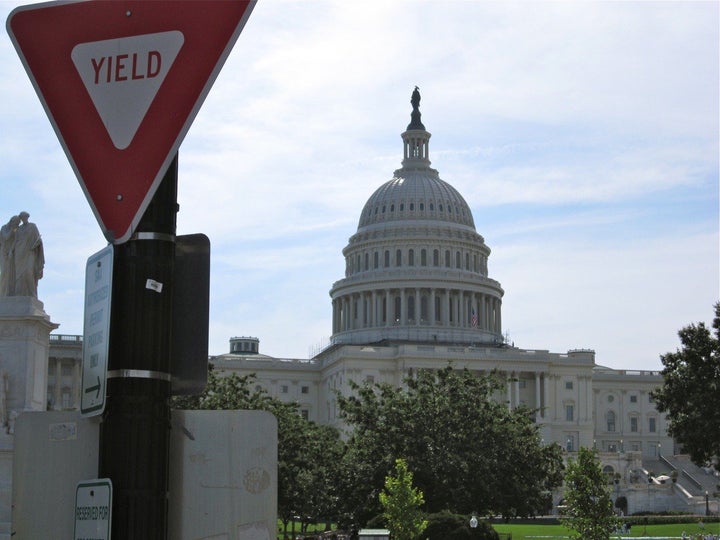 WASHINGTON -- The Senate failed Thursday to advance competing small business tax cut bills, killing all three in the ongoing partisan struggle to claim the winning argument on taxes.
The first to go down on a strong bipartisan vote was a $46 billion measure already passed in the House and authored by House Majority Leader Eric Cantor (R-Va.). It would have granted businesses with fewer than 500 employees a one-year 20 percent tax break, and an analysis cited by Cantor said it would have created 194,000 jobs.
It failed in the Senate 73 to 24. Democrats, who made up the bulk of the opposition, argued that the measure was a gift to the wealthy, including celebrities and sports teams.
"Frankly, it is a giveaway to almost all companies, 99.6 percent of companies in the United States," said Senate Finance Committee Chairman Max Baucus (D-Mont.). "That's hedge funds, private equity firms -- they almost all employ fewer than 500 employees."
The most modest of the bills -- a $4 billion measure from Sen. Mary Landrieu (D-La.) that would have encouraged start-ups -- went down 57 to 41, failing to reach the 60-vote threshold needed to break a GOP filibuster.
The final measure, a Democratic bill that would have cost about $28 billion, aimed to give businesses a 10 percent tax break worth up to $500,000 for any new payroll added this year. It also would have extended a 100 percent bonus depreciation, allowing companies to write off investments in expansions and new machinery. A nonpartisan analysis estimated that even though it was cheaper than Cantor's version, this bill would have created five times as many jobs, or nearly 1 million.
Republicans called the Democratic bill a political stunt, including the 24 Republicans who voted for Cantor's version. They also complained that they were not allowed to bring up any amendments.
"It is a strictly political effort to cast Democrats as favorable to small businesses and Republicans against, when in fact the incentive that's ostensibly here will do virtually nothing to give a small businessman a reason to hire somebody new that he wasn't going to hire anyway," Sen. Jon Kyl (R-Ariz.) told reporters earlier this week. "I don't think it's a useful exercise as a matter of economics. It's strictly political."
Thursday's Senate fight, which leaves small businesses high and dry for now, came against the backdrop of an even bigger battle over extending the Bush-era tax cuts. President Barack Obama has called on Congress to extend the cuts -- which expire at the end of the year -- for income up to $250,000.
The House plans to have a vote on making all the Bush cuts permanent next week. GOP leaders have only agreed to let Democrats have a procedural vote on Obama's preferred version. That prompted House Minority Whip Steny Hoyer (D-Md.) to accuse the GOP of holding hostage the 98 percent of the public who would receive a break under the president's plan so that rich people could keep all of their breaks, too.
In the Senate, both parties suggested moving on to votes on the opposing plans for the Bush tax cuts, only to have each side object to how the other wanted to hold those votes.

Senate Majority Leader Harry Reid (D-Nev.) insisted the votes will happen, although Democrats are still working on their version of the measure. On Wednesday, Senate Minority Leader Mitch McConnell (R-Ky.) had asked for the two votes in the morning, only to have Reid object. But then Reid offered the two votes again in the afternoon on the condition that the GOP not filibuster them. McConnell objected, saying the Democrats hadn't even written a bill yet.
"Republicans are prepared to block tax cuts for 98 percent of families unless Democrats agree to even more giveaways for the richest of the rich," Reid said Thursday. "As Republicans continue to argue the wealthiest 2 percent can't contribute even a little more, I urge them to talk to the three-quarters of Americans who disagree."
"The proposal the president announced Monday with so much fanfare hasn't even been put on paper yet," countered McConnell. "And yet Democrats wanted us to move to it. Move to what? A speech? This is the level of seriousness we're seeing from the Democrat-controlled Senate."
Michael McAuliff covers Congress and politics for The Huffington Post. Talk to him on Facebook.
PHOTO GALLERY
John Boehner Cries
Calling all HuffPost superfans!
Sign up for membership to become a founding member and help shape HuffPost's next chapter
BEFORE YOU GO