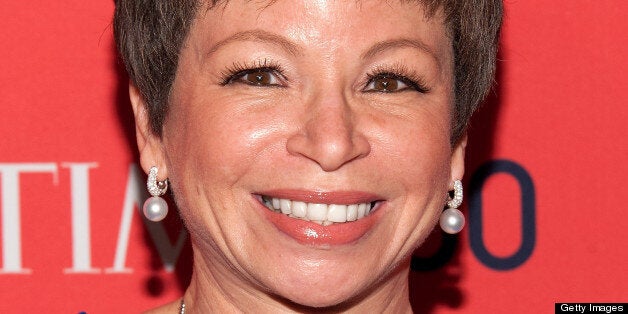 Yesterday, I had the privilege of speaking at the inaugural 10,000 Small Businesses -- Tory Burch Foundation early-stage businesses graduation in New York.
Eighteen women from around New York graduated from a comprehensive program focused on building their small businesses, which included a curriculum developed by Babson College and implemented by LaGuardia Community College, sponsored by Goldman Sachs, and in partnership with the Tory Burch Foundation, and the Huffington Post.
My message to the graduates was to follow their passions and believe in themselves.
All of the graduates had inspirational stories, and amazed me with their grit, determination, resilience, and confidence. I will never forget Carrie Hammer, who started a made-to-order, custom-fit clothing company for the working woman, who was the group's commencement speaker. Tears welled up in her eyes as she introduced her parents and gave them credit for her leap of faith to open her own business. Or Malene Barnett, a Brooklyn-based entrepreneur who started a company to sell globally inspired carpets for homes and businesses. Malene knocked it out of the park this morning when she appeared on Morning Joe with Arianna Huffington, Tory Burch, and me.
I gave the commencement speech at the first 10,000 Small Businesses commencement in 2010, and was thrilled to meet with several of the graduates from that class, as well a few others from prior classes. Each of them told of how the program enabled their companies to flourish since graduation.
Entrepreneurs such as Saudia Davis, who founded her business, Greenhouse Eco-Cleaning, in honor of her grandmother, and developed healthy and environmentally friendly cleaning products. Since participating in the program, Saudia's company has increased her revenue by more than 170 percent. Her company has also more than doubled in staff.
And Rosalie Safier, CEO of National Van Equipment Company, which manufactures moving blankets. She took over her husband's family business and has increased sales every year since graduating.
It was a wonderful celebration of our deeply American values of ingenuity, creativity, and the entrepreneurial spirit.
Supporting small businesses and entrepreneurs has been a priority for President Obama since Day One of his administration. Why? Because he knows small businesses are responsible for creating two out of every three new jobs in the United States. He knows they employ half of the private sector workforce -- over 60 million Americans.
The president also knows that small businesses are essential to strengthening our national economy. That's why he cut taxes for small businesses and helped them get access to the capital they need to expand. He also signed the Jumpstart Our Business Startups (JOBS) bill, which made it easier for business owners to go public -- and the bill also opened up access to a big, new pool of potential investors through provisions for crowd-funding. Both are great for investors.
Our country's prosperity depends on small businesses like the ones represented at the graduation yesterday. I was so inspired by each of the small business owners I met. They embody the hard work and entrepreneurial spirit that help make America great.
Related