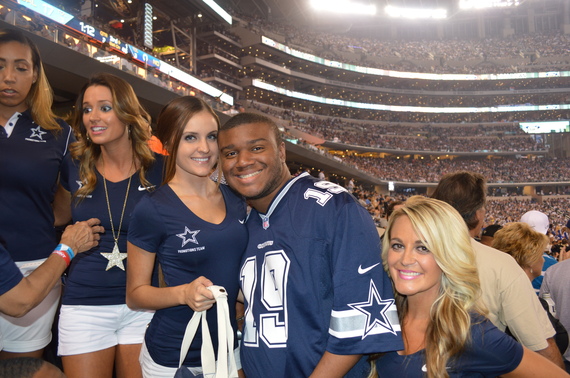 This photo is one of the best days ever for the Carter Family. My son Dominic Jr., just the other day, celebrating his Birthday with his favorite NFL team, the Dallas Cowboys, but we will come back to that.
Foster Parents are phenomenal, and I ask this question. Do you see what I see.
Yes, many of the similar dictionary words connected to "phenomenal," apply to foster parents and Child Abuse Prevention Professionals. Remarkable, Exceptional, Extraordinary, Incredible, Astonishing. Let's not leave out "amazing" human beings to step up on behalf of children that need love. A Voice for the Voiceless.
Foster Parents and Child Abuse Prevention Professionals are incredible and at the same time so unassuming. They do what they do to protect children, and rarely stop to think about just how special they are, for doing so. They don't brag. They do what they feel they have to. At the end of the day, somebody has to step up.
It is so amazing, honorable and humbling to actually talk to foster parents, and such Child Abuse Professionals. As someone, who was in Foster Care as a toddler, as someone who has had my share of ups and downs in life, I know firsthand, what Foster Parents do is priceless.
One deed at a time, we can make the world a better place.
I'm blessed to witness this all the time with foster parents and Child Abuse Prevention Professionals. In September alone, from Ontario Canada, all the way to Dallas, Texas.
In Dallas, the last weekend in September, bright and early on a beautiful Saturday morning, I met amazing foster parents like Marlene and Dwight Steiner, Kent Farr, President Rhonda Loth and Executive Director Roy Block. They are all part of the Texas Foster Parent Association.

Two weeks prior, in Canada, and under the theme "Fostering.. the Future," I watched as members of the foster parents society of Ontario organization proudly told me stories about "their kids." That's the way foster parents talk, as protective as ever of the children in their care.One lady having more than 128 children in her home throughout the years, and there were countless similar stories.
We gathered on a Friday night, and I was their keynote speaker. A capacity full crowd and no one rushed to go somewhere else.
Under their president Cecile Brookes, Foster Parents were taking their time saluting other foster parents, and I was enjoying every moment. The Foster Parents Society of Ontario was formed in 1973 in Toronto, and they work with the provincial government there. One lovely Foster parent Susan Holyome, recently sent me this message:
"So glad that foster parents all over the world are making a difference in the children's lives."
There were many dignitaries there, like Irwin Elman, the Provincial Advocate for Children and Youth, but yes Susan Holyome, foster parents all over the world are making a difference in Children's lives. In Texas, I also traveled to BearCreek Community Church in Irving, meeting the great pastor there, Rev. Dennis Webb Sr. Pastor Webb has had a tremendous impact on his local community, and is even a member of the City Council there.
That brings me back to my original premise of small deeds are making the world a better place.
My son has not had an easy road in life. He's so young at the age of 22, but has had to overcome so much. Dominic Jr. is twice the man I will ever be.
Due to epilepsy and a learning disability, school officials told us Dominic would never be able to graduate from high school. I am thankful for my wife Marilyn, that has worked so hard with him, and the education officials that never gave up on Dominic.
In life never give up, never stop trying, and whatever you do, never concede to the nay-sayers.
We are very proud that not only did Dominic graduate from high school and on-time, but this summer he completed his two year degree from Rockland Community College, and like his dad, and sister Courtney, majored in Communications -- Radio/TV. God willing, Dominic is set to graduate with his bachelor's degree in about two years from a nearby college in New York, SUNY-Purchase.
Achieving anything in life that is worthwhile is not easy, and Dominic's road has been tough.
Dominic failed the required English Class three times, and the fourth time when he was finally earning a passing grade, he was hospitalized with an unknown virus and had to withdraw from all his classes for the semester.
But if you never give up, the silver lining in always within reach.
All Dominic Jr. wanted to know as he laid in that hospital bed with tubes and a intravenous line as Doctors were forced to do all types of painful tests to find the cause of the virus was when he could go back to school. His father had no answer. It broke my heart. When backed against the wall, my answer is always half full and optimism. Soon you can go back to school, I said, but honestly I had no idea.
All his mother and I could do was take turns sleeping overnight at the hospital with him. This has been the "norm" for us for years. That, and running as fast as we could to our child whenever there was a loud noise in the house or shower because it meant Dominic had a seizure. Most times, we were "lucky," because he had just slumped over with the seizure, but there were times at 6:00 AM, when he feel down the steep stairs and was laying in a pool of blood unconscious, requiring an immediate Emergency Room trip.
Sometimes "that" call would come in over the years, right before I went on TV, hosting my nightly political show, that our son had been rushed to the hospital because he had a seizure on campus. When I arrived at the hospital, he would always ask was I alright, and say he was o.k. Then Dominic Jr. would follow up with, "Dad I just don't want to be hospitalized again."
But Dominic Jr. is the definition of perseverance. Eventually he made it back to Rockland Community College, and educators there worked with him.
I'm extremely proud of my son because Dominic finally passed that English class.
Small Deeds are making the world a better place.
That's why the photo at the top of the article means so much to Dominic's mother, to me, to Dominic's sister Courtney who one year ran in a marathon to fund epilepsy research. The photo is all about overcoming adversity, about we all fall down in life, the question is do you get back up.
We are extremely thankful to Mr. Jerry Jones, the owner of the Dallas Cowboys football organization.
The Cowboys honored Dominic's 22nd birthday at the game against the New Orleans Saints, and even gave him a great Dallas Cowboys gift bag. One of Mr. Jones executives,Mr. Matt Coy, the Director of Event Presentation, made sure Dominic's birthday was special. The Cowboys won that day, but they also made sure my son won, like many children unfortunately who have had so much pain.
Dominic Jr. on this day was on top of the world, and all at once, sitting there in the Dallas Cowboys stadium, the years flooded through my mind. My child being hospitalized so many times but under the excellent care of the epilepsy center at NYU hospital, the seizures limiting my son from not being able to play organized sports, to at times feeling that life can be so unfair at times.
But we were so blessed at the home of the cowboys. I stand corrected, we are all so blessed.
I broke down and cried, but did so privately out of the sight of my son.
Whether its foster parents, child abuse professionals, educators, or the Dallas Cowboys, Small Deeds make the world a better place. Do you see what I see.
Related