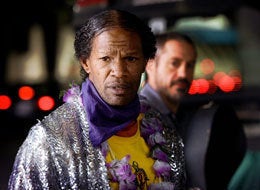 What do you do once you've been the founding president of eBay?
Good work, if you're Jeffrey Skoll, who oversees a network of socially-conscious companies and foundations. One of them, Participant Media, is a producing partner in The Soloist, a film opening this Friday that's based on the true story of a Los Angeles Times columnist's experience with a homeless, schizophrenic musical savant.
It sounds like the sort of saga designed to leave moviegoers with that warm-and-fuzzy feeling, as though they had done something about homelessness simply by forking over the price of a ticket and a popcorn-and-medium-drink combo. But Skoll and his team do not want us to go gentle into that good night. They would rather we get a good night's sleep and wake up tomorrow ready to make a difference.
Participant gets involved in films that would have sent a '40s anti-Communist Congressional investigator into paroxysms of inquisitional delight, back in the day - and did, in the case of Good Night and Good Luck, about the clash between broadcaster Edward R. Murrow and Red-baiting capo Joe McCarthy - on topics ranging from Darfur to covert ops, from global warming to corporate farming.
The techno-twist is what Participant Media does after the movie: If you have a cell phone with internet capability, you can turn concern into social action by the time you hit the multiplex parking lot. Visit www.takepart.com/thesoloist and bingo, you have an array of options, including a map created by VolunteerMatch that lists local efforts on a state-by-state basis.
Your interests and untapped energies lie elsewhere? Go instead to TakePart and check out the complete roster of films and related real-world suggestions. Skoll brings new meaning to the concept of one-stop shopping; with less on-line effort than it takes to find a pair of black pumps in a 6 medium, which nobody's going to buy anyhow until the price comes down even further, we can find a perfect and more lasting fit among his growing inventory of community organizations.
It's old-style Sixties activism on a new-style internet plane, which seems to me to have more potential than tweets, assuming we can tear ourselves away from the latest celebrity sneeze alert and think a bit more globally, and at a more reasonable and reasoned pace.
I haven't seen The Soloist, and I have no idea if I'll like it. For a movie that has yet to open, it has suffered more than its share of bad press: First, rumors of quality concerns when its release was delayed last fall, and more recently, complaints because a four-page 'advertorial' for the film offended the few L.A. Times readers and media purists still capable of surprise at Sam Zellian notions of journalistic integrity.
But all of that is beside the point, at least in terms of building and sustaining a grassroots base. Eighteen years ago a group of activists united local breast cancer activists into the National Breast Cancer Coalition, which engineered a three-fold increase in this country's breast-cancer research budget and continues to demand accountability from politicians and researchers alike, and they did it back when the internet was more a novelty than a basic food group. Thanks to sites like Skoll's, the small good deed is now just a click away. The days of 'gee, I'd sure like to do something if I only knew what' are over.