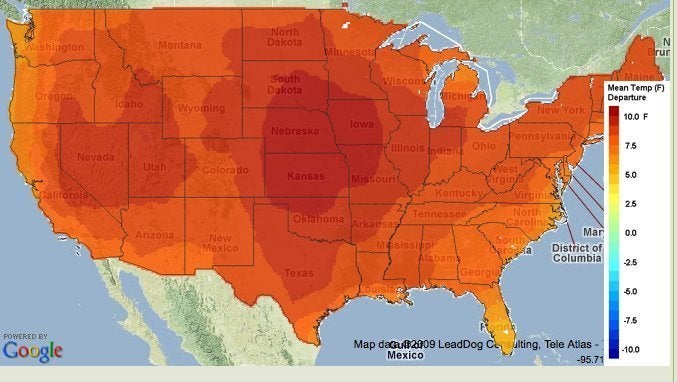 The politics of climate change are difficult in the Senate, it's often said, because it's a regional issue: coal state senators are afraid their economies will be driven under if the price of dirty energy rises too quickly.
Climate change is, in fact, a regional issue, but not in the short-term way that the coal senators think, according to new analysis from The Nature Conservancy. The environmental group finds that rural Midwestern states will face the greatest consequences of climate change. The three that will face the steepest rise in temperature -- Kansas, Nebraska and Iowa -- are farm states whose soil will be significantly less productive as temperatures rise more than 10 degrees Fahrenheit there by 2100.
The rise by by 2050 -- only 41 years from now -- is also projected to be substantial. (Click here for an interactive map of the analysis.)
The two Republican senators from Kansas, which will be most ravaged by climate change, are unlikely to support legislation addressing it.
Sen. Sam Brownback, who is retiring from the Senate but continues to have statewide ambitions, has said that humanity has a religious imperative to reduce climate emissions, but he has also signed on to the "No Climate Tax Pledge" being pushed by Americans for Prosperity, which opposes climate change legislation. The pledge says that Brownback will "oppose legislation relating to climate change that includes a net increase in government revenue" -- which means any of the plans currently being considered.
Sen. Pat Roberts will also be a difficult vote for advocates to score.
In Nebraska, Democratic Sen. Ben Nelson often works to pull legislation in a more conservative direction and Sen. Mike Johanns (R-Neb.) isn't clamoring to support taking action to address climate change. Nelson signed a letter in June, along with nine other Democrats concentrated in the Midwest, saying he couldn't support the current version of the bill and outlining principles that would need to be met to get his vote.
Republican Sen. Charles Grassley of Iowa, the state that will face the third worst catastrophe, will be a key player on the Finance Committee, which hopes to claim jurisdiction over the distribution of the revenue that will be raised through a cap and trade system. His Democratic counterpart, Sen. Tom Harkin, is a much more likely yes vote.
The consequences to these farm states will be far reaching. As droughts become more common, their soil and climate will begin to look more like their neighbors' to the south in Texas and Mexico.
The ten-degree rise in temperature in the three states assumes that carbon emissions will continue their rate of increase. If the world's population somehow manages to reverse greenhouse gas emissions, the temperature is still expected to rise more than three degrees, which would still devastate those states' economies. A study released Thursday by Columbia University adds further concern about the viability of soybeans, corn and cotton -- the expected temperature rise over the next century from even a slow warming scenario could decrease crop yields by 30 to 46 percent.
"To many, climate change doesn't seem real until it affects them, in their backyards," said Jonathan Hoekstra, director of climate change for The Nature Conservancy. "In many states across the country, the weather and landscapes could be nearly unrecognizable in 100 years."
Related
Popular in the Community